Death of the Battlegrounds? The 2012 Election in History
The 2012 presidential election is the only cycle since the birth of the modern two-party system in 1828 to be decided by less than 15 points nationally and yet have less than 10 percent of its contests decided by fewer than five points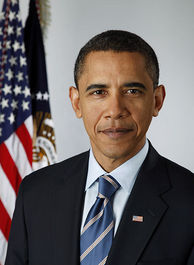 Even though the 2012 presidential election was considered a toss-up, or at least a very close race, throughout most of the cycle and in the closing weeks in particular, in the end, very few states provided nail-biting finishes that often accompany such competitive national races.
All told, the victory margin between Barack Obama and Mitt Romney was decided by less than five points in just four states: Florida (0.88 points), Ohio (2.00 points), North Carolina (2.08 points), and Virginia (3.73 points).
This, in and of itself, is not uncommon.
In fact, one-third of the previous 27 presidential contests over the last 108 years produced five or fewer states decided by less than five points: 1904, 1920, 1924, 1928, 1936, 1956, 1964, 1972, and 1984.
But each of these nine aforementioned cycles had one thing that distinguished them from the Romney-Obama contest.
They were all blowouts with an average victory margin of 23.9 points and the losing candidate receiving no more than 140 electoral votes:
Presidential Elections with Five or Fewer Highly Competitive Statewide Contests, 1904-2012
Year

Winner

Loser

# States MoV < 5 pts

Electoral vote

Nat'l MoV

1904

Teddy Roosevelt

Alton Parker

3

336-140

18.8

1920

Warren Harding

James Cox

2

404-127

26.2

1924

Calvin Coolidge

John Davis

4

382-136

25.2

1928

Herbert Hoover

Al Smith

5

444-87

17.4

1936

Franklin Roosevelt

Alf Landon

1

523-8

24.3

1956

Dwight Eisenhower

Adlai Stevenson

3

457-73

15.4

1964

Lyndon Johnson

Barry Goldwater

3

486-52

22.6

1972

Richard Nixon

George McGovern

0

520-17

23.2

1984

Ronald Reagan

Walter Mondale

3

525-13

18.2

2012

Barack Obama

Mitt Romney

4

332-206

3.3

Note: 47 states held elections in 1904 with 48 states in 1920, 1924, 1928, 1936, 1956. Includes the District of Columbia. Highly competitive races are defined as a cycle where the margin of victory between first and second place candidate is less than five points. Table compiled by Smart Politics.

How odd it is, then, for the 2012 race to be listed among these landslide races, particularly from the standpoint of the popular vote which gave Obama only a 3.3-point win over Romney.

And just how close was the Romney-Obama race from a historical perspective?

The national popular vote margin of victory in the 2012 contest was the 13th narrowest of the 47 presidential elections that have been conducted since the formation of the Democratic Party in 1828.

The closest popular vote election took place in 1880 with Republican James Garfield edging Democrat Winfield Hancock by 0.09 points.

The Kennedy-Nixon contest of 1960 is next at 0.17 points.

Three of the last four presidential elections resulted in a Top 10 narrowest popular vote finish during this 184-year span with Gore-Bush in 2000 at 0.51 points in third and Bush-Kerry in 2004 at 2.46 points in ninth.

Rounding out the Top 10 are Cleveland-Blaine in 1884 at #4 (0.57 points), Nixon-Humphrey in 1968 at #5 (0.70 points), Harrison-Cleveland in 1888 at #6 (0.83 points), Polk-Clay in 1844 at #7 (1.45 points), and Carter-Ford in 1976 at #8 (2.06 points).

But there are more historical oddities surrounding the 2012 election results.

For example, look at the percentage of states decided by less than five percent of the vote (a variable which adjusts for the changing number of states voting in presidential elections across the decades in U.S. history as the nation expanded).

In total, just nine presidential elections since 1828 have seen less than 10 percent of the states decided by fewer than five points, with the 2012 Romney-Obama matchup among them at 7.8 percent (4 of 50 states, plus the District of Columbia).

The 2012 matchup is the only one of these cycles to appear on the list of the Top 36 most narrowly decided presidential elections in the popular vote.

In other words, prior to 2012, every presidential election since 1828 in which less than 10 percent of the states failed to generate very competitive contests was a landslide race, with none of these cycles listed among the Top 35 closest popular vote elections.

Closest Margin of Victory in Presidential Elections by Popular Vote, 1828-2012

| | | | | | | |
| --- | --- | --- | --- | --- | --- | --- |
| Year | 1st | 2nd | Nat'l MoV | # States MoV < 5 | Total # States | % States MoV <5 |
| 1880 | James Garfield | Winfield Hancock | 0.09 | 12 | 38 | 31.6 |
| 1960 | John Kennedy | Richard Nixon | 0.17 | 20 | 50 | 40.0 |
| 2000 | Al Gore* | George W. Bush | 0.51 | 12 | 51 | 23.5 |
| 1884 | Grover Cleveland | James Blaine | 0.57 | 13 | 38 | 34.2 |
| 1968 | Richard Nixon | Herbert Humphrey | 0.70 | 13 | 51 | 25.5 |
| 1888 | Grover Cleveland* | Benjamin Harrison | 0.83 | 14 | 38 | 36.8 |
| 1844 | James Polk | Henry Clay | 1.45 | 12 | 25 | 48.0 |
| 1976 | Jimmy Carter | Gerald Ford | 2.06 | 20 | 51 | 39.2 |
| 2004 | George W. Bush | John Kerry | 2.46 | 11 | 51 | 21.6 |
| 1876 | Samuel Tilden* | Rutherford Hayes | 3.00 | 13 | 37 | 35.1 |
| 1892 | Grover Cleveland | Benjamin Harrison | 3.01 | 18 | 44 | 40.9 |
| 1916 | Woodrow Wilson | Charles Hughes | 3.12 | 15 | 48 | 31.3 |
| 2012 | Barack Obama | Mitt Romney | 3.27 | 4 | 51 | 7.8 |
| 1896 | William McKinley | William Bryan | 4.31 | 8 | 45 | 17.8 |
| 1948 | Harry Truman | Thomas Dewey | 4.48 | 18 | 48 | 37.5 |
| 1848 | Zachary Taylor | Lewis Cass | 4.79 | 11 | 29 | 37.9 |
| 1868 | Ulysses Grant | Horatio Seymour | 5.32 | 8 | 33 | 24.2 |
| 1992 | Bill Clinton | George H.W. Bush | 5.56 | 17 | 51 | 33.3 |
| 1840 | William Harrison | Martin Van Buren | 6.05 | 7 | 25 | 28.0 |
| 1900 | William McKinley | William Bryan | 6.12 | 5 | 45 | 11.1 |
| 1852 | Franklin Pierce | Winfield Scott | 6.95 | 7 | 30 | 23.3 |
| 2008 | Barack Obama | John McCain | 7.27 | 6 | 51 | 11.8 |
| 1944 | Franklin Roosevelt | Thomas Dewey | 7.50 | 14 | 48 | 29.2 |
| 1988 | George H.W. Bush | Michael Dukakis | 7.72 | 11 | 51 | 21.6 |
| 1996 | Bill Clinton | Bob Dole | 8.51 | 11 | 51 | 21.6 |
| 1908 | William Taft | William Bryan | 8.53 | 9 | 46 | 19.6 |
| 1980 | Ronald Reagan | Jimmy Carter | 9.74 | 16 | 51 | 31.4 |
| 1940 | Franklin Roosevelt | Wendell Willkie | 9.96 | 12 | 48 | 25.0 |
| 1864 | Abraham Lincoln | George McClellan | 10.08 | 4 | 25 | 16.0 |
| 1860 | Abraham Lincoln | Stephen Douglas | 10.13 | 10 | 33 | 30.3 |
| 1952 | Dwight Eisenhower | Adlai Stevenson | 10.85 | 7 | 48 | 14.6 |
| 1872 | Ulysses Grant | Horace Greeley | 11.80 | 7 | 37 | 18.9 |
| 1856 | James Buchanan | John Fremont | 12.20 | 4 | 31 | 12.9 |
| 1828 | Andrew Jackson | John Q. Adams | 12.25 | 4 | 22 | 18.2 |
| 1836 | Martin Van Buren | William Harrison | 14.20 | 8 | 25 | 32.0 |
| 1912 | Woodrow Wilson | Teddy Roosevelt | 14.44 | 14 | 48 | 29.2 |
| 1956 | Dwight Eisenhower | Adlai Stevenson | 15.40 | 3 | 48 | 6.3 |
| 1928 | Herbert Hoover | Al Smith | 17.41 | 5 | 48 | 10.4 |
| 1932 | Franklin Roosevelt | Herbert Hoover | 17.76 | 6 | 48 | 12.5 |
| 1832 | Andrew Jackson | Henry Clay | 17.81 | 5 | 23 | 21.7 |
| 1984 | Ronald Reagan | Walter Mondale | 18.21 | 3 | 51 | 5.9 |
| 1904 | Teddy Roosevelt | Alton Parker | 18.83 | 3 | 45 | 6.7 |
| 1964 | Lyndon Johnson | Barry Goldwater | 22.58 | 3 | 51 | 5.9 |
| 1972 | Richard Nixon | George McGovern | 23.15 | 0 | 51 | 0.0 |
| 1936 | Franklin Roosevelt | Alf Landon | 24.26 | 1 | 48 | 2.1 |
| 1924 | Calvin Coolidge | John Davis | 25.22 | 4 | 48 | 8.3 |
| 1920 | Warren Harding | James Cox | 26.17 | 2 | 48 | 4.2 |

* Denotes a nominee who won the popular vote but lost the electoral vote. Includes the District of Columbia. Table compiled by Smart Politics.

Overall, the Romney-Obama matchup ranks as the 13th closest popular vote race since 1828, but with the eighth lowest rate of highly competitive statewide races.

And so, in a cycle in which 10 to 12 battleground states were frequently identified by the media, only four proved to be anything close to a barnburner.

Who would have expected that a state like Georgia, which was considered to be solidly red for the entirety of the cycle, and never mentioned as a swing state, would be more narrowly decided at 7.82 points than several so-called 'battlegrounds' such as Arizona (9.04 points), Michigan (9.50 points), Missouri (9.62 points), and New Mexico (9.88 points).

In fact, Wisconsin, which was considered to be one of the top half-dozen battlegrounds throughout the cycle, was carried by Obama (6.71 points) at just over a point less than Romney won Georgia.

The big question for the media and political analysts going forward into 2016 will be to further clarify what is a battleground/swing/tossup/purple state, and, depending on how narrowly that is defined, perhaps more judiciously winnow the pool of states they project will actually be competitive on Election Day.

Follow Smart Politics on Twitter.

Scroll To Top