Forerunners of the Fiscal Cliff
Chuck Grassley, Jeff Flake, Jim DeMint, and Kent Conrad have warned about budgetary fiscal cliffs for years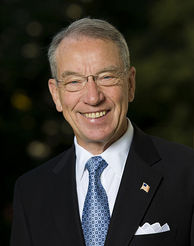 Talk of the 'fiscal cliff' continues to dominate Capitol Hill media coverage in the waning days of the 112th Congress.
The term, which for years had been used by various lawmakers to describe the general budgetary doom and gloom facing the nation, did not really populate congressional coverage until this year, when it became shorthand for the tax increases and federal spending cuts (and predicted subsequent economic sluggishness) slated to take place on January 1, 2013.
Through midday Monday, there have been 33 times as many broadcast media reports mentioning the term 'fiscal cliff' in 2012 (1,410 reports) compared to the previous nine years combined (42 reports), according to a Smart Politics Lexis/Nexis tally.
And there have been more references to the cliff in November alone (710 reports) than in the previous 10 months of 2012 (700 reports).
But although the term may be a new frame for the media today as it covers the federal budget, members of the U.S. House and Senate have warned about various "fiscal cliffs" in state and federal government for the last few decades.
Here is a sampling:
For example, in a subcommittee hearing more than 20 years ago, California's Henry Waxman criticized the experimental Oregon health care plan which sought to ration Medicaid services:
"Just as the state is about to fall off the fiscal cliff, the aged and disabled will join the women and children in the experiment, and the ranking of services will be radically altered." – U.S. Rep. Henry Waxman (D-CA), September 20, 1991
Entitlement programs in particular have long been the driver of the fiscal cliff metaphor:
"A decade of delay in changing Medicare has pushed the health-insurance program to the edge of a fiscal cliff." – U.S. Senator Chuck Grassley (R-IA), July 15, 1997
"The other huge mistake that this budget has in it is that it makes no effort at all to control the accounts which are going to essentially bankrupt our nation for our children, which are the entitlement accounts. We know that we are sending this nation over a fiscal cliff. We know that if we do not act, our children and our grandchildren will not be able to afford this government because of the costs and the burdens of Medicare, Medicaid, and Social Security." – U.S. Senator Judd Gregg (R-NH), June 4, 2008
One member of Congress – Arizona U.S. Representative and Senator-elect Jeff Flake – has been particularly concerned about the speed with which the nation is approaching the cliff.
"I hope that my opposition to the bill does not imply my support for the Democratic alternative. While the Republican plan will surely take us over the fiscal cliff, the Democrats' plan would only get us there much faster." – U.S. Rep. Jeff Flake (R-AZ), Editorial to The Hill, July 16, 2003
"Even though we're headed toward a fiscal cliff, Congress has its foot on the accelerator." – Jeff Flake, July 17, 2009
Top Senate Budget Committee member Kent Conrad of North Dakota frequently used the term for nearly a decade to decry the deficit issues facing the nation: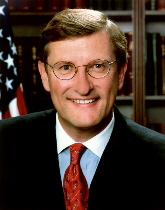 "The fact is, the president has taken us right over the fiscal cliff." – U.S. Senator Kent Conrad (D-ND), July 15, 2003 (after President George W. Bush's administration forcasted a $455-billion budget deficit)
"Even though these are record deficits, according to the President's own estimates, as the baby boomers retire and the full cost of the President's tax cuts explode, we are headed right over the fiscal cliff in this country." – Kent Conrad, July 30, 2004
"The status quo takes us toward a fiscal cliff. We need to change course." – Kent Conrad, January 18, 2007
"We are borrowing 40 cents of every dollar that we spend in this country. That is not sustainable. We are headed for a fiscal cliff. America is in danger." – Kent Conrad, December 1, 2010
Conrad's colleague on the Republican side of the aisle who has been most likely to take up the fiscal cliff metaphor is South Carolina's Jim DeMint:
We must get serious about reforming our complicated tax code that is destroying jobs, and finally reform Social Security and Medicare before they take us over a fiscal cliff. – U.S. Senator Jim DeMint (R-SC), November 4, 2008
"If federal spending actually created economic growth, our economy would be booming right now. We are trillions of dollars in debt and Obama's massive new spending program threatens to send our nation over a fiscal cliff, leading to higher taxes and fewer jobs." – Jim DeMint, November 24, 2008
"This is about turning our country away from a fiscal cliff. We're in trouble, and we don't have time to play politics anymore." – Jim DeMint, November 7, 2010
Some lawmakers on the Hill are currently suggesting it would be better to fall off the cliff than to work out a compromise agreement.
That's a clear sign they have not heeded the warnings of fiscal cliffs from the members of congress quoted above – Democrats and Republicans alike who did not want the country to get anywhere near such a precipice.
Follow Smart Politics on Twitter.