Paulsen's Pathway? Minnesota Senators Who First Served in the House
Will he or won't he? Until we know for sure, here is a profile of the nine U.S. Senators from the Gopher State who previously served in the nation's lower legislative chamber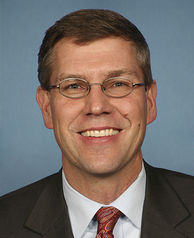 While the Minnesota and national media still dream of a Michele Bachmann vs. Al Franken U.S. Senate matchup in 2014, speculation continues as to which other potential contenders the Republican Party might put up against what they expect to be a more vulnerable DFL incumbent than Amy Klobuchar in 2012.
One of the biggest names being floated from a not-so-deep bench is three-term U.S. Representative Erik Paulsen from the state's 3rd Congressional District.
Paulsen's office recently left open the (theoretical) possibility of a challenge to Franken next year.
Should the suburban Republican make such a run in 2014, he would join a fairly long list of Minnesota Senators who first served at the nation's Capitol in the U.S. House.
A Smart Politics review of Minnesota election data finds that nine of the 39 U.S. Senators in state history were first elected to D.C. in the House of Representatives.
The first to do so was one of the state's inaugural Senators, Democrat Henry Rice.
Rice was a territorial delegate for two terms from 1853 to 1857 prior to being elected to the Senate in 1858.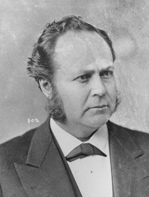 The first U.S. Representative from Minnesota to be elected Senator was Republican William Windom.
Windom was elected twice as an at-large Representative before winning the state's 1st CD races of 1862, 1864, and 1866.
Windom served three separate stints in the Senate: first for six months as an appointed Senator (July 1870 to January 1871) and then for a full term plus four years (March 1871 to March 1881) before resigning to become James Garfield's Treasury Secretary.
Windom resigned from his cabinet post in late 1881 after being elected again to the Senate and served until March 1883. He lost his subsequent reelection bid.
The state's 14th, 15th, and 16th Senators were all veterans of the lower legislative chamber.
Republican William Washburn (1889-1895) served three terms in the House from the 3rd and 4th CDs, Republican Knute Nelson (1895-1923) served three terms from the 5th CD, and appointed Democrat Charles Towne (1900-1901) served one term from the 6th CD.
Towne was elected to the House as a Republican in 1894 and narrowly lost reelection on the Democratic-People's ticket in 1896 and 1898.
Towne would return to the House, although not from Minnesota, winning New York's 14th CD race in 1904 as a Democrat.
Republican Thomas Schall was the next U.S. Representative from Minnesota to serve in the Senate.
Schall won two terms as a Progressive from the 10th CD in 1914 and 1916 after coming in second in the 5th CD Election of 1912.
In 1918, Schall won the first of three terms to the House as a Republican before winning a Senate seat as a GOPer in 1924.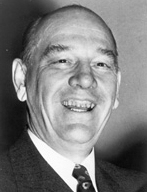 Next came Farmer-Laborite Ernest Lundeen, who served three terms in the House prior to winning a Senate seat in 1936.
Lundeen first won a House seat in 1916 as a Republican from the state's 5th CD, but then lost his renomination bid in 1918.
He then lost as an independent candidate to win back his seat in 1920 and then failed under the Farmer-Laborite banner in the special election of 1929 after the death of Republican Walter Newton.
Lundeen then won one of the nine at-large seats in 1932 and handily won reelection to the 3rd CD in 1934 before winning the 1936 Senate contest.
Future Democratic presidential candidate and Senator Eugene McCarthy served five terms in the U.S. House from the 4th CD before winning his Senate seat in 1958.
The last Minnesota Senator to serve in the U.S. House was Republican Rod Grams.
Grams served just one term from the 6th CD and then won the state's open Senate seat in 1994.
Like Schall, Lundeen, and McCarthy before him, Grams was a sitting U.S. Representative when he won his Senate seat. (Rice, Windom, Washburn, Nelson, and Towne all had a gap in service between the two chambers).
Grams made a failed bid at returning to the House in 2006 with a long-shot campaign against DFL incumbent Jim Oberstar in the 8th CD.
Three other U.S. Senators from Minnesota never served in the House but were previously defeated in general election congressional races:
· Republican Senator Morton Wilkinson (1859-1865) came in sixth out of six candidates in the state's first U.S. House elections in 1857 for two at-large seats.
· Appointed Republican Senator Alonzo Edgerton (1881) ran as a Breckinridge Democrat two decades prior in the state's 1860 at-large U.S. House race and received 1.1 percent of the vote for fifth place.
· Appointed Independence Party Senator Dean Barkley (2002) received 16.1 percent of the vote as an independent in the 6th CD race in 1992 (losing to the aforementioned Grams).
After serving in the Senate from 1859 to 1865, Wilkinson would later win a House seat from the 1st CD in the Election of 1868 only to lose his reelection bid in 1870. Wilkinson ran again as a Democrat in the 2nd CD race of 1888 and lost by 20 points.
The only other Senator from Minnesota to first serve in the Senate and then later serve in the House was Farmer-Laborite Magnus Johnson.
Johnson won a 1923 special election to fill the vacancy caused by the death of Republican Senator Knute Nelson.
Johnson lost his reelection bid, but would return to the Capitol as the top vote getter for one of the state's nine at-large U.S. House seats in the Election of 1932.
Johnson lost his 6th CD race two years later.
Follow Smart Politics on Twitter.