Strickland Out in 2014 Following 2nd Biggest Incumbent Tumble in Ohio History
Only one other governor has suffered a bigger decline in support in a reelection bid than Strickland in 2010 out of 40 such gubernatorial incumbents since the birth of the two-party system 180+ years ago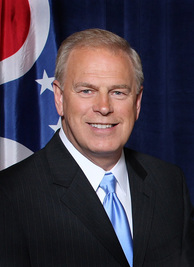 Former Ohio Governor Ted Strickland's early-in-the-cycle announcement Tuesday that he would not challenge Republican John Kasich to win back his old job next year clears the path for other Democratic candidates to enter the 2014 gubernatorial field.
Strickland, who won the state's highest elected office in 2006 after a five-term run in Congress from Ohio's 6th CD, was expected to be a strong candidate against Kasich if he had chosen to run after losing by just 2.0 points in the last electoral cycle.
Despite that narrow loss, Strickland's 2010 reelection campaign nonetheless remains one of the poorest showings among gubernatorial incumbents in Ohio history.
A Smart Politics analysis of Ohio election results finds that Ted Strickland endured the second biggest decline in support out of 40 gubernatorial incumbents running for reelection since the birth of the modern two-party system in 1828.
Strickland won 60.5 percent of the vote in his victorious 2006 campaign against then Secretary of State Ken Blackwell – taking advantage of both a general Democratic wave sweeping the nation as well as statewide concerns for the GOP after scandal-plagued Governor Bob Taft was convicted of multiple misdemeanors for failing to disclose gifts from lobbyists.
Four years later, the general election battle between two former members of Congress saw Strickland's statewide support drop by 13.5 points to just 47.0 percent for the second biggest tumble in Ohio history.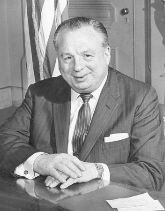 The only bigger plummet in a gubernatorial reelection campaign over the last 180+ years came in 1962 when Democrat Michael DiSalle faced Jim Rhodes.
Four years prior, DiSalle had defeated Republican incumbent William O'Neill with 56.9 percent of the vote – in what was a rematch of the 1956 gubernatorial election that O'Neill had won with a nearly identical 56.0 percent.
In 1962, only 41.1 percent of Ohio voters backed DiSalle in his matchup against Rhodes, for a drop of 15.8 points.
Strickland's 47.0 percent of the vote in 2010 is also the eighth lowest percentage won by an Ohio governor in a reelection campaign during the two-party era.
The 41.1 percent won by DiSalle in 1962 remains the low-water mark.
It is not unusual for Ohio gubernatorial incumbents to lose support on their second (or third) go-around with 22 of 40 seeing their vote percentage decrease.
Of the 15 governors who lost reelection, 14 saw a decline in support from their previous victorious campaign, with only Democrat James Cox seeing an uptick in support from 41.7 percent in 1912 (with a significant vote for Progressive Party nominee Arthur Garford depressing his tally) and 43.7 percent in his 1914 loss to Republican Frank Willis.
Of the 25 governors who won a second (or third or fourth) consecutive term, seven saw a decline in voter support.
Strickland was the first Ohio governor since 1974 to fail to win in his reelection bid, when Democrat John Gilligan managed to lose to former GOP Governor Jim Rhodes during the massive Democratic wave following Watergate.
Note: Governor Allen Trimble also saw a substantial decline in support in his (victorious) reelection contest in 1828, but this analysis excludes that race from the data above as his previous 1826 victory (against three Democratic-Republican candidates) took place before the birth of the traditional two-party system.
Follow Smart Politics on Twitter.