Michele Bachmann Jeopardy! Curse Continues
Every contestant who has correctly answered clues about Minnesota's controversial Congresswoman failed to win their match including the latest in the Teen Tournament on Friday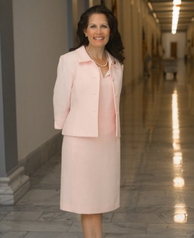 For the fourth time since launching her 2012 presidential campaign, Minnesota Republican Congresswoman Michele Bachmann's name came up as part of the clue on the syndicated game show Jeopardy!
And on each of these four occasions, the contestant to ring in and provide the correct answer (that is, question) demonstrating their Bachmann knowledge failed to win the match.
On Friday – during the third quarterfinal game of the annual Teen Tournament – the $2,000 clue in a 'Double Jeopardy' category called, "113th Congress," read:
"Rep. Michele Bachmann says she formed this caucus to get Congress back to obeying the Constitution."
Seventeen year old high school senior Olivia Hummer from Covina, California rang in and correctly asked, "What is the Tea Party?"
This was the second time Representative Bachmann's name came up during a 'Double Jeopardy' round, and the first time it has been associated with a highly valued $2,000 clue.
The congresswoman's previous 'appearances' were:
· On June 15, 2011, for the $800 clue in the "All Politics Is Local" category: "In 2011 this congresswoman from Minnesota's 6th district gave a State of the Union rebuttal on behalf of the Tea Party." ("Who is Michele Bachmann?")
· On January 26, 2012, for the $400 clue in the "Child rearing" category: "Michele Bachmann gave her biological children this schooling; the state wouldn't let her do it with her foster kids." (What is home schooling?)
· On July 6, 2012, for the $1,200 clue in the "News of the 2010s" cateogry: "She ended her presidential campaign right after the 2012 Iowa Caucuses." ("Who is Michele Bachmann?")
Unfortunately, teen contestant Olivia Hummer – and each of the previous three contestants who rang in correctly for Bachmann clues – met the same fate Friday as the congresswoman during her abbreviated presidential run – they all lost.
· In June 2011, challenger John Mingey, a physician from Erie, Pennsylvania, finished in last place with $4,600.
· In January 2012, one-time defending champion Kirby Burnett, a poker dealer from Prior Lake, Minnesota, lost his crown with a last place finish of $13,800.
· In July 2012, challenger Henry Doering, a retired public defender from Palm Springs, California, also came in last place with $4,400.
On Friday, Miss Hummer ended up in second place with $7,800 after entering "Final Jeopardy" in the lead with an $800 advantage.
And so, the Bachmann curse continues…
(Other names to come up along side Bachmann in the "113th Congress" category Friday were 30-term Michigan U.S. Representative John Dingell in the $800 clue and newly elected Massachusetts Senator Elizabeth Warren for $1,600).
Follow Smart Politics on Twitter.