Keeping Up with Erik Paulsen
His words say 'no' but his campaign manager floats a 'maybe.' Does the three-term congressman still have one toe in Minnesota's 2014 Senate pool?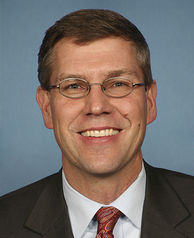 A tweet on Wednesday by the University of Minnesota's Larry Jacobs, Director of the Center for the Study of Politics and Governance at the Humphrey School of Public Affairs, highlights the ongoing saga and mystery as to whether 3rd CD U.S. Representative Erik Paulsen will vie for one-term DFLer Al Franken's U.S. Senate seat in 2014.
Conflicting campaign messaging surfaced in January about the 2014 plans of Paulsen, one of a small handful of well-known GOPers in Minnesota who could be competitive given the state's left-leaning electorate.
That episode resulted in a statement by Paulsen's office leaving open the possibility of a Franken challenge.
Fast-forward one month when today, at a Humphrey Policy Fellows event in Washington, D.C., Representative Paulsen twice stated he would not challenge Franken.
According to Dr. Jacobs, he asked Paulsen before the event if he was going to run against Franken, to which Paulsen laughed and said he was not.
Later, in a question and answer session, one of the three-dozen Humphrey Policy Fellows asked Paulsen about his 2014 Senate plans, to which he once again stated he would not run.
After Jacobs' tweet and the subsequent media coverage, Paulsen's campaign manager attempted to clarifiy the congressman's future plans:
"Representative Paulsen is solely focused on representing the Third District, but has not ruled anything out related to 2014."
That statement, in direct contradiction to what Representative Paulsen told the Humphrey Policy Fellows, did not sway Dr. Jacobs' assessment of what Paulsen will do in two years.
Jacobs told Smart Politics that he suspects Paulsen won't run for two reasons:
1) The risk of losing is too high. The congressman is a rising star in the Republican Party and, in Jacbos' assessment, has a real chance at a House leadership position down the road.
2) With the Ron Paul faction of the GOP now a significant force in the Gopher State, the moderate Paulsen would likely face a "brutal nomination battle" at best in any attempt to get on the Senate general election ballot.
If that is the case, and Paulsen one day officially and definitively bows out of the race and runs for what would likely be a safe fourth term from the 3rd CD, he would not be adding his name to what is a fairly short list of Minnesotans who served in the House and sought an upgrade to the nation's upper legislative chamber.
Since direct elections of U.S. Senators began in Minnesota 101 years ago, only seven ex- or sitting U.S. Representatives have won their party's nomination for a U.S. Senate seat across 38 election cycles:
1924: Republican Thomas Schall (5 terms: 1915-1923).
1930: Farmer Laborite Ernest Lundeen (1 term: 1917-1919).
1934: Democrat Einar Hoidale (1 term: 1933-1935).
1936: Republican Theodore Christianson (2 terms (1933-1937).
1936: Farmer Laborite Ernest Lundeen (3 terms: 1917-1919; 1933-1937).
1958: DFLer Eugene McCarthy (5 terms: 1949-1959).
1970: Republican Clark MacGregor (5 terms, 1961-1971).
2006: Republican Mark Kennedy (3 terms, 2001-2007).
Only three of these Representatives were successful and captured a Senate seat: Schall defeated Farmer-Laborite incumbent Magnus Johnson in 1924, Lundeen, on his second attempt, won an open seat in 1936, and McCarthy defeated Republican incumbent Edward Thye in 1958.
And so, Paulsen's probable hesitation to take the plunge – particularly with an incumbent on the ballot – is understandable considering only two House members have won their party's U.S. Senate nomination over the last 19 contests since 1960.
Both were Republicans. And both lost.
Follow Smart Politics on Twitter.