Could Allyson Schwartz Make History in Pennsylvania?
A Schwartz gubernatorial bid could bring Pennsylvania its first female governor as well as its first successful run by a sitting or former Democratic U.S. Representative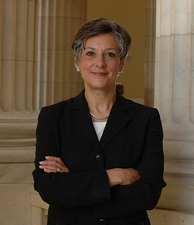 Reports recently emerged from the Keystone State that five-term Democratic U.S. Representative Allyson Schwartz is likely preparing for a 2014 gubernatorial challenge to incumbent Tom Corbett.
Should Congresswoman Schwartz officially run, she would not only try and make history to become the first female governor of Pennsylvania but also the first female Democratic nominee for the office.
Pennsylvania is one of two-dozen states that have never had a female governor and the only major party female gubernatorial candidate in state history is Republican Barbara Hafer in 1990.
Hafer lost to incumbent Bob Casey that cycle by 35.3 points.
But there is perhaps another historical hurdle for Schwartz to overcome and land the Democratic nomination as well as win the general election 21 months from now.
Over the last 100 years, only two of the state's 21 governors previously served in the U.S. House.
Moreover, no ex- or sitting Democratic U.S. Representative has ever been elected governor of the Keystone State since the founding of the party 185 years ago, and only one claimed the party's nomination for the office since 1900.
Since 1914, only two governors came to the position with prior experience in the nation's lower legislative chamber.
In 1962, sitting one-term GOP U.S. Representative William Scranton took back the governorship for Republicans for the first time in three cycles with an 11.1-point victory over Richardson Dilworth.
Thirty-two years later, in 1994, six-term Republican congressman Tom Ridge did the same with a 5.5-point victory over Mark Singel.
Since statehood, only seven of the 46 individuals to serve as governor of Pennsylvania had previously served in the House.
In addition to Scranton and Ridge, the other five are:
· Democratic-Republican Joseph Hiester, elected governor in 1820, served seven interrupted terms in the House from 1797-1805 and 1815-1820.
· Democratic-Republican George Wolf, elected in 1829, served four terms in the House from 1824-1829. Wolf was reelected in 1832, but lost his bid for a third term in 1835 to Anti-Masonic nominee Joseph Ritner.
· Whig James Pollock, elected governor in 1854, served three terms in the lower legislative chamber from 1844-1849.
· Republican William Stone, elected governor in 1898, served four terms in the House from 1891-1898.
· Republican John Tener, elected governor in 1910, served one term in the House from 1909-1911.
One additional note: While only two U.S. Representatives from Pennsylvania have been elected governor during the last 100 years, it has been almost equally rare for such officials to even make it onto the general election ballot.
Only one such representative has done so since 1900 and lost – Democrat Allen Ertel in 1982 in his failed challenge of GOP incumbent Dick Thornburgh. Ertel served three terms in the House from 1977-1983.
Ertel is the last in a line of five sitting or former Democratic U.S Representatives from Pennsylvania who have received their party's nomination for governor, and lost the general election following David Wilmot in 1857, Henry Foster in 1860, Asa Packer in 1869, and George Jenks in 1898.
Other such veterans of the U.S. House to launch failed gubernatorial campaigns in the 18th and 19th Centuries include Federalist Frederick Muhlenberg (1793, 1796), Democratic-Republican Joseph Hiester (1817, winning in 1820), Democratic-Republican Andrew Gregg in 1823, Federalist John Sergeant in 1826, Anti-Masonic nominee John Banks in 1841, and Whig James Irvin in 1847.
Follow Smart Politics on Twitter.