The 6 Times President Obama Mentioned the Pope
What do Dave Brubeck, Lech Walesa, the Queen of England and Nelson Mandela have in common?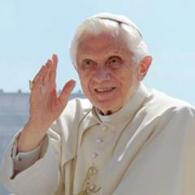 Headlines were rewritten Monday morning when the Vatican announced Pope Benedict XVI would be resigning at the end of this month.
What follows is a complete listing of every instance in which Barack Obama had mentioned the Pope (or the "papacy" or "papal") orally or in writing during his presidency prior to the resignation announcement.
Obama has spoken of the Pope on a mere six occasions prior to the resignation, of which four were passing mentions while honoring Father Damien De Veuster, honoring jazz musician Dave Brubeck, praising the Muslim chaplain Sanaa Nadim, and telling a joke before Parliament in England.
"I wish to express my deep admiration for the life of Blessed Damien De Veuster, who will be canonized on Sunday by His Holiness Pope Benedict XVI." – October 9, 2009, Statement on the Canonization of Father Damien De Veuster
"Dave Brubeck has never stopped reaching new audiences: performing for Presidents from Johnson to Reagan, composing orchestral tributes to Martin Luther King and Pope John Paul II, and even in his eighties, dazzling jazz festivals across America." – December 6, 2009, Remarks at the Kennedy Center Honors Reception
"Pope John Paul's engagement with Poland created space not just for the Catholic Church, but for labor leaders like Lech Walesa." – December 10, 2009, Address Accepting the Nobel Peace Prize in Oslo, Norway
"I am told that the last three speakers here have been the Pope, Her Majesty the Queen, and Nelson Mandela, which is either a very high bar or the beginning of a very funny joke." – May 25, 2011, Remarks to the Parliament in London, England
"The Presidential Medal of Freedom is the highest honor a President can bestow on a civilian. Most honorees are Americans; only a few others have received it, among them Pope John Paul II, Nelson Mandela, and Helmut Kohl." – June 7, 2011, Remarks at a State Dinner Presenting the Presidential Medal of Freedom to Chancellor Angela Merkel of Germany
"They are faith leaders like Sanaa Nadim, one of the first Muslim chaplains at an American college, a voice for interfaith dialogue who's had the opportunity to meet with the Pope to discuss these issues. We're very proud to have you here." – August 10, 2012, Remarks at the Iftar Dinner
The president's recent predecessors going back to Jimmy Carter have each mentioned the Pope on dozens of occasions during their respective years in office.
Follow Smart Politics on Twitter.