Since Barack Obama's first State of the Union Address in 2010, 60 of the 83 guests sitting with the First Lady came from states carried by the President in the previous election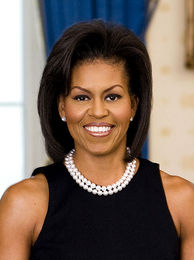 A familiar pattern continues to emerge with the list released by the White House today of the guests who will sit in the First Lady's box at the State of the Union Address this evening.
Excluding Jill Biden and Obama's Senior Advisor Valerie Jarrett, three-quarters of the 24 guests tonight hail from states won by the president last November.
Three are from California, with two each from Illinois, Virginia, and Wisconsin, and one from Colorado, Connecticut, Florida, Iowa, Maryland, Minnesota, Nevada, New Jersey, and Oregon.
On the Romney state side, two are from Arizona, plus one each from Kentucky, Mississippi, North Carolina, and Oklahoma.
Red states are actually slightly more represented this year than in 2012, when 17 of the 19 guests came from states the president had won in 2008.
Overall, since Obama's first official State of the Union address in 2010, 60 of the 83 guests in the First Lady's box (excluding administration or other federal officials) came from states Obama won in the previous election cycle, or 72.3 percent.
Of course, Obama carried more states than Mitt Romney (and John McCain) and the total cumulative population of such states tallied more than 60 percent of the nation overall in each cycle.
On the 'blue state' side, California has had the largest number of individuals seated in the First Lady's box with nine, followed by Virginia with six, Pennsylvania with five, Colorado and Wisconsin with four, Florida, Illinois, Michigan, and Washington, D.C. with three, Connecticut, Iowa, and Oregon with two, and Maryland, Massachusetts, Minnesota, Nevada, New Jersey, New Mexico, New York, and Ohio with one. (Plus five from North Carolina in 2010-2012 and one from Indiana in 2010).
On the 'red state' side, 13 of the 23 guests came from Arizona (seven) or Texas (six). Another three hailed from Oklahoma with one each from Georgia, Kentucky, Mississippi, Missouri, Montana, and Nebraska. (Plus one from North Carolina in 2013).
Twenty states have not been represented in the First Lady's box at the SOTU to date since Obama took office.
From the Obama state column: Delaware, Hawaii, Maine, New Hampshire, Rhode Island, Vermont, and Washington.
From the GOP column: Alabama, Alaska, Arkansas, Idaho, Kansas, Louisiana, North Dakota, South Carolina, South Dakota, Tennessee, Utah, West Virginia, and Wyoming.
Follow Smart Politics on Twitter.