One and Done: Mike Johanns' Unusual Exit from the US Senate
Johanns is the first U.S. Senator from the Cornhusker State who was popularly elected to a full term who chose not to seek reelection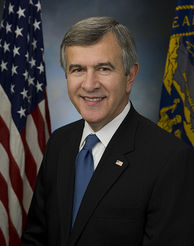 Mike Johanns' surprise announcement on Monday that he was retiring from the U.S. Senate (and, it appears, political office generally) sets into motion another Republican primary battle in Nebraska, the winner of which will likely be the favorite to win the seat in November 2014.
Johanns' departure after just one full term in the chamber is particularly noteworthy because an early exit has never happened quite like this before in the state.
A Smart Politics review of Nebraska election history finds that Mike Johanns is the first popularly elected U.S. Senator from the state to retire from the legislative body after only one full term in office.
Since Nebraska's first direct election U.S. Senate contest in 1916, a total of 15 different men and women have been elected to a full term in the state.
(Another five individuals were appointed to Senate seats in Nebraska and three others only briefly held the office after winning a special election).
Other than Johanns and fellow Republican Deb Fischer – who is not up for reelection until 2018 – each of these Senators sought at least one more term, and all but two succeeded:
Democrat Gilbert Hitchcock, who won the state's first popular vote contest for the office in 1916, lost by more than 18 points to GOPer Ralph Howell in his reelection bid for a second term in 1922.
Eighteen years later, Democrat Edward Burke, who won his first term during the Democratic wave of 1934, lost his renomination bid in 1940 to Robert Cochran.
(Cochran went on to lose the general election to Republican Hugh Butler and the Democrats would not control the seat again until after the 1976 election).
The remaining 11 senators to win full terms from Nebraska during the direct election era all won reelection at least once:
· Republican turned independent George Norris won elections in 1918, 1924, 1930, and 1936 before losing his bid for a fifth term in 1942.
· Republican Ralph Howell won in 1922 and 1928 before dying in office.
· Republican Hugh Butler was elected in 1940, 1946, and 1952 before dying in office.
· Republican Kenneth Wherry won full terms in 1942 and 1948 before dying in office.
· Republican Carl Curtis won in 1954, 1960, 1966, and 1972 before retiring from the Senate.
· Republican Roman Hruska won a special election in 1954 and then full terms in 1958, 1964, and 1970 before retiring.
· Democrat Edward Zorinsky won in 1976 and 1982 before dying in office.
· Democrat J. James Exon was elected in 1978, 1984, and 1990 before retiring from the Senate.
· Democrat Bob Kerrey won in 1988 and 1994 before retiring from the chamber.
· Republican Chuck Hagel won full terms in 1996 and 2002 before retiring from the Senate.
· Democrat Ben Nelson won full terms in 2000 and 2006 before retiring this past year.
Of the three other individuals to win Senate seats from Nebraska via special elections, one died in office before coming up for election to a full term (Republican Dwight Griswold, 1952) and two were elected for less than two-months stints in November elections without simultaneously being candidates in contests held for the full term on that same day (Democrat Richard Hunter in 1934 and Republican Hazel Abel in 1954).
Follow Smart Politics on Twitter.