Norm Coleman: Minnesota's Forgotten Man?
On a recent episode of Jeopardy!, none of the contestants could identify the state from which Coleman served as U.S. Senator and mayor – but had no problem with Loretta Sanchez, Jim Webb, Arlen Specter, or Michael Bloomberg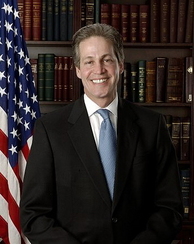 While Minnesota's most famous current politician Michele Bachmann has repeatedly demonstrated her significant pop cultural footprint, the man who was on the losing end of the state's most famous recount while Bachmann's star was rising is perhaps seeing his fade completely away.
After losing his Senate seat to Al Franken in 2009 after a nearly 8-month recount and court battle, Norm Coleman went into a self-imposed exile from elected office – declining to run in the Gopher State's 2010 open gubernatorial contest and 2012's U.S. Senate race won by popular incumbent Amy Klobuchar.
While Coleman's name gets dropped from time to time in the state's two marquee 2014 contests (for governor and his old seat held by Franken), there are few signs the moderate Republican (and ex-Democrat) is game for another campaign and is instead content to live behind the scenes serving on various boards and commissions (e.g. the 'action tank' American Action Network).
As a result, when the popular game show Jeopardy! highlighted five "party hoppers" on its February 28th program (episode #6554), Coleman's was the only clue that the three contestants failed to correctly identify.
The "Party Hopping" category came up during the 'Double Jeopardy!' round and featured five recent office holders who had switched parties at some point during their political career.
Coleman's name was mentioned in the $800 clue:
A Democrat as mayor, Norm Coleman switched parties & became a Republican senator from this state
And how quickly we forget…none of the three contestants rang in.
In fact, Coleman's was the only clue in the category in which one of the contestants didn't correctly ring in right away:
$400: This current mayor of New York has switched from Democrat to Republican to independent (Michael Bloomberg)
$1,200: Loretta Sanchez became a Democrat & beat Bob Dornan to become a Congresswoman from this state (California)
$1,600: The Secretary of the Navy under Reagan, Jim Webb was a Democrat when this state sent him to the Senate (Virginia)
$2,000 (Daily Double): This late Pennsylvanian, once a Democrat, was elected to the Senate for the GOP, then switched back in 2009 (Arlen Specter)
With the surging Ron Paul and Tea Party influences on Minnesota's Republican Party, it appears the prospects of a Coleman bid to hold elected statewide office are getting slimmer and slimmer, even if he could be tempted to run once again.
Follow Smart Politics on Twitter.