How High Will Rand Paul's Fundraising Skyrocket After Filibuster?
Bernie Sanders' daily fundraising tally increased by 61-fold for the fortnight after his December 10, 2010 eight-and-a-half hour speech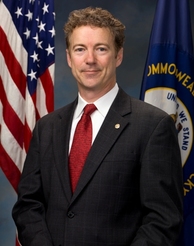 Kentucky Republican U.S. Senator Rand Paul's 12+ hour filibuster Wednesday discussing the Obama administration's policy on drone attacks on Americans on U.S. soil raised the Senator's already high profile to perhaps a legendary status among tea partiers, conservatives, and beyond.
With expert fundraising already in his genes courtesy of his former presidential candidate father, Senator Paul undoubtedly made great strides today to further court Ron Paul's extensive and passionate base of support as well as expand on it among the GOP electorate generally.
And will it pay off?
If recent history is any example, it will pay dividends.
One need only look back at what happened to Vermont independent U.S. Senator Bernie Sanders' campaign coffers after his 8.5-hour marathon speech delivered when he railed against legislation extending the Bush-era tax cuts back in December of 2010.
Sanders was first elected to the nation's upper legislative chamber in 2006 but did not actively fund raise during his first two years in office – netting just $1,500 in individual itemized (large donor) contributions in 2007 and $2,500 in 2008.
With just shy of four years before his 2012 reelection bid, Sanders' fundraising began in earnest in 2009, and for the 708 days through December 9th of 2010 – the day before his speech – the Vermont Senator netted a total of $123,554 in large donor individual funds.
That comes to an average of $174.51 per day.
And then, Sanders gave his speech.
Receipts began pouring in that day – $21,220 in large donor money, which was more than half of what the Senator had raised during the previous 343 days of 2010 combined ($41,575).
Over the next fortnight, Sanders would raise $150,704, which was $25K more in large donor individual funds than he had collected over the previous 23 months collectively.
Overall, the 14 days following Sanders' speech netted the Vermont Senator $10,764.57 per day in large donor money – or 61 times the daily rate he was collecting over the previous two years ($174.51).
This was the peak of Sanders' fundraising for the entire six-year cycle through 2012 – coming closest in September 2011 when he averaged $7,616 per day in large donor money that month.
However, while Bernie Sanders was viewed as somewhat of a liberal icon before his speech in 2010, Rand Paul was already a much more well-known political commodity nationally heading into Wednesday's remarkable event.
Add to that the amount of new converts following Paul's filibuster effort (and the legions of #StandWithRand Twitter supporters), and Paul's campaign haul in the coming days should easily dwarf the numbers collected by the Vermont Senator in 2010.
One other thing Senator Paul has going for him that Senator Sanders did not is the rumored prospects of a 2016 presidential bid.
As a result, with Wednesday's 12 hour 52 minute speech (that bled into Thursday in D.C.), the half-life of Paul's media headlines will also be much longer.
And that of course, will translate into even more money for his campaign.
Follow Smart Politics on Twitter.