Charlie Crist: There and Back Again?
Crist, the first Florida governor not to run for reelection since 1964, could become just the second governor of the Sunshine State to win nonconsecutive terms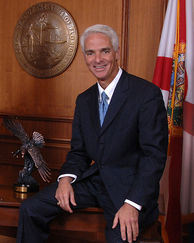 With recent polls showing rosy political prospects for Charlie Crist in the state of Florida, one wonders how his political path (and partisan identification) might have unfolded had he decided to run for reelection as governor in 2010 instead of his ill-fated U.S. Senate bid.
Crist first ran for the Senate as a Republican that cycle, switched to a non-affiliated status after it was clear he would not become the GOP nominee, and then, two years after his defeat to Marco Rubio, officially switched his partisan affiliation to the Democratic Party.
Crist was the first elected governor of the Sunshine State who did not run for reelection since Democrat Farris Bryant in 1964:
· Four governors won two consecutive terms: Democrats Reubin Askew (1970, 1974), Bob Graham (1978, 1982), Lawton Chiles (1990, 1994), and Republican Jeb Bush (1998, 2002).
· Two governors lost their reelection bid: Republicans Claude Kirk (1970) to Reubin Askew and Bob Martinez (1990) to Lawton Chiles.
· One governor lost his party's primary: Democrat Haydon Burns (1966) in a run-off against Robert King High.
If Crist runs for governor, receives the Democratic Party nomination, and defeats Republican incumbent (and expected nominee) Rick Scott, he would become just the second Florida governor in state history to serve two nonconsecutive terms.
Prior to the late 1800s, governors were allowed to serve only one consecutive term in Florida.
However, since the adoption of the 1968 state constitution, governors are limited only as follows: "No person who has, or but for resignation would have, served as governor or acting governor for more than six years in two consecutive terms shall be elected governor for the succeeding term." (Article IV, Section 5).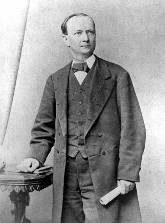 Only one governor has served nonconsecutive terms in the history of the state – Democrat William Bloxham in the 19th Century.
In 1880, Bloxham was elected by 9.8 points over Republican Simon Conover and then, sixteen years later, carried the state by 46.3 points over E.R. Gunby in a three-candidate contest in 1896.
That was actually the third time Bloxham's name had been on the general election ballot. He was defeated running as a Liberal Republican in 1872 by 4.8 points to GOPer Ossian Hart.
Crist, of course, has not yet declared his candidacy for the Democratic Party nomination.
But polls conducted in mid-March by Quinnipiac and Public Policy Polling both showed Crist with a double-digit leader over Governor Scott.
Florida Democratic Senate Minority Leader Nan Rich has already launched her campaign.
Follow Smart Politics on Twitter.