Tim Pawlenty Returns to Jeopardy! After Three-Year Hiatus
But a single pop culture moment is unlikely to launch a new political campaign for one of Minnesota's biggest Republican names any time soon
Jeopardy! just can't stop loving Minnesota politicians.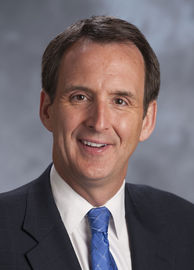 Michele Bachmann has become a regular fixture on the popular game show – with her name coming up four times in the last year and a half.
And now, after a three-year hiatus, Bachmann's fellow failed 2012 Republican presidential candidate and former two-term Governor Tim Pawlenty resurfaced on Wednesday's program.
Pawlenty secured the prime $2,000 slot in the Double Jeopardy round yesterday, for the following clue in the on-the-nose category "Governors":
Seen here, he took over the governor gig from Jesse Ventura.
New Jersey law clerk and challenger Greg Haroutunian correctly rang in.
However, like every contestant who has correctly answered clues about Minnesota's controversial Congresswoman, Mr. Haroutunian won the battle, but lost the war, and ended up with just $2 after Final Jeopardy.
Other governors mentioned in the category were:
$400 This Arkansas governor is seen here before and after losing 100 pounds. (Mike Huckabee)
$800 Before becoming governor, he served for two decades as a state senator from Harlem. (David Patterson)
$1,200 In 1928, discontented rural voters helped make him Louisiana governor. (Huey Long)
$1,600 In 1982, this politician was elected Texas Treasurer – the first woman politician to win a state office in 50 years. (Ann Richards)
Wednesday's program marked the third time Pawlenty has 'appeared' on the game show.
On October 15, 2008 (show #5543), Pawlenty's name was mentioned along with governors of Ohio and New Mexico in the $800 clue in the category "The "G"-8″:
2008 job title for Ted Strickland, Tim Pawlenty & Bill Richardson
Challenger Meredith Robbins, a library media specialist from New York, correctly stated, "What is governor?"
Robbins ended up winning the show with $5,700.
Then, on June 24, 2010 (show # 5949), "Tim Pawlenty" was the $1,600 clue in the category "State the State of the Governor."
Defending one-day champion Joey Genereux, a biochemist from San Diego, California, correctly asked, "What is Minnesota?"
Genereux nonetheless lost his crown and ended up in second place for the show.
Pawlenty has largely been out of the national spotlight after leaving Mitt Romney's presidential campaign in the fall of last year to become the new head of the D.C. Financial Services Roundtable lobbying group.
As one of only a few well-known statewide Republicans, Pawlenty's name was briefly mentioned (and quickly shot down) as a potential challenger to his successor Mark Dayton in the 2014 gubernatorial contest.
Republicans are still searching for a candidate.
Follow Smart Politics on Twitter.