Jim Graves Hopes Second Time's a Charm in Congressional Seat Bid
One in six Minnesota U.S. Representatives in history lost their first general election House race, including three current members of the Gopher State delegation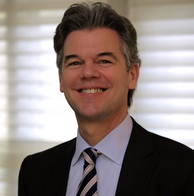 Jim Graves made it official Thursday.
Michele Bachmann's 2012 DFL opponent in Minnesota's 6th Congressional District race announced he will once again seek a seat in the nation's lower legislative chamber in 2014.
Graves, of course, came very close to a victory in 2012 – a cycle in which Bachmann's path to the House was interrupted by an eight-month run at the Republican presidential nomination that ended after the Iowa caucuses.
Bachmann defeated Graves by just 1.2 points for her second very close race in three cycles.
The congresswoman will soon announce her 2013 Q1 fundraising numbers to mark the start of her quest for a fifth term next November.
Despite the closeness of the 2012 race, Graves will undoubtedly be the underdog once again as he faces the most prolific fundraiser in the House in a GOP-leaning district.
That said, one thing Graves can point to as he attempts to galvanize supporters for his campaign is that many U.S. Representatives in Minnesota history – including three members of its current delegation – lost at least one U.S. House general election contest before winning a congressional seat.
Overall 21 of the 134 U.S. Representatives in Minnesota history were defeated in their first general election for a seat in the chamber, or 16 percent.
Graves will thus try to accomplish in 2014 what Republican John Kline and DFLers Richard Nolan and Collin Peterson have each already succeeded in doing.
Nolan – who is also one of just 10 Minnesotans to record interrupted service in his U.S. House stint – lost by 2.0 points as the 1972 DFL nominee against GOP incumbent John Zwach in that cycle's 6th CD race.
After redistricting, Nolan defeated Republican Jon Grunseth by 10.8 points in 1974. In 2012, Nolan set a record when he upended Chip Cravaack to return to the House after a 32-year absence.
Peterson and Kline, meanwhile, each lost two elections to the U.S. House as their party's nominee before eventually claiming victory.
In 1984, Peterson lost to GOPer Arlan Stangeland by 14.1 points and then was defeated by just 121 votes two years later in 1986.
Peterson would eventually upend Stangeland in 1990 by 7.1 points.
Kline was the 1998 Republican nominee during his failed attempt to defeat DFL incumbent Bill Luther in the 6th CD.
Kline lost that race by 4.0 points, and then lost again to Luther in 2000 by 1.6 points.
The two candidates would square off for a third consecutive cycle in the newly drawn 2nd CD with Kline emerging this time as an 11.1-point victor.
Kline and Peterson are two of the three Minnesota congressmen to win election to the U.S. House on their third attempt, along with Republican Franklin Ellsworth who did so nearly 100 years ago in 1914.
Other notable Minnesotans who lost their first general election House race include:
· Democrat Winfield Hammond: lost in 1892 but then went on to win three congressional races over a decade later and then the Gopher State's gubernatorial election of 1914.
· Republican Thomas Schall: lost in 1912 (as a Progressive) and then won five terms in the House and two terms in the U.S. Senate.
· Republican H. Carl Andersen: lost in 1936 and then won the first of 12 terms two years later.
The remaining Minnesotans on this "If at first you don't succeed…" list are Republican Cyrus Aldrich (winning in 1859), Republican Morton Wilkinson (1868), Republican Joel Heatwole (1894), Republican Franklin Ellsworth (1914), independent / Farmer-Laborite Ole Kvale (1922), Farmer-Laborite Francis Shoemaker (1932), Farmer-Laborite Henry Arens (1932), Democrat Einar Hoidale (1932), Farmer-Laborite Dewey Johnson (1936), Famer-Laborite Henry Teigen (1936), Republican Joseph O'Hara (1940), DFLer William Gallagher (1944), DFLer Roy Wier (1948), DFLer Bob Bergland (1970), and DFLer Gerry Sikorski (1982).
Graves is hoping that by launching his campaign several months earlier in the election cycle this time around – as well as starting with higher name recognition – he will be able capture the victory that eluded him last November.
Follow Smart Politics on Twitter.