Bachmann Fundraising Falls 61 Percent from 2011
Minnesota's famous congresswoman sees her campaign receipts dip by over $1 million compared to the same three-month period during the previous election cycle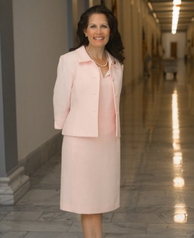 Although Congresswoman Michele Bachmann still receives donations to her campaign coffers on a scale that makes 98% of her House colleagues salivate, the Minnesota Republican and Tea Party leader has experienced a substantial drop in fundraising so far this cycle compared to two years ago.
For the first three months of 2013, Representative Bachmann received $674,463 in campaign contributions – nearly all from individuals and the vast majority in small contributions.
That marks a decline of 60.7 percent, or $1.04 million, from her 1st Quarter tally in 2011, during which she recorded a jaw-dropping $1,717,765, or approximately $19,300 per day.
Bachmann's campaign received an average of $7,573 per day so far in 2013.
This drop in receipts coincides with the seemingly conscious effort Ms. Bachmann made to reduce her public profile following her narrow reelection victory over DFLer Jim Graves last November.
Unlike many of her House and Minnesota delegation colleagues, almost all of Bachmann's campaign receipts come from individuals, not PACs.
In Q1 2013, 99.9 percent of money received by the Bachmann campaign was from individuals, with just $1,000 from PACs.
By contrast, fellow 'establishment' Republicans John Kline and Erik Paulsen netted $132K and $161K from PACs respectively over the last quarter, or 51 percent and 45 percent of the total money received by the Gopher State's 2nd and 3rd district GOP officeholders.
At least 90 percent of Bachmann's receipts have come from individuals each quarter for the last 15 quarters since Q3 2009.
An astounding 85.9 percent of Bachmann's individual contributions came from small donors during the past three months ($578K) – those giving less than $200 to a candidate in an election cycle.
That marks the highest percentage of unitemized contributions received by the congresswoman during any quarter of any U.S. House campaign she has run to date.
The previous high in small donor receipts for Bachmann was the 79.7 percent she received during the third quarter of 2009.
The $674K raised by Bachmann is the lowest amount she has tallied for her congressional campaign since Q4 2009 ($591K), excluding the three quarters during which she ran for president from June 2011 through January 2012.
But don't expect these (relatively) depressed fundraising numbers to last long.
The Bachmann campaign recently responded with pleas for contributions after her 2012 opponent Jim Graves announced he would seek a rematch next November.
Follow Smart Politics on Twitter.