We Are Family? Colbert Busch vs Sanford Campaign Website Biographies
Elizabeth Colbert Busch discusses her family in 34 percent of her campaign website bio compared to just 8 percent for Mark Sanford; Sanford devotes 81 percent to career accomplishments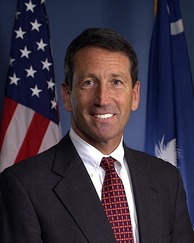 Reading the campaign website biographies of the two major party candidates in Tuesday's South Carolina 1st Congressional District special election reveals not only individuals with different personal and professional backgrounds, but also stark differences in what they choose to emphasize about their lives.
Both candidates are divorced, but only one shies away from discussing family.
Mark Sanford, of course, has been famously dogged by his high-profile affair while governor with a woman (Maria Chapur) who is now his fiancée, as well as recent charges of trespassing at his ex-wife's house.
Not surprisingly, Sanford overwhelming highlights his professional career and downplays his family life in the 527-word biography on his Congressional campaign web site.
Overall, 81.8 percent of Sanford's bio discusses his past experiences and accomplishments as Governor of the Palmetto State, as a former U.S. Representative from the 1st CD, and through his post-officeholder career as a political commentator and board member.
Sanford focuses in particular on his eight years as governor, highlighting the work he did on cutting taxes, stopping wasteful spending, and refusing to accept stimulus spending from the federal government.
By contrast, just 46 words, or 8.7 percent of the biography, addresses Sanford's personal or family life, including one sentence near the beginning:
Mark first learned the themes of hard work and frugality growing up with two brothers and a sister on their family farm near Beaufort, SC.
And two short sentences at the very end:
Mark has four sons, Marshall, Landon, Bolton and Blake, and is engaged to Maria Belen Chapur. He currently lives in Charleston.
Sanford devotes another 4.7 percent of his web site bio each to his educational background and to his general policy goals in Congress (tackling "runaway government spending").
Meanwhile, more than one-third of Elizabeth Colbert Busch's campaign website bio discusses her family life and background (282 of 819 words, 34.4 percent).
That is four times the rate of Sanford and more than six times the total number of words Sanford used to discuss his family life.
Colbert Busch leads with the family in four of the first six paragraphs of her biography discussing her life growing up, the tragedy she experienced as a young adult when three members of her family were killed in a plane crash, and life as a single, divorced mother of three.
Even when discussing her career accomplishments, the Democratic nominee gives a shout out to her folks:
Inspired by her parents' commitment to education, Elizabeth proudly serves as an advisor to the Science, Technology, Engineering and Mathematics Coalition..
She ends her bio mentioning the "love of her life," husband Claus Busch, plus her children and grandchildren.
Colbert Busch still uses the plurality of her biography to discuss her professional career in the maritime and energy industries (386 words, 47.1 percent) including a list of some of the accolades she has received and the boards on which she sits.
A total of 5.6 percent of Colbert Busch's bio discusses her education with another 12.8 percent on her general outlook on Congress and goals moving forward.
Two candidates. Two different narratives.
Which one will prevail on Tuesday?
Subject Matter of Colbert Bush and Sanford Campaign Website Biographies by Percent
Subject

Colbert Busch

Sanford

Professional career

47.1

81.8

Family

34.4

8.7

Goals / issues

12.8

4.7

Education background

5.6

4.7
Table compiled by Smart Politics.
Follow Smart Politics on Twitter.