Would Scott Walker Resign During a 2nd Gubernatorial Term?
Of the 71 gubernatorial election winners before Walker in Wisconsin history, only three failed to complete their term by resigning from office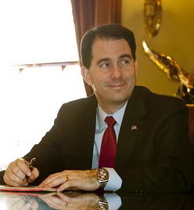 For the last few months, Wisconsin Republican Governor Scott Walker has been coy about whether he would serve a full term if reelected in November 2014.
Walker is one of at least a dozen names currently being floated as potential Republican presidential candidates for the 2016 cycle.
While that cycle would land right in the middle of Walker's (possible) second term, he would of course need to take steps toward a serious presidential bid much earlier than that – probably shortly after the 2014 election.
Walker is also technically being coy about his 2014 plans, as he has not announced his candidacy as of yet, though all signs suggest he will run.
The governor told the Milwaukee Journal Sentinel this week that he will not divulge his intentions on whether he would pledge to serve a full term until he is officially a candidate.
Walker would not be the first elected governor to fail to complete a term in the Badger State, but the examples are few and far between.
Wisconsin held 71 gubernatorial elections prior to the election of Scott Walker in 2010 (and his recall election victory in 2012).
Three of these winners did not complete their term due to death:
Republican Louis Harvey (elected 1861) died less than four months into office in April 1862 on a relief expedition he led to assist Wisconsin units in the Civil War after the Battle of Shiloh. Harvey fell into the Tennessee River and drowned.
Progressive Orland Loomis (elected 1942) died from a heart attack in December after decisively defeating two-term Republican incumbent Julius Heil in the previous month by 13.2 points in a six-candidate race. Republican Lieutentant Governor Walter Goodland, who was reelected on a separate ballot line that cycle, subsequently ascended to the governorship in January 1943.
Walter Goodland was then elected governor in 1944 and 1946 but became the next and last Wisconsin chief executive to die in office. Goodland died after serving two months into his third term in March 1947.
Of the remaining 68 winners of gubernatorial elections in the Badger State before Walker, 65 served out their full term, or 95.6 percent.
(Note: Not included in the tally below is Democrat William Barstow. As a one-term incumbent Barstow initially appeared to win reelection in the Election of 1855, but resigned from office after a few months in 1856 after Republican Coles Bashford was ultimately deemed the winner because Barstow's winning vote count had been fraudulently gained. As such Barstow is not counted as the elected winner of the 1855 race).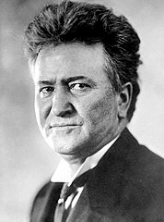 The first elected Wisconsin governor to resign his seat in the middle of a term was the state's most famous politician, Robert La Follette, Sr.
La Follette served two complete terms after being elected as a Republican in 1900 and 1902.
Almost immediately after being elected to a third straight term by double-digit margins in 1904, La Follette was elected to the U.S. Senate by the Wisconsin legislature in January 1905.
La Follette served another year before resigning with one year left in his governorship in January 1906. "Fighting Bob" would go on to win reelection to the Senate in 1911, 1916, and 1922.
The second elected governor from Wisconsin to fail to complete his term other than by dying was Democrat Patrick Lucey in 1977. Lucey was first elected in 1970 and then reelected by 11 points in 1974.
After the election of Jimmy Carter to the White House, Lucey was asked to serve as the U.S. Ambassador to Mexico and resigned from the governor's office in July 1977.
The most recent Wisconsin governor to resign from office was Tommy Thompson in 2001.
Thompson, elected to four four-year terms in 1986, 1990, 1994, and 1998, served longer than any Wisconsin governor in history and boasts the 10th longest tenure of any state governor in U.S. history at 14 years and 28 days.
George W. Bush selected Thompson to be his Secretary of Health and Human Services. After a quick Senate confirmation, Thompson's last day as Governor was February 1st of 2001 with 23 months remaining in his fourth term.
So what do La Follette, Lucey, and Thompson (and possibly Walker) all have in common?
All left their job at the highest level of state government for a federal office or post.
And all three also later sought an even higher political office.
La Follette sought but failed to win the Republican presidential nomination in 1912 and 1916. In 1924, he won the Progressive Party nomination, recorded 16.6 percent of the nationwide general election vote, and carried his home state of Wisconsin and its 13 Electoral College votes.
Lucey, meanwhile, ended up running against the Carter-Mondale ticket as the vice-presidential running mate of John Anderson. Anderson, a Republican U.S. Representative, and Lucey, a former Democratic governor, ran as independents and won 6.6 percent of the vote.
Thompson launched a presidential campaign for the Republican nomination in 2008. That campaign, however, was short-lived and ended after the Iowa Straw Poll in August 2007.
As for Walker, the only scenarios in which he would likely resign his governorship if reelected in 2014 are a) if he sought the 2016 Republican presidential nomination, or b) he was asked to be the Republican nominee's VP running mate.
Almost getting lost in this speculation of Walker's 2016 plans is the 2014 Wisconsin gubernatorial race itself.
However, with no big-name Democrats yet putting their hat in the ring, it is perhaps assumed that the office is Walker's for the taking in what would be his third election to the governorship in four years.
Follow Smart Politics on Twitter.