Sestak Seeks First US Senate Rematch in Pennsylvania History
If Sestak wins the 2016 Democratic nomination he will be the first major party candidate to secure a rematch in a Pennsylvania U.S. Senate race in the popular vote era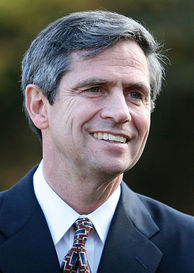 When former Pennsylvania U.S. Representative and 2010 U.S. Senate candidate Joe Sestak raised a surprising $460K in receipts for the first quarter of 2013, it didn't take much imagination to suspect his political aspirations were still alive and well.
Sestak, who Republican Pat Toomey defeated by 2.0 points during the GOP wave that cycle, announced today that he is preparing to run again the next time the state holds a Senate contest – in a rematch against Toomey in November 2016.
By staking his claim this early, the former Congressman and Navy Admiral may have just cleared the Democratic field 3.5 years out from Election Day and can now simply focus on the general election.
(In 2010, Sestak had to first defeat Republican-turned-Democratic incumbent Arlen Specter in a closely fought primary campaign decided by 7.8 points).
A Sestak vs. Toomey rematch would be a rarity in Pennsylvania politics.
In fact, there has never been a rematch in a Senate race in the Keystone State.
A Smart Politics review of Pennsylvania U.S. Senate elections finds that if Joe Sestak wins the 2016 Democratic nomination, his rematch against incumbent Pat Toomey will be the first among major party candidates in the history of the state in the direct election era.
Pennsylvania has held 38 U.S. Senate special and general elections since its first popular vote contest for the office in 1914.
Not once has a defeated major party candidate sought and earned a general election rematch against the victor across these last 100 years.
Prior to Sestak's announcement most of the early 2016 chatter in Washington has been about the presidential race.
Sestak has demonstrated he is capable of raising plenty of money and probably expects the 2016 cycle won't be as GOP-friendly as the last go-around when he lost by just two points to Toomey.
It should be noted a handful of minor third party candidates have run in multiple elections against the same opponent, though they are not top-billed 'rematches' per se:
· In 1922 and 1928 Socialist William Van Essen ran against Republican David Reed, winning 5.6 and 0.8 percent respectively.
· In 1930 (special election) and 1932, Van Essen won 1.3 percent and 3.3 percent against Republican James Davis.
· In 1944 and 1950, Socialist Labor candidate Frank Knotek won 0.05 percent and 0.04 percent of the vote against Democrat Francis Myers (who lost his '50 reelection bid to Republican Jim Duff).
· In 1946, Knotek won 0.4 percent as a Socialist Laborite in a race won by Republican Edward Martin and then won 0.04 percent against Martin in 1952 under the Industrial Government banner.
· In 1958, Socialist Labor candidate George Taylor carried 0.3 percent of the vote as Republican Hugh Scott won his first of three terms. Taylor won 0.1 percent six years later against Scott in 1964.
As of the end of March, Senator Toomey had nearly $2.4 million cash on hand for his Senate campaign.
Follow Smart Politics on Twitter.