Are Eric Holder's Days Numbered?
The 82nd Attorney General already has the ninth longest tenure of any AG in U.S. history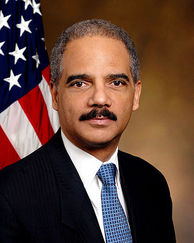 Eric Holder has endured his fair share of critics throughout his tenure as the 82nd Attorney General of the United States, but had to face another high-profile round of grilling Wednesday before the House Judiciary Committee to discuss a variety of issues including the latest scandal related to the subpoena of Associated Press phone records.
Although some Republicans, such as RNC Chair Reince Priebus, have called for Holder's resignation, there is no sign yet that the current situation has risen to the level of President Obama calling on Holder to resign.
The turnover of Obama's cabinet, while historically low during his first term, has accelerated in recent months with Hillary Clinton, Tim Geithner, Leon Panetta, Ken Salazar, Hilda Solis, and Steven Chu all departing their posts this year.
In addition to Holder, original cabinet secretaries Tom Vilsack (Agriculture), Kathleen Sebelius (Health and Human Services), Arne Duncan (Education), Shaun Donovan (Housing and Urban Development), Ray LaHood (Transportation), Eric Shinseki (Veterans' Affairs), and Janet Napolitano (Homeland Security) still remain in office.
Will Holder be the next to leave?
Through Thursday, Holder has now been in office 1,564 days (4 years, 3 months, 14 days) which is historically a very long time for the nation's Attorney General.
Holder currently claims the ninth longest tenure among the 82 individuals to hold the post in the nation's history and the fifth longest since the turn of the 20th Century.
William Wirt holds a record that will likely never be broken at 11 years, 3 months, and 16 days – spanning most of the James Monroe administration as well as the entirety of John Quincy Adams'.
Wirt was later the presidential nominee of the Anti-Masonic Party in 1832 and won 7.8 percent of the vote and carried the State of Vermont.
Janet Reno – the only woman to hold the post – has the second longest service record at 7 years, 10 months, and 8 days during the Clinton administration.
Reno followed that up with a failed Florida gubernatorial Democratic primary bid in 2002.
Wirt and Reno are the only two Attorney Generals to serve at least six years in office, a feat Holder would accomplish on February 3, 2015 should he last that long.
If Holder remains in office until the end of the year, he would climb into fifth place all-time, behind only FDR's first AG, Homer Cummings (5 years, 9 months, 29 days) and the nation's 3rd AG Charles Lee (5 years, 2 months, 22 days).
Along the way Holder would pass Wilson AG Thomas Gregory (4 years, 6 months, 1 day), Jackson/Van Buren AG Benjamin Butler (4 years, 9 months, 13 days), Eisenhower AG Herbert Brownell (4 years, 9 months, 18 days), and Jefferson/Madison AG Caesar Rodney (4 years, 10 months, 15 days) .
Holder will next pass Gregory for 8th place on August 5, 2013.
Top 10 Longest Serving U.S. Attorney Generals
Rank

#

Attorney General

Presidency

Years

Months

Days

1

9

William Wirt

Monroe, J.Q. Adams

11

3

16

2

78

Janet Reno

Clinton

7

10

8

3

55

Homer Cummings

F.D. Roosevelt

5

9

29

4

3

Charles Lee

Washington, J. Adams

5

2

22

5

6

Caesar Rodney

Jefferson, Madison

4

10

15

6

62

Herbert Brownell

Eisenhower

4

9

18

7

12

Benjamin Butler

Jackson, Van Buren

4

9

13

8

49

Thomas Gregory

Wilson

4

6

1

9

82

Eric Holder*

Obama

4

3

14

10

74

William F. Smith

Reagan

4

1

0
* Through May 16, 2013. Excludes service as Acting Attorney General. Table compiled by Smart Politics.
Follow Smart Politics on Twitter.