Michele Bachmann's US House Exit in Historical Context
Only 1 in 3 of Minnesota's 134 U.S. Representatives exited the chamber by a manner other than defeat or death, and more than half of these ran for or held prominent political office thereafter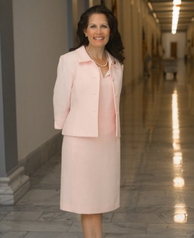 Michele Bachmann's video announcement Wednesday that she would not be seeking a fifth term from Minnesota's 6th Congressional District may not be the departure many liberals and Democrats preferred – they would have more greatly relished defeating the Tea Party favorite at the ballot box – but it is an exit they will certainly take.
Democrats have been particularly frustrated since Bachmann became a national sensation in 2008 and yet held her seat with one of the narrowest victory margins by Republican incumbents across the country in each of the last three cycles.
Although Representative Bachmann stated in her announcement that she would not run for reelection to her House seat, she clearly left her political options open:
"But looking forward after the completion of my term, my future is full, it is limitless and my passions for America will remain. And I want you to be assured that there is no future option or opportunity – be it directly in the political arena or otherwise – that I won't be giving serious consideration if it can help save and protect our great nation for future generations."
That quote, taken in conjunction with the following qualified statement Bachmann made earlier in her announcement about how long one should serve in D.C., certainly raises the question if she is contemplating another political bid in a state which is currently not teeming with well-known GOP candidates in the upcoming 2014 gubernatorial and U.S. Senate contests:
"Our Constitution allows for the decision of length of service in Congress to be determined by the Congress people themselves or by the voters in the district. However, the law limits anyone from serving as president of the United States for more than eight years. And, in my opinion, well, eight years is also long enough for an individual to serve as a Representative for a specific congressional district."
For those who are certain the current federal investigations into Bachmann's failed 2012 presidential campaign will make her go quietly into the political night, consider these facts:
Nearly two-thirds of the 135 times Minnesota U.S. Representatives exited the House, they did not leave on their own terms – either losing a general election, failing to receive their party's nomination, or dying in office.
Of the approximately one-third who decided not to run for reelection to their House seat, more than half ended up running for or were appointed to a high-profile political office thereafter.
So what are the odds of a Bachmann comeback to elected office?
Here are the numbers:
Overall, 134 men and women have been elected to the U.S. House since statehood.
After subtracting the eight members still in office (including Bachmann) and adding in the seven representatives who served eight additional interrupted stints in the chamber (August Andresen, William Carss, Mark Dunnell, John Lind, Ernest Lundeen, Melvin Maas, William Pittenger), there have been 135 exits from the U.S. House by members of the Minnesota delegation prior to Bachmann.
A total of 79 of these Minnesota U.S. Representatives exited by failing to win reelection bids (59 percent), including 14 who did not win their party's nomination and 65 who lost in the general election.
Five others exited by dying in office (4 percent): Democrat Carl Van Dyke (1919), Farmer-Laborite Ole Kvale (1929), DFLer William Gallagher (1946), Republican August Andresen (1958), and DFLer Bruce Vento (2000).
That leaves just 51 instances in which Minnesotans exited the U.S. House on their own terms by a manner other than defeat or death, or 38 percent.
However, more than half of these ex-U.S. Representatives – 26 – still sought a prominent political office after leaving the House, including 22 who ran for the U.S. Senate or governor of the Gopher State (or both).
Two resigned during the middle of their term to accept prominent political appointments: Republican Walter Newton resigned in 1929 to become President Herbert Hoover's personal secretary while DFLer Bob Bergland resigned in 1977 to become President Jimmy Carter's Secretary of Agriculture.
Fifteen ran for the U.S. Senate: Republican Cyrus Aldrich (1863), Republican William Windom (elected 1871, 1877, later Treasury Secretary under Garfield), Republican Mark Dunnell (1883), Republican William Washburn (elected 1888), Republican Knute Nelson (elected 1895, 1901, 1907, 1912, 1918), Republican Charles Lindbergh (1916), Republican Thomas Schall (elected 1924, 1930), Farmer-Laborite Ernest Lundeen (elected 1936), Democrat Einar Hoidale (1934), Republican Theodore Christianson (1936), DFLer Eugene McCarthy (elected 1958, 1964), Republican Clark MacGregor (1970), DFLer Don Fraser (1978), Republican Rod Grams (elected 1994), and Republican Mark Kennedy (2006).
Nine ran for governor: Democrat Eugene Wilson (1888), Republican Knute Nelson (elected 1892, 1894), Republican-turned-Democrat John Lind (lost in 1896, elected 1898, 1900), Republican Joel Heatwole (1908), Democrat Winfield Hammond (elected 1914), Republican Charles Lindbergh (1918, 1924), Republican Franklin Ellsworth (1920, 1924), Republican Al Quie (elected 1978), and DFLer turned Independence candidate Tim Penny (2002).
Three were elected mayor of major Minnesota cities: Democrat Eugene Wilson of Minneapolis (1872, 1874), Republican Andrew Kiefer of St. Paul (1888), and DFLer Don Fraser of Minneapolis (1979, 1981, 1985).
One was later elected back to the U.S. House: Current 8th Congressional District DFLer Richard Nolan. Nolan decided not to seek reelection to a fourth term during the 1980 cycle but made a successful comeback 32 years later in 2012.
These tallies do not include those who stepped away from the House to later serve as judges in the U.S. District (Republican Robert Morris) or county (Republican Frank Nye) court systems.
In short, the vast majority of Minnesota U.S. Representatives do not wish to give up their House seats when they do.
And as for the remaining minority who, like Bachmann, choose to leave?
The strong political ambition that won them a seat in D.C. frequently does not leave them after they leave Congress.
One final point: Bachmann's decision not to run for reelection after four terms in office is on par with the 4.5-term average tenure of the 51 Gopher State U.S. Representatives who did not seek reelection or resigned from office.
Minnesota U.S. Representatives' Exit from the U.S. House
Reason for exit

#

Percent

Lost general election

65

48.1

Did not run

49

36.3

Lost party nomination

14

10.4

Died in office

5

3.7

Resigned

2

1.5
Note: Excludes Minnesota's eight current U.S. Representatives. The multiple exits of Representatives who had interrupted service were tallied individually as separate data points. Table compiled by Smart Politics.
Follow Smart Politics on Twitter.