Unusual Exits: Congressional Deaths By or On Trains
Nearly two-dozen ex- or sitting members of Congress have been killed by or on trains in U.S. history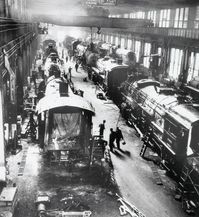 On Memorial Day, Smart Politics profiled the lone sitting member of Congress killed in war – Oregon Senator Edward Baker who died in 1861 as a major general at the Battle of Balls Bluff in Virginia.
Today's report takes a look at another unusual – but not quite as rare – setting in which sitting and former members of Congress died over a hundred-year period – but none over the last 56 years.
Smart Politics examined the Biographical Directory of the United States Congress for the causes of death of the thousands of members who have served over the last 200+ years.
From 1858 through 1957, 23 ex- and sitting U.S. Senators and Representatives died in or were killed by trains.
In many ways, it makes sense that such deaths in and around trains would be prominent during this period – and not before or after.
In the early decades of the nation, there simply was no railway system – with the major rail expansion beginning in the 1830s.
And, in recent decades, with certain exceptions like former Delaware U.S. Senator Joe Biden who famously commuted from his home state to D.C. via Amtrak, more individuals traveled by automobile and plane.
In between, however, train travel was much more common and members of Congress from time to time would die on trains (due to ill health while taking long trips) or meet violent deaths in train collisions or accidents or while walking on or crossing the tracks.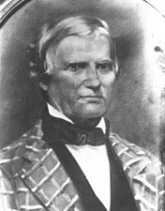 The first ex- or sitting member of Congress to die in this manner was former Whig U.S. Senator Robert Hanna of Indiana.
Hanna served for less than a year after being appointed to the upper chamber in 1831 before a career in state politics as an Indiana legislator in the 1830s and 1840s.
Hanna died in Indianapolis in November 1858 when a train struck him as he walked the tracks.
Over the next 90 years another 16 former members of Congress would die by or on trains.
Some were killed in railroad accidents:
· North Carolina Democratic U.S. Representative William Ashe (1849-1855): near Wilmington, North Carolina, September 1862.
· New York Whig U.S. Representative Henry Walbridge (1851-1853): at Bergen Tunnel near Hoboken, New Jersey, January 1869.
· Wisconsin Democratic U.S. Representative Charles Larrabee (1859-1861): from injuries in a rail accident suffered in Tehachapi, California (later dying in Los Angeles), January 1883.
· Michigan Republican U.S. Representative Henry Lord (1881-1883): near Butte, Montana, January 1891.
· Connecticut Republican U.S. Representative Dwight Loomis (1859-1863): near Waterbury, Connecticut, September 1903.
Others died from being struck by a train:
· Ohio Whig/Oppositionist U.S. Representative Edward Ball (1853-1857): near Zanesville, Ohio, November 1872.
· Maryland U.S. Representative Francis Thomas (1831-1841; 1861-1869): near Frankville, Maryland, January 1876.
· Virginia Democratic U.S. Representative Fayette McMullen (1849-1857): in Wytheville, Virginia, November 1880.
Others died by simply passing away while traveling by train:
· New York Republican U.S. Representative Stephen Baker (1861-1863): near Ogden, Utah, June 1875.
· Minnesota Republican U.S. Representative Horace Strait (1873-1879; 1881-1887): at Juarez, Mexico, February 1894.
· Iowa Republican U.S. Representative Lot Thomas (1899-1905): near Yuma, Arizona, March 1905 – just two weeks after leaving Congress.
· Nevada Republican U.S. Senator William Massey (1912-1913): near Litchfield, Nevada, March 1914.
· Pennsylvania Democratic U.S. Representative William Wilson (1907-1913): near Savannah, Georgia, May 1934.
· Oklahoma Democratic U.S. Representative James McClintic (1915-1935): near Chicago, Illinois, April 1948.
· Iowa Republican U.S. Representative Albert Dawson (1905-1911): near Cincinnati, Ohio, March 1949.
And one former congressman was found dead along the railroad tracks: New York Republican U.S. Representative Stephen Hopkins (1887-1889): near Pleasantville, New Jersey, March 1892.
The first sitting member of Congress to die from a train was two-term Louisiana Democratic U.S. House member Robert Wickliffe.
Wickliffe died in Washington, D.C. while crossing a railroad bridge near the end of his second term in June 1912.
The Emporia Gazette (Kansas) reported the death thusly:
The badly crushed body of Representative Robert C. Wickliffe, of Louisiana, was found on the railroad tracks near Potomac Park. It was presumed he fell from a south bound train. Later evidence of the engineer showed that Wickliffe had been struck while crossing the track, returning from a fishing trip. Mrs. Wickliffe was at the capitol, when she heard the news. She fainted. Wicliffe was alone when killed. Despite the sign of warning against trespassing on railroad property there, he was seen to climb the elevation apparently unconscious of the oncoming train. He was struck and instantly killed.
From 1919 to 1933, two sitting Senators and two sitting Representatives would die while traveling by train:
· Oklahoma Democrat Joseph Thompson (1913-1919): near Martinsberg, West Virginia, September 1919.
· Minnesota U.S. Senator Knute Nelson (1895-1923): near Timonium, Maryland, April 1923.
· Connecticut Republican U.S. Representative James Glynn (1915-1923; 1925-1930): near Washington, D.C., March 1930.
· Montana Democratic U.S. Senator Thomas Walsh (1913-1933): near Wilson, North Carolina, March 1933. Senator Walsh had recently been appointed Attorney General by soon to be inaugurated Franklin Roosevelt, and had one more day left in office in the Senate.
The last sitting member of Congress to die on or by a train was Georgia Democrat Henderson Lanaham.
Lanaham was in his sixth term from Georgia's 7th Congressional District when his automobile struck a train in Rome, Georgia in November 1957.
Follow Smart Politics on Twitter.