A Brief History of "Representative Smith"
A look back at the 115 "Smiths" to serve in the House as newly-minted U.S. Representative Jason Smith of Missouri adds his name to the roster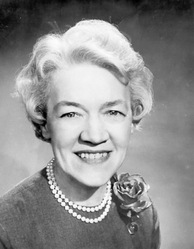 The election of Jason Smith to the House of Representatives in Missouri's 8th Congressional District special election prompted plenty of "Mr. Smith Goes to Washington" headlines in the subsequent media coverage, although the title character in the 1939 Frank Capra film was, of course, an appointed Senator.
That said, a total of 24 Smiths (21 Mr. and three Mrs.) have entered the U.S. House since the release of that classic film and 115 have been elected overall since 1789.
A Smart Politics analysis finds "Smith," not surprisingly, is the most popular surname in U.S. House history, and, with the addition of Missouri's Jason Smith to its rolls, the name now extends its lead to 50 over "Johnson" which comes in second place with 65 Representatives.
Smiths also now outnumber Johnsons currently serving in the House by a five to four margin.
Rounding out the Top 10 most common surnames in the House since the 1st Congress are Davis in third at 55, Wilson and Williams at 54, Miller at 49, Brown at 46, Jones at 45, and Taylor and White at 41.
Now about all those Smiths…
First Smiths and Most Smiths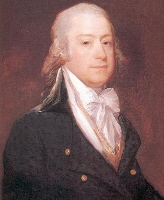 The first Smiths elected to the House in the 1st Congress were Anti-Administration candidate William Smith of Maryland and Pro-Administration candidate William Loughton Smith of South Carolina, with the former serving one term and the latter five.
William Loughton Smith was soon joined by Israel Smith of Vermont (1791-1797; 1801-1803), Jeremiah Smith of New Hampshire (1791-1797), and Samuel Smith of Maryland (1793-1803; 1816-1822).
There has been at least one Smith in the House since the 50th Congress in March 1887 when Henry Smith was elected from the Labor Party in Wisconsin's 4th Congressional District.
In fact, there have been only two Congresses in history in which at least one Smith was not elected: the 31st Congress (1849-1851) and the 49th (1885-1887).
The most Smiths ever to serve in one Congress were the Smiths of the 101st with 10: Democrats Lawrence Smith (Florida) and Neal Smith (Iowa) and Republicans Chris Smith (New Jersey), Denny Smith (Oregon), Lamar Smith (Texas), Larkin Smith (Mississippi), Peter Smith (Vermont), Bob Smith (New Hampshire), Robert Smith (Oregon), and Virginia Dodd Smith (Nebraska).
There were nine Smiths in the 59th Congress (1905-1907) and eight in the 58th (1903-1905), 76th (1939-1941), 77th (1941-1943), and 100th (1987-1989) Congresses.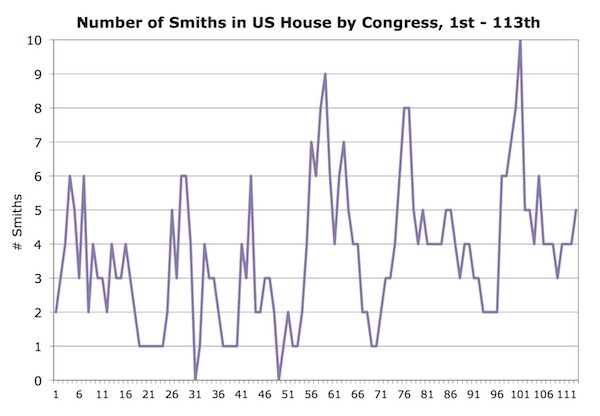 Longest-Serving Smiths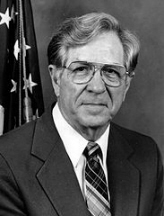 The Smith who has the longest tenure in the U.S. House is Democrat Neal Smith of Iowa who served a full 36 years and 18 terms from 1959 to 1995. Smith lost his reelection bid for a 19th term during the Republican Revolution of 1994.
In second is Democrat Howard Smith of Virginia who served 18 terms and 35 years, 9 months, and 30 days. Smith lost his renomination bid in 1966.
Coming in at 3rd and 4th are Republicans Chris Smith from New Jersey's 4th CD at 17 terms and Lamar Smith of Texas' 21st CD at 14 terms.
Both are currently serving in the House along with nine-term Democrat Adam Smith of Washington's 9th CD and four-term Republican Adrian Smith of Nebraska's 3rd CD.
Mrs. Smith
And as for the Mrs. Smiths who came to Washington?
Of the 115 Smiths elected to the House to date, three have been women.
Republican Margaret Chase Smith of Maine was the first, winning a special election in June 1940 and then serving four more terms before winning four terms in the U.S. Senate.
Republican Virginia Dodd Smith served eight terms in the House from Nebraska from 1975 to 1991. She was not a candidate for reelection in 1990.
Republican Linda (Simpson) Smith served two terms from Washington from 1995 to 1999 before losing decisively in the state's 1998 U.S. Senate race.
Green and Wint?
But while "Smith" may be a rather ordinary surname, many stood out from the pack with fairly colorful first names, such as:
· Caleb Blood Smith: A three-term Whig from Indiana (1843-1849).
· Green Clay Smith: A two-term Unconditional Unionist from Kentucky (1863-1866).
· Hezekiah Smith: A one-term Democrat from New Jersey (1879-1881).
· Hiram Ypsilanti Smith: A one-term Republican from Iowa (1884-1885).
· Jedediah Smith: A one-term Jeffersonian-Republican from New Hampshire (1807-1809).
· Wint Smith: A seven-term Republican from Kansas (1947-1961).
That said, there have also been 14 William Smiths, 13 John Smiths, and 12 Samuel Smiths who have accounted for more than one-third of the 115 Smiths to serve over the decades.
Smiths by State
Overall, New York leads the way with the most Smiths over the decades with 11, although the Empire State has been Smith-less since January 1975 when five-term Democrat Henry Smith's stint in Congress ended.
Pennsylvania is next with 10, followed by Virginia with seven, and Illinois, Maryland, and Michigan with five each.
Meanwhile, 14 states have never elected a "Smith" as U.S. Representative: Alaska, Arizona, Arkansas, Colorado, Delaware, Hawaii, Montana, Nevada, New Mexico, North Dakota, Rhode Island, South Dakota, Utah, and Wyoming. (Note: Arizona Territory was represented by Marcus Smith for eight terms as a delegate).
Jason Smith is the second Smith elected to the House from Missouri. Democrat Madison Smith served one term over a century ago from 1907 to 1909.
Follow Smart Politics on Twitter.