Meet the Three House Women Who Go by "Congressman"
Republicans Marsha Blackburn, Diane Black, and Cynthia Lummis are the lone holdouts from self-identifying as a "Congresswoman"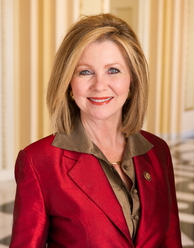 The 2012 elections sent 78 women to the U.S. House this January, totaling nearly 18 percent of the full voting members of the chamber.
That marks an all-time high water mark for the number of women in the House – dipping briefly to 77 after the resignation of Missouri Republican Jo Ann Emerson in late January but returning to 78 after the special election victory of Illinois Democrat Robin Kelly in April.
While these female legislators shared in this historic moment at the convening of the 113th Congress, they do not all quite agree on what the position they hold should be titled.
Yes, they are all United States Representatives, but are they all congresswomen?
A Smart Politics content analysis of official U.S. House websites finds that three of the 78 women in the chamber prefer to use the term "congressman" over "congresswoman" when referring to themselves in the first or third person.
All three of these women are Republicans from deep red states: Marsha Blackburn and Diane Black of Tennessee and Cynthia Lummis of Wyoming.

Marsha Blackburn is currently in her sixth term in the House from Tennessee's 7th Congressional District and has consistently called herself a "congressman" since entering the chamber in 2003.
She uses the term regularly in her press releases as well as in her House biography.
Congressman Blackburn has previously stated that the term "congresswoman," which is today used by the vast majority of women – and Republican women – in the House, is "grammatically incorrect" and a "politically correct misnomer" because the term "'Congressman' is not a gender specific job."
Representative Blackburn has been rated as one of the Top 15 most conservative Republicans in the House in National Journal's annual vote record composite rankings several times since entering the chamber – coming in at #7 in 2003, #12 in 2005, #6 in 2006, #12 in 2007, #7 in 2009, and #3 in 2012.
Blackburn's voting record also claimed top spot as most conservative woman in the House in 2003, 2006, 2007, 2009, and 2012.

Three-term Republican at-large Representative Cynthia Lummis of Wyoming has also used the term "congressman" when referring to herself ever since she arrived in D.C. in 2009 as evidenced by a press release she issued during her first week in office:
"U.S. Congressman Cynthia Lummis, R-Wyo., hit the ground running on her first day as Wyoming's newest member of the U.S. House of Representatives by co-sponsoring two bills to stop pay raises for members of Congress." – January 6, 1999 ("Lummis Sworn In As Wyoming's Voice in U.S. House")
Lummis's voting record tied for the fourth most conservative among House women in 2009 (#34 overall), 10th in 2010 (#82 overall), 15th in 2011 (#126 overall), and 15th in 2012 (#120 overall).

Perhaps taking a cue from her delegation colleague, Tennessee's Diane Black of the state's 6th CD also prefers the term "congressman" – utilizing that designation on her official House website header image, biography, and press releases.
Representative Black's composite voting record during her first year in the House in 2011 earned her the designation of the most conservative member of the chamber followed by a #26 ranking by National Journal in 2012.
And as for the remaining 75 women in the House?
The vast majority prefer "Congresswoman" although a handful use the gender-neutral term "Representative."
A total of 66 of the 78 female U.S. Representatives identify themselves as a "Congresswoman" on their official website header image, or 85 percent.
Six others refer to themselves as a "Representative" in their header image: Democrats Karen Bass (CA-37), Suzanne Bonamici (OR-01), Joyce Beatty (OH-03), and Kathy Castor (FL-14) and Republicans Kristi Noem (SD-AL) and Martha Roby (AL-02).

Bass, Bonamici, and Beatty regularly use the term "Congresswoman" elsewhere on their site, such as in press releases, whereas Noem and Roby usually opt for "U.S. Representative."
Castor, meanwhile, has alternated identifying as a "Congresswoman" and "U.S. Representative" during her six-plus years in office.
Colorado Democrat Diana DeGette's header image identifies her as neither a congresswoman nor a representative but rather as her position of "Chief Deputy Whip" of the Democratic Party.

However, "congresswoman" is listed in DeGette's home page title.
In her press releases DeGette normally uses the term "U.S. Representative' but is occasionally referred to as "Congresswoman DeGette."
The two remaining women in the House do not list any title beside their name in their website header: Republican Michele Bachmann (MN-06) and Democrat Allyson Schwartz (PA-13). However, both consistently refer to themselves as a "congresswoman" in statements issued from their office.
When it comes to the titles bestowed in committees, conventions are not bucked so regularly.
Eight Republican women chair House committees or subcommittees and the designation they use in that capacity is mixed.
Like some of their female Democratic colleagues in the Senate, six women in the House maintain the traditional term of "Chairman":
· House Administration Committee Chair and (Homeland Security) Border and Maritime Security Subcommittee Chair Candice Miller of Michigan's 10th CD.
· (Financial Services) Financial Institutions and Consumer Credit Subcommittee Chair Shelley Moore Capito of West Virginia's 2nd CD.
· (Foreign Affairs) Middle East and North Africa Subcommittee Chair Ileana Ros-Lehtinen of Florida's 27th CD.
· (Homeland Security) Emergency Preparedness, Response, and Communications Subcommittee Chair Susan Brooks of Indiana's 5th CD.
· (Science, Space and Technology) Energy Subcommittee Chair Cynthia Lummis of Wyoming.
· (Armed Services) Oversight and Investigations Subcommittee Chair Martha Roby of Alabama's 2nd CD.
Just two other Republicans choose to use the term "Chairwoman" like they do on their official House website:
· (Appropriations) State, Foreign Operations, and Related Programs Subcommittee Chair Kay Granger of Texas' 12th CD.
· (Education and the Workforce) Higher Education and Workforce Training Subcommittee Chair Virginia Foxx of North Carolina's 5th CD.
Follow Smart Politics on Twitter.