Jim Abeler: Leading Off the Senate Roll Call Vote in 2015?
Only three U.S. Senators in history had a name earlier in the alphabet than the budding 2014 Republican Senate candidate; no Minnesotan has ever topped the chamber's roll call list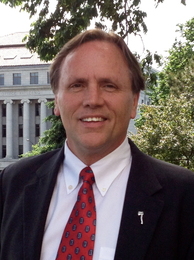 Minnesota's 2014 U.S. Senate race got a little more interesting on Tuesday.
Eight-term Republican State Representative Jim Abeler of Anoka announced he was launching a start-up committee to challenge DFL incumbent Al Franken and became the second GOPer in the race along with businessman Mike McFadden.
Abeler may not have been on the short-lists of expected 2014 candidates to come out of the Minnesota legislature, but his center-right credentials and demonstrated ability to work with the other side of the aisle could make him an attractive statewide candidate in a light blue state.
Abeler did not shy away from his independent track record and history of bipartisanship in his press release Tuesday which included passages such as:
"Congress and the President spend too much time and effort on divisive partisan squabbles that accomplish nothing. The issues confronting us have already crossed party lines."
"I think outside the box, consider all sides of an issue, and then make a reasoned, thoughtful decision."
"In 2011, I led a strong, bipartisan effort to reform Minnesota's health and human services programs."
"During his 15-year tenure in the state legislature, Abeler has been recognized as one who works well with people and has become known as a problem solver. He has exerted his leadership over those years trying to improve the tone of the legislative process."
But the big question is how the Republican endorsement process (and potential primary) will shake out given Abeler's occasional bipartisan work and voting history (e.g. his controversial override of Governor Tim Pawlenty's 2008 gas tax increase veto) as well as his endorsement of Ron Paul for president in 2012 (Paulites have become significant players in the state GOP).
If Representative Abeler is able to secure the nomination and defeat Al Franken, a rarity in Minnesota history will occur as he would likely sit at the top of the Senate roll call vote come January 2015 – a first for the Gopher State.
Only three of the 1,947 U.S. Senators to serve in the nation's upper legislative chamber brought with them a surname that came alphabetically before Jim Abeler's.
At the very top of this all-time Senate alphabetical list is North Carolina Republican Joseph Abbott, who served after the admission of the Tar Heel State to the Union in July 1868 to March 1871.
Prior to his election to the Senate, Abbott had worked as a newspaper man, lawyer, and brigadier general in the Union Army during the Civil War.
In second comes the recently deceased James Abdnor of South Dakota.
The Republican served as lieutenant governor and then four terms in the U.S. House before defeating three-term Senate Democrat George McGovern in 1980.
Abdnor served one term in the chamber and then lost to Tom Daschle during his 1986 reelection bid. He passed away in May 2012 at the age of 89.
Directly above Abeler in third place on the U.S. Senate alphabetical list is Republican Hazel Abel of Nebraska.
Abel served for 54 days in 1954 after winning a special election caused by the death of Republican Dwight Griswold. She was not a candidate for the full term.
As for Minnesota, the Gopher State has previously sent only one Senator with an "A" surname to the chamber in state history – or rather, he sent himself.
DFL Governor Wendell Anderson appointed himself to the vacancy in December 1976 caused by the death of Hubert Humphrey.
Anderson lost his bid for a second term to Rudy Boschwitz in 1978.
No Minnesotan has ever topped the Senate's alphabetical roll call list.
When Anderson served at the tail end of the 94th Congress, Democrats James Abourezek of South Dakota and James Allen of Alabama preceded him on the list.
In the 95th Congress, Abourezek, Allen, and then Allen's widow Maryann Pittman Allen came before Anderson.
Follow Smart Politics on Twitter.