To Serve or Represent? Website Taglines of US Representatives
How do 435 men and women use linguistic snippets on their House websites to distinguish themselves and what they do?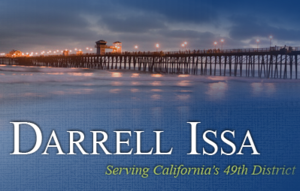 Although they are all members of the same elite club, sometimes it can be difficult to stand out among a crowd of more than 400 peers.
So how do U.S. Representatives introduce themselves to their online audiences?
All representatives maintain official U.S. House websites, and first impressions are often made with the site header – an image at the top of the site which includes the name and usually the likeness of the particular member of Congress and often details such as from what district he or she serves.
And sometimes a bit more.
Although general patterns do emerge as to what goes into the taglines used by members of the House, a new Smart Politics content analysis of House websites finds there is variation as to what is highlighted in the text beneath, above, or beside the representative's name and picture.
To serve or represent?
Approximately two-thirds of U.S. Representatives use a tagline that describes themselves as either "representing" or "serving" a particular area of the country (e.g. a district, state, city, county, or a combination of these).
The linguistic distinction may be slight, but the word "representing" connotes a member acting and speaking for his or her constituents whereas "serving" is decidedly a more humble designation suggesting the member is working for them.
"Representing" is the preferred descriptor utilized by U.S. Representatives in their header taglines with 179 choosing to use that word, or 41 percent of the chamber.


Meanwhile, 112 representatives opt to describe themselves as "serving," or 25 percent of the House.


Interestingly, this gap virtually disappears when looking at female members of Congress.
Female U.S. Representatives were nearly as likely to identify themselves as "serving" their districts – 26 of 78 members, or 33 percent – as "representing" them (29 of 78, 37 percent).
Male House members, however, were far more likely to identify themselves as "representing" their constituents (150 of 357, or 42 percent) rather than "serving" them (86 of 357, 24 percent).
There were no significant differences by party.
Pride?
But not all of these 291 men and women in the House were content to market themselves as simply "serving" or "representing."
Approximately one-third of them took it a step further, with 95 members adding the adverb "Proudly" to their tagline.
It appears 61 of the 112 U.S. House members who are "serving" are doing so proudly:


Pride, it seems, can be measured temporally, and one GOP Representative from North Carolina wants you to know right off the bat how long he's been proudly serving his district:

Another 34 members who are "representing" their districts want you to know they are full of pride as they do so:


A total of 61 of the 95 "proud" U.S. House members are Republicans compared to just 34 Democrats.
Overall, 26 percent of the GOP caucus incorporated "proudly" into their header taglines with 16 percent of the Democratic caucus doing so.
A noticeably higher rate of women (23 of 78, 29 percent) choose to qualify their service with this adverb than men (72 of 357, 20 percent).
Fighting. Working. Empowering.
And what about the remaining one-third of the chamber that does not advertise themselves as "serving" or "representing" their constituents?
A few U.S. Representatives want you to know they do not simply represent.
They do not simply serve.
Their work in Washington goes beyond that.
Take a look:



"Just the facts, ma'am."
Approximately 3 in 10 representatives provide only basic information in their taglines that details the district and state from which they serve.
Their taglines simply describe their constituency, and usually do so without any over the top descriptors:



Although a few members leave some details up in the air…
What state are you from, Rep. Honda?

And just what is your district, Rep. Latham?

But there are a few outliers who add a sub-tagline to the header.
For example, Democrat Corrine Brown wants to leave nothing to chance after 2012's redistricting process – and details both her current and former district numbers in her header image:

Meanwhile, Republicans John Culberson and Steve Womack highlight their respective mottos:


"You know who I am."
The remaining dozen U.S. House members reveal absolutely no information in their header image text about what district they represent, or even mention their home state.
Perhaps these U.S. Representatives are so confident about their standing that they believe the public must know who they are – or, if they don't, they should.
All these members provide in their header tagline is their name and that they are a member of Congress.
Six Democrats and six Republicans opt for this bold, minimalist description including…
Democrat Emanuel Cleaver (MO-05):

At-large Vermont Democrat Peter Welch:

Republican Tom Price (GA-06):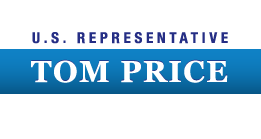 Republican Marlin Stutzman (IN-03):

To be fair, a few of these U.S. Representatives do incorporate a picture or seal of their home state off to the side to narrow down the possibilities of what district they serve…
Like Democrat Lloyd Doggett (TX-35):

And Republican Bob Goodlatte (VA-06):

The other U.S. Representatives in this group are Democrats George Miller (CA-11), Judy Chu (CA-27), and Luis Gutierrez (IL-04) and Republicans Jeff Denham (CA-10), Gus Bilirakis (FL-12), Jim Jordan (OH-04), and Mike Fitzpatrick (PA-08).
Follow Smart Politics on Twitter.