US Senate Special Elections by the Numbers
Which two states have held seven special elections since 1913? Which two states have yet to hold one? And which Senator was elected via special election three times?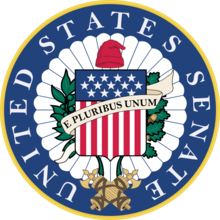 There may not be as much suspense heading into Tuesday's U.S. Senate special election in Massachusetts as there was in January 2010 when Republican Scott Brown picked up a seat held by the Democratic Party for 57 years since the election of John Kennedy in 1953.
Twenty-term Democratic U.S. Representative Ed Markey is expected to win a comfortable, but by no means blow-out victory over Republican Gabriel Gomez in the race to fill Secretary of State John Kerry's former seat.
This will be the fifth special election held in the Bay State since the direct election of U.S. Senators began a century ago with the passage of the 17th Amendment – tied for the fifth most in the nation.
Overall, 85 Republicans, 83 Democrats, and three independents or third-party candidates have been elected to the U.S. Senate via popular vote special elections prior to Tuesday's contest in Massachusetts.
(Note: This data does not include newly created seats (e.g. those awarded to Alaska and Hawaii after statehood in 1959) but does include two popular vote special elections conducted before the 17th Amendment's passage: in Oregon in 1906 – which required a subsequent endorsement of the winning candidate from the state legislature – and Nevada in January 1913).
Special Elections by State
Kentucky and North Carolina lead the way with the most special elections conducted for the nation's upper legislative chamber with seven each.
Kentucky's tally includes a string of five such contests during a 16-year period ending with the state's last special election in 1956.
Idaho – the only state in the nation yet to hold a special election for the U.S. House – is tied with Oregon for the third most with six, followed by seven states with five: Alabama, Georgia, Massachusetts, New Jersey, Tennessee, Vermont, and Wyoming.
New Jersey will join Idaho and Oregon with six this October when a special election is held for the seat vacated by the death of Frank Lautenberg.
Six states have only held one U.S. Senate special election: Alaska, Hawaii, Maryland, Montana, South Dakota, and Washington.
Two states, meanwhile, have yet to conduct a single popular vote special election – Arizona and Utah.
Both states have avoided special elections (and high turnover generally) due to a handful of long-serving Senators who ended their service by retiring or losing their reelection bid – not by resigning or dying in office and thereby leaving a vacant seat.
Arizona's long-serving Senators include Democrats Henry Ashurst (1912-1941), Carl Hayden (1927-1969), and Dennis Deconcini (1977-1995) and Republicans Barry Goldwater (1953-1965; 1969-1987), John McCain (1987-present), and Jon Kyl (1995-2013).
Utah's long-serving Senators include Democrats William King (1917-1941), Elbert Thomas (1933-1951), and Frank Moss (1959-1977) and Republicans Reed Smoot (1903-1933), Wallace Bennett (1951-1974), Jake Carn (1974-1993), Orrin Hatch (1977-present), and Bob Bennett (1993-2011).
Extra Special U.S. Senators
Six Senators have been victorious in more than one U.S. Senate special election over the last century – including two pairs from Idaho:
· Idaho Republican John Thomas: 1928 and 1940.
· Idaho Republican Henry Dworshak: 1946 and 1950.
· Kentucky Republican John Cooper: 1946, 1952, and 1956.
· New Jersey Republican William Barbour: 1932 and 1938.
· Oregon Republican Fred Mulkey: 1906 and 1918.
· Wyoming Democrat Joseph O'Mahoney: 1934 and 1954.
In between, all but one of these Senators was defeated in reelection bids: Thomas (1932), Dworshak (1948), Cooper (1948, 1954), Barbour (1936), and O'Mahoney (1952).
Special Elections: A Historical Timeline
Many more U.S. Senate special elections were held during the first 50 years since the passage of the 17th Amendment than the last 50 years.
In fact, four times as many special elections took place between 1913 and 1962 (137) as between 1963 and 2013 (34).
Here is the breakdown by 10-year periods since the passage of the 17th Amendment:
· 24 special elections were conducted from 1913-1922.
· 31 from 1923-1932.
· 31 from 1933-1942.
· 26 from 1943-1952.
· 25 from 1953-1962.
· 9 from 1963-1972.
· 3 from 1973-1982.
· 7 from 1983-1992.
· 7 from 1993-2002.
· 9 from 2003-2012.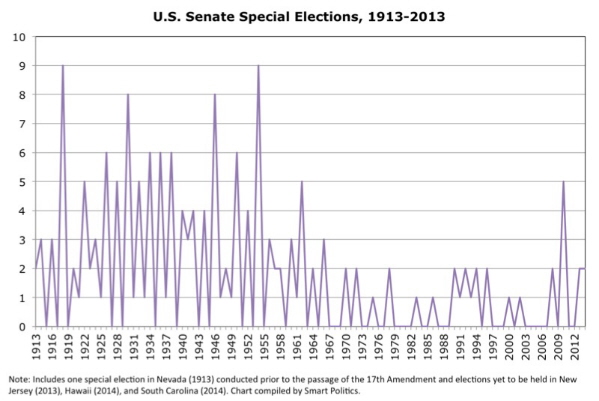 The largest number of special elections conducted in a single year is nine – reached in both 1918 and 1954.
In 1918, special elections were held in Idaho (Democrat John Nugent), Louisiana (Democrat Edward Gay), Missouri (Republican Seldon Spencer), Nevada (Democrat Charles Henderson), New Hampshire (Republican George Moses), New Jersey (Republican David Baird), Oregon (Republican Fred Mulkey), South Carolina (Democrat William Pollock), and Wisconsin (Republican Irvine Lenroot).
In 1954, special elections were conducted twice in Nebraska (Republicans Roman Hruska and Hazel Abel), twice in North Carolina (Democrats W. Kerr Scott and Samuel Ervin), once in California (Republican Thomas Kuchel), Nevada (Democrat Alan Bible), New Hampshire (Republican Norris Cotton), Ohio (Republican George Bender), and Wyoming (Democrat Joseph O'Mahoney).
There were eight special elections held in 1930 and 1946 and six in 1926, 1934, 1936, 1938, and 1950.
Since the ratification of the 17th Amendment, the longest gap between special elections was the six-year period between the election of Missouri Republican Jim Talent on November 5, 2002 and the elections of Republicans Roger Wicker of Mississippi and John Barrasso of Wyoming on November 4, 2008.
The two elections to be conducted in 2013 in Massachusetts and New Jersey are the most in an odd-numbered year since 1957 when two Democrats were elected in Wisconsin (William Proxmire) and Texas (Ralph Yarborough).
Follow Smart Politics on Twitter.