How Long Will Ed Markey Serve?
Markey is the 11th oldest candidate to win a U.S. Senate special election out of more than 170 men and women since the passage of the 17th Amendment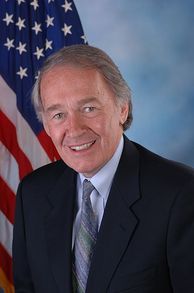 Democrat Ed Markey's victory in Tuesday's Massachusetts U.S. Senate special election over Republican Gabriel Gomez sends the 20-term U.S. Representative to the nation's upper legislative chamber just a few weeks shy of his 67th birthday.
If Markey had ambitions to become Senator one day upon first entering the House in November 1976, he must have learned the virtue of patience, with fellow Democrats Ted Kennedy and John Kerry serving 32 and 28 years respectively during the 36+ years Markey logged in the lower chamber.
And now, with a 10-point win Tuesday, Markey becomes the 173rd candidate to win a special election to the U.S. Senate in the direct election era and the fifth from Massachusetts, joining Democrat David Walsh (1926), Republican Leverett Saltonstall (1944), Kennedy (1962), and Republican Scott Brown (2010).
But it was a long wait…
In fact, Markey is the 11th oldest Senator ever elected via special election since the passage of the 17th Amendment a century ago.
So, with Markey nearly 67 years old, will Massachusetts voters be looking for a new U.S. Senator again in a few short years?
How long will Markey serve?
Massachusetts' Class II Senate seat is on the ballot once again in 2014 and Markey is naturally expected to run for reelection that cycle.
But, of the 10 U.S. Senators who were older than Markey winning a special election:
One died before his unexpired term was up: Ohio Republican Theodore Burton (elected in 1928).
Three won special elections but were not simultaneously candidates in elections for the full term and served only a handful of months: New Jersey Republican David Baird (elected in 1918), New Mexico Republican Octaviano Larrazolo (1928), and West Virginia Republican Hugh Shott (1942).
Three others did not seek reelection with none serving more than four and one-half years: Alabama Democrat Frank White (elected in 1914), Maine Republican Arthur Gould (1926), and Georgia Democrat Zell Miller (2000).
Two were also elected on the same day for the full term simultaneous to winning their special election: Wyoming Democrat Joseph O'Mahoney (1954) and North Carolina Democrat Terry Sanford (1986).
O'Mahoney subsequently retired while Sanford lost his 1992 reelection bid.
Which leaves only one of these 10 Senators who won a special election and then subsequently was reelected to a full term in a different cycle – as Markey will attempt to do in 2014: New York Republican Herbert Lehman.
Lehman was first elected in 1949 and won a full term in November 1950.
All told, these 10 Senators were out of office after an average of three years, with the longest service being Lehman at seven.
The average age of the 173 men and women at the time of their special election victory was 51 years – or nearly 16 years younger than Markey.
The 11 Oldest U.S. Senators Elected Via Special Election Since 1913
State

Senator

Party

Elected

Age

New Jersey

David Baird

Republican

1918

79

Ohio

Theodore Burton

Republican

1928

76

West Virginia

Hugh Shott

Republican

1942

76

New York

Herbert Lehman

Democrat

1949

71

Wyoming

Joseph O'Mahoney

Democrat

1954

69

Maine

Arthur Gould

Republican

1926

69

North Carolina

Terry Sanford

Democrat

1986

69

New Mexico

Octviano Larrazolo

Republican

1928

68

Georgia

Zell Miller

Democrat

2000

68

Alabama

Frank White

Democrat

1914

67

Massachusetts

Ed Markey

Democrat

2013

66*
* Markey was months older than three other 66-year old U.S. Senators who won special elections: Idaho Republican John Thomas (1940), Nebraska Republican Hazel Abel (1954), and Kentucky Democrat Ben Williamson (1930).
Follow Smart Politics on Twitter.