Bachmann's Little Secret: Not Fixated on God, Guns, and Gays
Only one percent of the congresswoman's nearly 600 press releases since 2007 have focused on the "3 Gs" collectively, as well as just one percent on abortion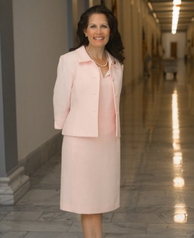 Michele Bachmann drew significant attention last week after releasing a statement about the Supreme Court's decision on the constitutionality of the Defense of Marriage Act (DOMA) that read in part:
"Marriage was created by the hand of God. No man, not even a Supreme Court, can undo what a holy God has instituted."
The Republican congresswoman's reaction to the ruling got even more buzz when the press asked House Minority Leader Nancy Pelosi about Bachmann's reaction, to which Pelosi replied, "Who cares?"
Many may not have been surprised that Congresswoman Bachmann took such a stance after the DOMA ruling, as she has been an advocate of "traditional marriage" during her various campaigns.
But even though Bachmann has made her fair share of controversial statements on and off the (presidential) and congressional campaign trail, it was highly unusual for her to use her House office to issue a press release on such a hot button social issue.
How unusual?
A Smart Politics content analysis of the 581 press releases issued by Michele Bachmann through her official House office since entering the chamber in January 2007 finds that only 1 percent focused on issues related to "God, guns, or gays" collectively with only another 1 percent on abortion.
Bachmann's statement last Wednesday on the Supreme Court's DOMA ruling was just the third time she issued a press release from her congressional office related to gays or gay marriage since taking office over six years ago.
The first time the congresswoman used her office to comment on the issue was on August 10, 2010 when a California Federal District Judge overturned the state's Prop 8 vote, to which she stated:
"The Constitution is the highest rule of law and must be adhered to in every instance. The founders did not envision a Constitutional Convention every time a judge rules from the bench"
Bachmann's office remained quiet on the issue for nearly two years when on May 9, 2012 she responded to President Obama's support of gay marriage:
"The President's announcement today shows how out of touch he is with the values of American families. The President continues to practice the politics of division and diversion… Americans know better and support traditional marriage."
Although a staunch supporter of the Second Amendment, Bachmann's office has likewise been quiet on this issue, releasing just four statements that directly addressed guns since entering the chamber despite the intermittently feverish media (and political) coverage of the issue in recent years after a series of high profile mass shootings:
· March 26, 2007: Attending a chapter meeting of the Minnesota Deer Hunters Association.
· June 26, 2008: Applauding the Supreme Court for upholding D.C. residents' Second Amendment rights.
· April 18, 2012: Voting to preserve hunting and fishing rights.
· February 4, 2013: Reaffirming support for the Second Amendment.
And, as for the third "G" – God – although Bachmann is well-known to be deeply religious, only one press release from her House office directly addressed religion – an April 21, 2010 statement defending the National Day of Prayer.
So, on what policy issues has Bachmann leveraged her House office the most frequently over the years?
Leading the way is health care, with 52 statements released on that policy issue (9.0 percent).
A slight majority of these (27 statements) attacked Obamacare (the overturning of which was a signature issue during her presidential campaign).
Tied for second was transportation and veterans issues (including veteran's health care) with 37 statements each (6.4 percent).
Transportation was a key issue for Bachmann due to her legislation that secured funding for the St. Croix River bridge in her 6th CD.
Bachmann also issued 35 statements related to the federal budget/spending/deficit/debt (6.0 percent), followed by 34 statements on energy issues (5.9 percent), 31 on financial regulations and bailouts (5.3 percent), 29 on taxes (5.0 percent), 23 each on business and education (4.0 percent), and 21 on her pet issue of adoption and foster care (3.6 percent).
ACORN just missed the Top 10, coming in at #11 with 19 statements (3.3 percent) while abortion ranked tied for #20 with eight press releases on that policy issue.
Another charge frequently levied against Bachmann over the years is that she has been consumed by her desire for national attention and not focused enough on constituent services.
This study found just one-third of the congresswoman's 581 press releases were district- or even state-related.
A total of 181 official statements focused on Bachmann's 6th Congressional District, with another 13 related to Minnesotans generally.
The highest rate of district-specific statements came during 2007, Bachmann's first year in office, at 46.9 percent, followed by 25.0 percent in 2008, 32.9 percent in 2009, 35.1 percent in 2010, 33.8 percent in 2011, 31.5 percent in 2012, and 43.6 percent through June of 2013.
Audience of Michele Bachmann's Press Releases
Year

# Constituents

Total

% Constituents

2007

15

32

46.9

2008

23

92

25.0

2009

49

149

32.9

2010

34

93

43.6

2011

27

80

31.5

2012

29

92

31.5

2013*

17

39

43.6

Total

194**

581

33.4
* Through June 30, 2013. ** 181 of the 194 "constituent"-related statements specifically dealt with Bachmann's 6th CD. The remaining 13 dealt with Minnesotans generally. Table compiled by Smart Politics.
Follow Smart Politics on Twitter.