Do the Numbers Add Up for Mitch McConnell?
McConnell is 1 of just 5 U.S. Senators in history to win three of their first five terms by single digits. Two subsequently retired. A third – Bob Packwood – resigned. The fourth? Harry Reid.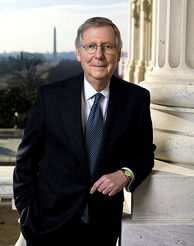 A recent article in The Guardian noted that the numbers are on Republican Minority Leader Mitch McConnell's side as he seeks reelection in the 2014 cycle that now includes Democratic challenger Alison Lundergan Grimes.
That report examines the eight midterm elections since 1982 to point out the strong historical odds in McConnell's favor given a) his incumbency advantage, b) having a president in the White House from the opposing political party, and c) representing a state where the party's presidential nominee ran better than he did nationwide.
McConnell, however, is no ordinary incumbent, and the Guardian does concede the Minority Leader has recorded some fairly low statewide approval ratings.
But the numbers, and history, go beyond that.
In fact, there is 100 years of Senate election data that shows McConnell is trying to accomplish something no one else has done before.
A Smart Politics review of U.S. Senate election data finds that Mitch McConnell is one of five Senators in history to win three of their first five terms by single digits and none, so far, went on to win a sixth.
Since the direct election of U.S. Senators a century ago, 69 Senators have won at least five consecutive terms to the chamber. (Another half-dozen senators won five terms non-consecutively).
Approximately half of these Senators – 35 – were elected to a sixth term, which McConnell will attempt to accomplish in November 2014.
However, the road to 30 years in the U.S. Senate has not been easy for the senior senator from Kentucky.
After unseating two-term Democratic incumbent Dee Huddleston by just 0.4 points in 1984, McConnell escaped with a 4.4-point victory over Harvey Sloane in 1990 to win reelection and a second term.
McConnell coasted to relatively easy victories against Steve Beshear in 1996 (by 12.6 points) and Lois Combs Weinberg in 2002 (by 29.4 points) before winning a competitive 5.9-point race against Bruce Lunsford in 2008.
That makes three competitive races for the notoriously cutthroat Kentucky campaigner.
To win by single digits three times out of five races is very unusual in the annals of U.S. Senate electoral history, with only four others clinging on to victory by such narrow margins:
· Oregon Republican Mark Hatfield: Won his 1st term in 1966 by 3.5 points, his 2nd term in 1972 by 7.6 points, and his 5th term in 1990 by 7.5 points.
· Oregon Republican Bob Packwood: Won his 1st term in 1968 by 0.4 points, his 3rd term in 1980 by 8.1 points, and his 5th term in 1992 by 5.6 points.
· North Carolina Republican Jesse Helms (all five times): Won his 1st term in 1972 by 8.0 points, his 2nd term in 1978 by 9.0 points, his 3rd term in 1984 by 3.9 points, his 4th term in 1990 by 5.1 points, and his 5th term in 1996 by 6.7 points.
· Nevada Democrat Harry Reid: Won his 1st term in 1986 by 5.5 points, his 3rd term in 1998 by 0.1 points, and his 5th term in 2010 by 5.7 points.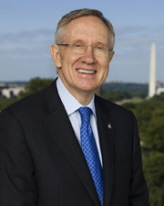 And what happened to each of these four Senators after winning a fifth term?
Two opted not to run for a sixth: Hatfield (age 74 in 1996) and Helms (age 81 in 2002).
Packwood resigned nearly halfway into his fifth term in 1995 after a sex scandal and Ethics Committee investigation had the Senator poised for a likely expulsion later that year had he not done so.
Reid, meanwhile, will not be up for reelection for a potential sixth term until 2016 but remains an unpopular figure nationally and not particularly well-liked in his home state.
McConnell, who will be 72 years old when his name is on the ballot in November 2014, also faces another sobering bit of historical data:
Of the 69 U.S. Senators elected to five consecutive terms over the past century, McConnell is one of only nine who failed to reach the 55 percent mark while winning their fifth term – and none of the others won a sixth:
· Four did not run for reelection: Hatfield, Helms, and Democrats James Murray of Montana (in 1960) and Jennings Randolph of West Virginia (in 1984).
· One lost his party's nomination: Republican-turned-Democrat Arlen Specter of Pennsylvania (in 2010).
· One resigned: Packwood (in 1995).
· Two currently remain in office: McConnell (2008) and Reid (2010).
Overall, these 70 Senators recorded an average 67.1 percent of the vote across their first five victories.
McConnell, however, has averaged just 55.1 percent of the vote in his five wins – the seventh lowest mark among members of the five-timers club ahead of only Reid (52.1 percent), Helms (53.1 percent), Nevada Democrat Key Pittman (53.1 percent), Specter (53.9 percent), Murray (54.2 percent), and Packwood (54.5 percent).
Add to these numbers Smart Politics' recent observation that, despite McConnell's long run, Kentucky has the highest turnover rate of U.S. Senators in the nation at one new Senator every 2 years and 10 months, and it seems fair to say that McConnell is not a shoo-in for victory in 2014 just yet.
Follow Smart Politics on Twitter.