Minnesota's Aging US House Delegation
Minnesota's eight U.S. Representatives are the second oldest delegation in state history and odds are strong they'll set the record in 2014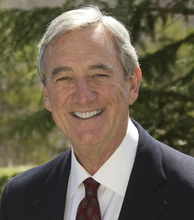 When 68-year old Rick Nolan defeated 52-year old freshman Minnesota U.S. Representative Chip Cravaack in the state's 8th Congressional District race last November, he not only set a record by returning to the House after a 32-year absence but also put the Minnesota delegation on the brink of history.
Smart Politics tallied the average age of 79 U.S. House delegations from Minnesota since statehood and found that the group of eight men and women elected to the 113th Congress in 2012 is the second oldest of all time.
On Election Day, Nolan (68), Collin Peterson (68), John Kline (65), Betty McCollum (58), Michele Bachmann (56), Keith Ellison (49), Tim Walz (48), and Erik Paulsen (47) were an average 57.4 years of age. (Today the eight representatives are an average 58.0 years old).
That came in at just 0.2 years off the all-time record in the Gopher State and nearly 10 years higher than the Minnesota average throughout the last 150+ years.
Longer life spans generally plus aging incumbents and low turnover in recent decades have contributed to an increase in the average delegation age in the state.
Despite older delegations, only one Minnesota U.S. Representative has died in office in the last 66 years – 16-term Republican August Andresen in 1958.
Prior to Andresen, the last Gopher State delegation members to die in office were one-term DFLer William Gallagher in 1946 and four-term Farmer-Laborite Ole Kvale in 1929.
The oldest delegation in state history was the eight-member class elected to the 109th Congress in 2004 who were 57.6 years old on Election Day.
That delegation was comprised of Oberstar (70), Martin Sabo (66), Peterson (60), Jim Ramstad (58), Kline (57), Gil Gutknecht (53), McCollum (50), and Mark Kennedy (47).
Since statehood, the average age of Minnesota's newly elected House delegation has been 47.8 years old, of which only Paulsen fell below of the eight members elected in 2012.
When Cravaack upset 18-term and 74-year old Minnesota U.S. Representative Jim Oberstar in the 8th Congressional District in 2010, the delegation age dropped to an average of 53.4 years – the lowest mark since 1994 (51.5 years).
While Minnesota's current slate of U.S. Representatives are old from a state historical perspective, they are closer to the middle of the pack when compared to other state delegations across the country.
At the start of the 113th Congress, Minnesota's U.S. House delegation ranked tied for the 17th oldest in the country with Alaska, Vermont, West Virginia, and Oregon at the top of the list.
The youngest delegation in state history was its first when at-large Democrats James Cavanaugh (34) and William Phelps (31) entered Congress at an average 32.5 years in 1858.
The odds are strong Minnesota's U.S. House delegation in the 114th Congress will be its oldest ever.
If, hypothetically, all seven incumbents other than the retiring Michele Bachmann run for reelection and win, their average age will be 59.6 years in November 2014.
It is unclear who will emerge in the densely-packed GOP field in Bachmann's 6th CD, but 2010 gubernatorial nominee Tom Emmer seems to have the inside track. (Emmer, who will be 53 on Election Day, would then bring the average delegation age to 58.8 years).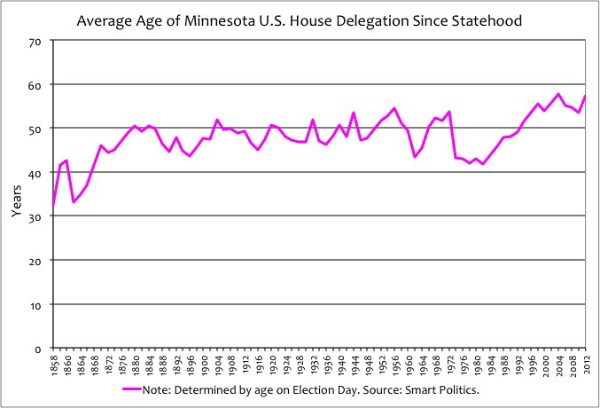 Follow Smart Politics on Twitter.