Bachmann Raised More Than $1K Per Day After Retirement Announcement
Bachmann raised more than $1,000 per day in large donor contributions after May 29th – aided by a misleading fundraising message on her campaign website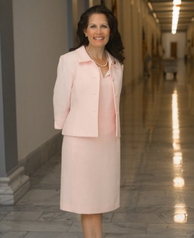 Michele Bachmann's announcement on May 29th that she would retire at the end of the term may have come as a surprise to some – but old habits die hard and dozens of Americans still kept giving to her congressional campaign.
The Congresswoman's decision prompted speculation as to whether her retirement was due to the various ethics investigations she faced, not wanting to engage in another close reelection battle against her (increasingly well-funded) 2012 challenger Jim Graves, or perhaps lingering effects of her failed presidential campaign.
Now, two months later, Bachmann and Graves are both out of Minnesota's 6th Congressional District race, the ethics investigations are still ongoing, and the only 2012 GOP alums still being talked about for 2016 presidential runs are Rick Perry and Rick Santorum.
Two weeks after Bachmann dropped out of the race, Smart Politics broke the news that the Congresswoman was still fundraising on her campaign website as if she was running for reelection.
The headline message on her campaign donation page at that time read:
Help Support Michele!

Obama and the Democrats are targeting Michele for speaking out against their extreme liberal agenda. They will do, say and spend whatever it takes to defeat her.

Please make a secure online contribution today to help defend Michele and the conservative values we share!
After the Smart Politics report was released and picked up by the national media, Representative Bachmann's campaign removed the outdated (and misleading) fundraising plea.
(Although, like many officeholders about to retire, she is still accepting contributions).
So, how much money did Bachmann raise during this two-week window after her retirement announcement in which she appeared to still be running for reelection?
Smart Politics tallied up Representative Bachmann's itemized, large donor contributions from FEC reports that came in to her campaign account during the two week period beginning May 30th – the day after her retirement announcement – through June 12th when the Smart Politics report began circulating through the media.
During this 14-day window, Bachmann received $15,195 in large donor money, or an average of $1,085 per day.
(Note: That amount does not include the $3,648 sent to the campaign on the day of her retirement announcement).
During the next 18 days after the Smart Politics report was issued to the end of the quarter, however, Bachmann received a total of only $475 in large donor funds, or an average of just $26 per day.
It is unclear how much unitemized (small donor) money Bachmann took in during the fortnight after announcing her decision to retire, but here is an estimate:
During this quarter, Bachmann – as has been the hallmark of her fundraising prowess over the years – received substantially more money in small donations: $614,074 for the Q2 2013 period.
The $15,195 Bachmann raised in large donor funds during the two-week period in question was 7.6 percent of the $200,773 in such contributions she received for the entire quarter.
At a rate of 7.6 percent, it is estimated the Congresswoman received approximately $46,700 in small donor, unitemized contributions during this two-week window, or $3,335 per day.
All told, while it is a far cry from her fundraising heydays, Bachmann's campaign account raised between a minimum average of $1,100 per day to an estimated average high of $5,000 per day while her website was giving the impression she was still running for reelection.
Follow Smart Politics on Twitter.