Can Republicans Flip Maine's 2nd CD Seat?
Nine of Maine's last 11 open U.S. House seats have been decided by single digits over the last 50 years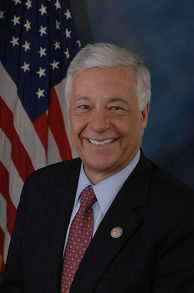 Two months after revealing his hand, U.S. Representative Mike Michaud made his 2014 intentions official Thursday, launching his bid to become the next governor of Maine.
And while the Congressman may face his own historical hurdles as he tries to oust Paul LePage from Augusta, the GOP faces its own challenges as it tries to end its longest Maine U.S. House race drought in party history.
Republicans have failed to pick up a House seat in 18 consecutive races in the Pine Tree State dating back to the 1996 cycle – one of the four longest droughts in the country.
The GOP's last pick up in Maine occurred during the Republican Revolution of 1994 when James Longley won the open 1st CD seat held by Thomas Andrews, who ran for the Senate instead.
Republicans have also endured 19+ year pick-up droughts in Rhode Island (with the GOP's last pick-up there in 1988), Massachusetts (1992), and Oregon (1994).
But there may be hope for the GOP in Maine next year.
Bloomberg's Greg Giroux observes that Michaud's district is the only seat of the 16 open districts in 2014 in which Obama or Romney's victory margin was in single digits (Obama won ME-02 by nine points last November).
Add to that, a bit of a leveling of the playing field with the incumbent Michaud off the ballot.
For the Pine Tree State has historically served up very competitive congressional contests when an open seat is in play.
How competitive?
A Smart Politics review of Maine's 52 U.S. House races over the last 50 years finds that nine of the state's 11 open seat contests were decided by single digits compared to just five of the 41 with incumbents on the ballot.
Since 1962, when reapportionment reduced Maine's delegation from three to two U.S. Representatives, the state has held 52 elections to the nation's lower legislative chamber.
In 11 of these races, sitting U.S. Representatives opted not to run for reelection.
From the 1st CD: Republicans Stanley Tupper (1966), David Emery (1982), and John McKernan (1986) and Democrats Joseph Brennan (1990), Thomas Andrews (1994), and Tom Allen (2008).
From the 2nd CD: Republicans Clifford McIntire (1964), William Cohen (1978), and Olympia Snowe (1994) and Democrats William Hathaway (1972) and John Baldacci (2002).
All but one of these U.S. Representatives (Tupper) sought U.S. Senate or gubernatorial bids instead of reelection to their House seats that cycle.
The subsequent departure of these 11 incumbents from the U.S. House ballot resulted in notably more competitive contests, with nine of these races decided by less than 10 points:
· 1966: Democrat Peter Kyros won three-term Republican Stanley Tupper's open seat in the 1st CD by 5.2 points over Peter Garland.
· 1972: Republican William Cohen won four-term Democrat Peter Hathaway's open seat in the 2nd CD by 8.8 points over Elmer Violette.
· 1978: After three terms, Cohen's open 2nd CD seat was won by Republican Olympia Snowe by 9.9 points over Markham Gartley.
· 1982: Republican John McKernan won four-term GOPer David Emery's open seat in the 1st CD by 2.4 points over John Kerry.
· 1986: After two terms, McKernan's open 1st CD seat was won by Democrat Joseph Brennan by 9.4 points over H. Rollin Ives.
· 1994: Republican James Longley won two-term Democrat Thomas Andrews' open seat in the 1st CD by 3.8 points over Dennis Dutremble.
· 1994: Democrat John Baldacci won eight-term Republican Olympia Snowe's open seat in the 2nd CD by 4.9 points over Richard Bennett.
· 2002: After four terms, Baldacci's open 2nd CD seat was won by Democrat Mike Michaud by 4.0 points over Kevin Raye.
· 2008: Democrat Chellie Pingree won six-term Democrat Tom Allen's open seat in the 1st CD by 9.8 points over Charlie Summers.
The only two non-competitive races involving an open U.S. House seat in Maine over the last half-century occurred in 1964 and 1990.
During the Democratic tsunami of 1964, 2nd CD Republican incumbent Clifford McIntire ran for the Senate, leaving an open seat won by Democrat William Hathaway by 24.0 points over Kenneth MacLeod.
In 1990, Democrat Joseph Brennan did not seek reelection to his 1st CD seat and instead ran for governor. Thomas Andrews held the seat for the party with a 20.4-point win over Republican and former congressman David Emery.
Overall, these 11 open seat races were decided by an average of 9.3 points.
Contrast those numbers with the races involving the 41 incumbents who ran for reelection during this 50-year span.
In the 41 Maine U.S. House races with incumbents on the ballot since 1962, only five were decided by single digits, or 12 percent:
· 1962: After reapportionment and redistricting, six-term Republican incumbent Clifford McIntire defeated William Hathaway in the 2nd CD by 2.3 points.
· 1964: Two-term Republican Stanley Tupper defeated Kenneth Curtis in the 1st CD by 0.1 points.
· 1974: Republican David Emery defeated four-term Democrat Peter Kyros in the 1st CD by 0.4 points.
· 1990: Seven-term Republican incumbent Olympia Snowe defeated Patrick McGowan in the 2nd CD by 2.1 points.
· 1992: In a rematch two years later, Snowe defeated McGowan by 7.1 points in the 2nd CD.
(Note: One other incumbent was defeated during this span, one-term Republican incumbent James Longley by Tom Allen in the 1st CD, but the margin was double digits at 10.6 points).
The average victory margin across these 41 races with incumbents on the ballot was 17 points higher than those involving open seats at 26.2 points.
Leading contenders for the 2014 2nd CD Democratic nomination thus far are State Senators Emily Cain and Troy Jackson with State Representative Alex Willette an early candidate on the Republican side.
Follow Smart Politics on Twitter.