Meet the 9 US Representatives without Campaign Websites
Election Day is only 442 days away, but these members of the House of Representatives still don't have their reelection websites up and running…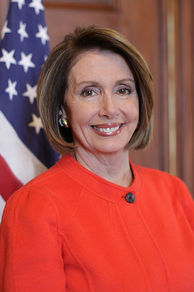 One of the many criticisms frequently levied at Congress as to why things don't get done on Capitol Hill is that members of the House – who are on the ballot every two years – are always running for reelection.
For although Election Day is 1 year, 2 months, 16 days away, House incumbents already have an eye on the forthcoming election cycle and have been busy for months soliciting contributions to their campaigns, such as through their campaign websites.
Well, not all incumbents.
A Smart Politics analysis of the 419 U.S. Representatives who are not retiring, resigning, or running for higher office in 2014, finds that nine currently have no functioning campaign website as of Sunday, August 18th.
Thus far into the 113th Congress, two individuals have announced they are retiring at the end of their term (Republicans Michele Bachmann of Minnesota and John Campbell of California) with another retiring in September (Republican Rodney Alexander of Louisiana).
Another nine Representatives are running for the U.S. Senate in 2014 plus two more are running for governor.
With two vacancies left by Republican Jo Bonner in AL-01 and Democrat Ed Markey in MA-05, that leaves 419 members of the nation's lower legislative chamber who have either announced they are running for reelection, have not yet made such a decision, or who have decided but are purposefully not tipping their hand.
A total of 410 of these U.S. Representatives (98 percent) currently have campaign websites up and running.
(Note: a few of these members of the House are still using their 2012 sites as placeholders, such as Republican Tom Petri (WI-06), Republican Susan Brooks (IN-05), and Democrat Eddie Bernice Johnson (TX-30), but these old sites are still ready and able to collect campaign donations for the new cycle).
That leaves nine Representatives who currently have no active campaign websites – seven of whom are Democrats:
· Democrat Nancy Pelosi (CA-12)
· Democrat Rosa DeLauro (CT-03)
· Democrat Bobby Rush (IL-01)
· Democrat Luis Gutiérrez (IL-04)
· Democrat Danny Davis (IL-07)
· Republican Hal Rogers (KY-05)
· Democrat Donald Payne, Jr. (NJ-10)
· Democrat José Serrano (NY-15)
· Republican John Duncan (TN-02)
Some of these incumbents do host a functional Facebook page for their campaign, such as DeLauro, but the official campaign website linked from her site is defunct.
If these representatives have been a bit lackadaisical in creating the digital building blocks for their 2014 reelection campaigns so far this year, it may be for the simple reason that they face virtually no threat of losing.
These nine incumbents have logged in an average 11.4 terms in the House and enjoyed an average victory margin of 65.3 points in the 2012 cycle.
Hal Rogers is in his 17th term with Nancy Pelosi and John Duncan in their 14th, José Serrano in his 13th, Rosa DeLauro in her 12th, Bobby Rush and Luis Guitiérrez are in their 11th, and Danny Davis is in his ninth.
Only Donald Payne, Jr. (two terms, though less than one year) has less than 16 years of service on the Hill.
None of these U.S. Representatives won by less than 45 points last November with Bobby Rush the low water mark at 47.6 points.
Five Representatives were victorious by more than 65 points: Serrano (94.4 points), Payne (77.0 points), Davis (73.6 points), Pelosi (70.2 points), and Gutiérrez (66.0 points).
U.S. Representatives without Campaign Websites
District

Representative

Party

Terms

2012 MoV

CA-12

Nancy Pelosi

Democrat

14

70.2

CT-03

Rosa DeLauro

Democrat

12

49.4

IL-01

Bobby Rush

Democrat

11

47.6

IL-04

Luis Gutiérrez

Democrat

11

66.0

IL-07

Danny Davis

Democrat

9

73.6

KY-05

Hal Rogers

Republican

17

55.8

NJ-10

Donald Payne, Jr.

Democrat

2

77.0

NY-15

José Serrano

Democrat

13

94.4

TN-02

John Duncan

Republican

14

53.8
Note: As of August 18, 2013. Table compiled by Smart Politics.
However, it could be said that not having any campaign website is better than those hosted by Democrats John Lewis (GA-05):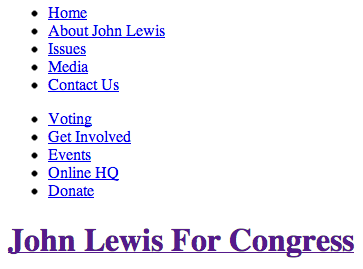 And Mike Doyle (PA-14):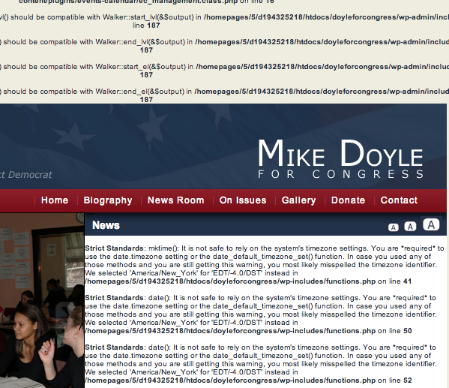 Follow Smart Politics on Twitter.