Alexander: 1st Tennessee GOP US Senator to Face Viable Primary Challenger
The Volunteer State's previous Republican U.S. Senate incumbents won their primary contests by an average of 91 points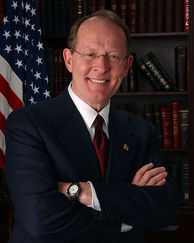 A familiar story for the GOP across the country in recent cycles is now unfolding in Tennessee.
It now appears two-term Republican U.S. Senator Lamar Alexander, while still a favorite to win reelection to his seat in the 2014 cycle, will have to pay more than token attention to next year's August primary race.
Until this week, Alexander's only GOP challenger was the tea party candidate Brenda Lenard – a doctoral student at the University of Tennessee-Knoxville.
Lenard previously challenged Tennessee junior Senator Bob Corker in 2012 – placing fifth out of five candidates with just 2.5 percent of the vote.
But on Tuesday, State Representative Joe Carr announced that he was abandoning his challenge of scandal-plagued U.S. Representative Scott DesJarlais in the state's 4th Congressional District and would instead vie for his party's nomination against Alexander in the Senate race instead.
(In the second quarter of this year, Carr ran a distant second in the fundraising battle in the 4th CD race behind State Senator Jim Tracy, but well ahead of DesJarlais).
Carr is running from the right of Alexander and has roundly criticized the Senator for voting too frequently for legislation supported by President Obama.
As an incumbent in 2008, Alexander did not face any challengers en route to winning the GOP nomination and more than doubling the vote of his Democratic opponent that November.
In fact, Republican U.S. Senators from Tennessee have never faced a legitimate primary battle.
A Smart Politics review of Tennessee primary election results finds that incumbent GOP Senators from the Volunteer State have never seen a challenger reach double-digits and have won by an average margin of 91 points.
To date, there have been seven Republican incumbents seeking reelection to the nation's upper legislative chamber from Tennessee since the first popular vote election for the office in the state nearly 100 years ago.
With decade after decade of Democratic dominance, Republicans did not win a popular vote Senate race in Tennessee until 1966 – when Howard Baker broke through for the party in an open seat race.
The seven GOP primary campaigns featuring incumbents on the ballot over the next 46 years – with Baker, Bill Brocker, Fred Thompson, Bill Frist, Lamar Alexander, and Bob Corker – have all been overwhelming landslides for the sitting Senators.
In three cycles, incumbents did not face any GOP primary challenger: Brock in 1976, Frist in 2000, and Alexander in 2008.
In the four remaining races, 11 challengers appeared on the primary ballot and collectively netted 40.3 percent of the vote.
What bragging rights exist go to Harvey Howard – one of four Republicans to challenge Baker as the incumbent sought election to his third term in 1978.
Howard came in second place in a five-candidate field with 8.6 percent that cycle – the current high water mark for primary challenges against GOP U.S. Senate incumbents in the Volunteer State.
Howard lost by 74.8 points to Baker, which is the closest a candidate has ever come:
· In 1972, Hubert Patty was defeated by Howard Baker by 94 points in a two-candidate field.
· In 1996, Jim Counts lost to Fred Thompson by 88.2 points in a head-to-head matchup.
· In 2012, Zach Poskevich lost to Bob Corker by 79 points in the five-candidate field.
Overall, Republican U.S. Senate incumbents have won their primaries with an average of 94.2 percent of the vote and were victorious by an average of 90.9 points.
Democratic U.S. Senators, meanwhile, have faced obstacles in attempting to claim renomination bids over the last 100 years.
Since 1916, six Democratic incumbents have lost their party's nomination:
· 1916: One-term Senator Luke Lea to Kenneth McKellar.
· 1924: Two-term Senator John Shields to Lawrence Tyson.
· 1938: One-term Senator George Berry to Arthur Stewart.
· 1948: Two-term Senator Arthur Stewart to Estes Kefauver.
· 1952: Six-term Senator Kenneth McKellar to Al Gore, Sr.
· 1966: One-term Senator Ross Bass to Frank Clement.
Overall, 20 Tennessee incumbent U.S. Senators went on to win reelection since 1916, with three losing in the general election, six losing their party's nomination, and seven opting not to run for reelection.
As for Alexander's challenger, Representative Carr first won election to the state's 48th legislative district in 2008, with a 3.1-point victory over Tim Tipps in an open seat race.
Carr had previously lost his 2006 bid for the seat.
Carr followed up his 2008 victory by winning reelection by 24.6 points in 2010 and going unchallenged in 2012.
Follow Smart Politics on Twitter.