Could Scott Brown Win the Presidency?
Brown might be considering a presidential run, but very few presidents since Lincoln lost their last statewide race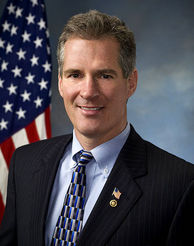 Scott Brown is running out of offices for which he can run.
Some months ago, the former Massachusetts Republican U.S. Senator took himself out of the race for the state's June U.S. Senate special election for the seat vacated by John Kerry who resigned to become Secretary of State.
Last week, Brown revealed that he would also not be a candidate for the Bay State's open 2014 gubernatorial contest to replace Deval Patrick, who opted not to seek a third term.
That leaves two offices for which Brown has left the door open.
Brown has been one of as many as 10 rumored 2016 GOP presidential candidates – and the former Senator did not take himself out of the running this weekend on Fox News Sunday when he evaded a question about his interest in such a campaign.
Secondly, Brown also left the door open earlier this year for a possible candidacy for New Hampshire's 2014 U.S. Senate seat against Democratic incumbent Jeanne Shaheen. Nearly 40 percent of New Hampshire U.S. Senators in state history have been educated in Massachusetts and more than one in six were born in the Bay State.
It is difficult to see how Brown would be the favorite to win either race.
As for the hypothetical New Hampshire Senate campaign, Brown would be seeking to add his name to one of the shortest lists in U.S. political history.
Only two individuals have been elected to the U.S. Senate from more than one state.
Democrat James Shields represented three states in the Senate over his political career, elected into office from Illinois (1849-1855), Minnesota (1858-1859), and Missouri (1879).
The only other individual to represent two different states in the Senate was Waitman Willey.
Willey was elected as a Unionist from Virginia after the expulsion of pro-rebel James Mason in the summer of 1861 and served until March 1863.
After West Virginia seceded from Virginia and achieved statehood in 1863, Willey was elected to the Senate from the Mountain State and served from August 1863 until March 1871.
As for Brown's potential presidential ambitions, his recent resume isn't exactly going to wow historians, or perhaps voters.
If Brown runs in 2016, he would be aiming to become just the third candidate to come off a losing statewide campaign since Abraham Lincoln in 1860.
Lincoln lost his bid for a U.S. Senate seat from Illinois in 1858 but won the presidency two years later.
Since then, the only other presidents to lose his last statewide election before winning the White House were George H.W. Bush and Richard Nixon.
The elder Bush lost the 1970 Texas U.S. Senate race to Democrat Lloyd Bentsen 18 years before his presidential victory.
Of course, Bush had won the vice-presidency twice in between and his Senate loss was a distant memory (if known at all) in the minds of voters when he successfully ran for president in 1988.
After winning the vice-presidency twice, Nixon lost in his 1962 bid for Governor of California to Pat Brown.
Presidents who won their last statewide campaign post-Lincoln are:
· Rutherford Hayes (Governor, 1875)
· Grover Cleveland (Governor, 1882)
· Benjamin Harrison (U.S. Senate, 1880)
· William McKinley (Governor, 1893)
· Teddy Roosevelt (Governor, 1898)
· Woodrow Wilson (Governor, 1910)
· Warren Harding (U.S. Senate, 1914)
· Calvin Coolidge (Governor, 1919)
· Franklin Roosevelt (Governor, 1928)
· Harry Truman (U.S. Senate, 1940)
· John Kennedy (U.S. Senate, 1958)
· Lyndon Johnson (U.S. Senate, 1954)
· Jimmy Carter (Governor, 1970)
· Ronald Reagan (Governor, 1970)
· Bill Clinton (Governor, 1990)
· George W. Bush (Governor, 1998)
· Barack Obama (U.S. Senate, 2004)
James Polk was the only other president to win the White House after losing his last statewide race.
Polk lost the Tennessee gubernatorial election of 1843 and was elected president one year later.
As for Brown, while he might tout his ability to appeal to blue or purple state voters by having won the Massachusetts U.S. Senate race once, in 2010, his more recent (and high profile) loss to Elizabeth Warren in 2012 is more likely to stick in the minds of voters.
After all, one of 2012 presidential candidate Rick Santorum's go-to lines during his campaign was his ability to win battleground states, based on his U.S. Senate victories in Pennsylvania in 1994 and 2000.
The problem is Santorum lost his last Senate race, and lost badly – by 18 points to Bob Casey in 2006.
Follow Smart Politics on Twitter.