West Virginia 2014 US Senate Race to Feature Rare Matchup
Only 12 U.S. Senate elections have involved two major party female nominees in U.S. history and just two of these without a female incumbent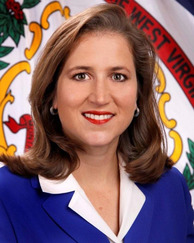 West Virginia Democrats breathed a sigh of relief late last week when word came out that Secretary of State Natalie Tennant will run for the state's open U.S. Senate seat in 2014.
The party has been searching for months for a candidate after five-term Democrat Jay Rockefeller announced he would be retiring at the end of the term.
Republicans, meanwhile, have lined up behind their candidate, seven-term GOP U.S. Representative Shelley Moore Capito, who announced her campaign for the nation's upper legislative chamber shortly after the 2012 election.
While there are other candidates running for each party's nomination, the candidacies of Capito and Tennant effectively clear the field.
Tennant's candidacy not only puts back in play a seat that Republicans desperately need to pry back control of the Senate, but also sets up a matchup that is still a historical rarity in U.S. politics.
A Smart Politics analysis finds that a 2014 West Virginia race between Shelley Moore Capito and Natalie Tennant would be the 13th U.S. Senate contest featuring two female major party nominees in U.S. history, and just the third without an incumbent.
Of the 1,825 U.S. Senate elections conducted by popular vote over the last century, just 12 have had both female Democratic and Republican nominees on the ballot, or 0.7 percent.
Overall, women have won 75 general and special elections to the chamber, or 4.1 percent of all races, and have defeated a male candidate in 62 contests, a female candidate in 12, and ran unopposed one time (Louisiana Democrat Rose Long in a 1936 special election).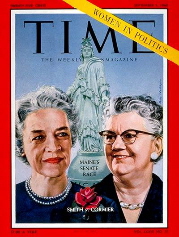 The first major party matchup between two women in a U.S. Senate race took place in 1960 in Maine.
Two-term Republican incumbent Margaret Chase Smith – the first woman elected to both the House and Senate – was challenged by veteran state legislator Lucia Cormier.
Although the race was not close – Smith defeated Cormier handily by 23.3 points – it naturally garnered significant national attention and was a Time magazine cover story that cycle.
After the Cormier-Smith contest it would be 26 years before the next time two women received their party's respective nomination in a U.S. Senate race.
In 1986, five-term Maryland Democratic U.S. Representative Barbara Mikulski ran for the Senate against Republican Linda Chavez, who was serving in the Ronald Reagan White House as its Public Liaison Director.
Although the open seat had been held by GOPer Charles Mathias for 18 years, Mikulski coasted to a 20.9-point win over Chavez that cycle, and has gone on to become the longest serving woman in U.S. Senate and congressional history.
The Mikulski-Chavez matchup is also notable because it is one of only two Senate contests featuring female U.S. Senate nominees in which neither candidate was an incumbent.
The other such race took place in Hawaii last November when three-term Democratic U.S. Representative Mazie Hirono faced former two-term Republican Governor Linda Lingle in a race to replace retiring four-term Democrat Daniel Akaka.
That race also proved to be uncompetitive in the dark blue state, with Hirono defeating Lingle by 25.2 points.
West Virginia's likely matchup between Natalie Tennant and Shelley Moore Capito in 2014 will mark the third such Senate race between two women – neither of whom is an incumbent.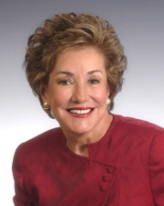 Only once has a female incumbent U.S. Senator lost to a female challenger.
In 2008, one-term North Carolina Republican incumbent Senator Elizabeth Dole was defeated by Democratic State Senator Kay Hagan by 8.5 points.
The other nine female incumbents facing female challengers won their reelection bids by an average victory margin of 24.5 points.
The most competitive U.S. Senate race to date involving two female major party nominees took place in Louisiana in 2002.
One-term Democratic incumbent Mary Landrieu faced Louisiana Commissioner of Elections Suzanna Terrell.
Landrieu won her reelection bid, but only by 3.4 points.
As the number of women holding U.S. Senate seats increases (reaching a record 20 in the 113th Congress) and more women make inroads in the Republican Party in particular, it is becoming more common to see two women representing the nation's major parties on the general election ballot.
Nine of the 12 such elections in U.S. history have occurred since 2002, with a record three during the 2012 cycle: Dianne Feinstein vs. Elizabeth Emken in California, Kirsten Gillibrand vs. Wendy Long in New York, and the aforementioned Hirono vs. Lingle race in Hawaii.
U.S. Senate Elections with Two Female Major Party Nominees
Year

State

Winner

Party

Loser

Party

MoV

1960

Maine

Margaret Chase Smith

Republican

Lucia Cormier

Democrat

23.3

1986

Maryland

Barbara Mikulski

Democrat

Linda Chavez

Republican

20.9

1998

Washington

Patty Murray

Democrat

Linda Smith

Republican

16.8

2002

Louisiana

Mary Landrieu

Democrat

Suzanna Terrell

Republican

3.4

2002

Maine

Susan Collins

Republican

Chellie Pingree

Democrat

16.9

2006

Maine

Olympia Snowe

Republican

Jean Hay Bright

Democrat

53.4

2006

Texas

Kay Bailey Hutchison

Republican

Barbara Radnofsky

Democrat

25.7

2008

North Carolina

Kay Hagan

Democrat

Elizabeth Dole

Republican

8.5

2010

California

Barbara Boxer

Democrat

Carly Fiorina

Republican

10.0

2012

California

Dianne Feinstein

Democrat

Elizabeth Emken

Republican

25.0

2012

Hawaii

Mazie Hirono

Democrat

Linda Lingle

Republican

25.2

2012

New York

Kirsten Gillibrand

Democrat

Wendy Long

Republican

45.9
Table compiled by Smart Politics.
To date just 24 states have elected women to the chamber: Alaska, Arkansas, California, Florida, Hawaii, Illinois, Kansas, Louisiana, Maine, Maryland, Massachusetts, Michigan, Minnesota, Missouri, Nebraska, New Hampshire, New York, North Carolina, North Dakota, Oregon, South Dakota, Texas, Washington, and Wisconsin.
Since 1990, incumbent female U.S. Senators have been reelected to their seats at the same rate as men, with 87 percent of both groups winning reelection.
(The 1990 election marked a milestone of sorts in the annals of U.S. election history as it began a stretch of 12 cycles and counting of at least one incumbent female U.S. Senator on the ballot nationwide each cycle).
Across the 326 U.S. Senate elections involving an incumbent since 1990, women have retained their U.S. Senate seats in 36 of 41 contests, or 87.8 percent of the time, while men have won reelection in 249 of 285 contests, for a nearly identical reelection rate of 87.4 percent.
While several state parties are still awaiting candidates to file for the 2014 U.S. Senate elections, there is currently one other state in which two women could face each other in the general election.
In Georgia, Michelle Nunn is the overwhelming favorite to receive the Democratic Party nomination, while former Secretary of State Karen Handel is vying in a crowded field for the GOP nod.
Follow Smart Politics on Twitter.