Will Wisconsin Elect a Female Governor in 2014?
Women have yet to land a major party gubernatorial nomination in the Badger State, but that may all change with Mary Burke in 2014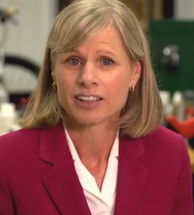 Monday's announcement by former Trek bicycle executive and state Commerce Secretary Mary Burke that she would seek the Democratic nomination to challenge Wisconsin Governor Scott Walker in 2014 puts the Badger State on a historic path.
To date, no woman has received the Democratic or Republican gubernatorial nomination in Wisconsin across 73 contests in state history – and it has even been 27 years since the last female minor party or independent candidate appeared on the ballot.
After failing to unseat Walker in the 2012 recall election, Wisconsin Democrats had been anxiously searching for a top-tier candidate to jump into the race, and Burke is expected to have the field essentially to herself en route to the general election.
The Badger State recently elected its first woman to the U.S. Senate when Tammy Baldwin defeated Tommy Thompson last November, and the state has been waiting decades for a Democratic or Republican woman to receive their party's gubernatorial nomination.
The best showing of a female gubernatorial candidate in Wisconsin to date was the 0.7 percent received by Labor-Farm candidate Kathryn Christensen in the 1986 cycle won by Tommy Thompson.
Christensen placed third out of five candidates and received a shade over 10,000 votes.
Overall, just eight of the 302 gubernatorial candidates across 73 elections since statehood have been women (2.6 percent), with five of these candidacies launched by the same woman – frequent Socialist Labor nominee Georgia Cozzini.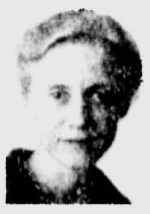 Cozzini was the first woman to run for governor of the Badger State, winning 490 votes (0.1 percent) and placing last out of six candidates in 1942.
Cozzini followed that up with gubernatorial bids in 1944 (winning 0.1 percent), 1948 (0.0 percent), 1970 (0.1 percent), and 1974 (0.1 percent).
Georgia Cozzini was also the Vice-Presidential candidate of the Socialist Labor Party with Presidential nominee Eric Haas in 1956 (0.1 percent) and 1960 (0.1 percent) and ran for the U.S. Senate in Wisconsin on the Socialist Labor ticket in 1946 (0.2 percent), the special election of 1957 (0.1 percent), 1958 (0.0 percent), and 1962 (0.0 percent).
The only other women to appear on Wisconsin's gubernatorial general election ballot are Progressive Labor Socialist Myrtle Kastner in 1970 (0.0 percent) and Socialist Workers candidate Adrienne Kaplan in 1978 (0.1 percent).
Wisconsin Female Gubernatorial Candidates, 1848-2012
Name

Year

Party

Place

%

Georgia Cozzini

1942

Socialist Labor

6 of 6

0.1

Georgia Cozzini

1944

Socialist Labor

5 of 5

0.1

Georgia Cozzini

1948

Socialist Labor

6 of 6

0.0

Georgia Cozzini

1970

Socialist Labor

4 of 6

0.1

Myrtle Kastner

1970

Progressive Labor Socialist

6 of 6

0.0

Georgia Cozzini

1974

Socialist Labor

7 of 7

0.1

Adrienne Kaplan

1978

Socialist Workers

5 of 6

0.1

Kathryn Christensen

1986

Labor-Farm

3 of 5

0.7
Table compiled by Smart Politics.
By comparison, neighboring Iowa has had five female gubernatorial candidates, including two major party nominees (Democrats Roxanne Conlin in 1982 and Bonnie Campbell in 1994).
Minnesota has had seven female minor party gubernatorial candidates but no major party nominees.
Overall, just three of the Midwest region's 12 states have elected female governors over the decades:
· Nebraska: Republican Kay Orr, 1986
· Kansas: Democrat Joan Finney, 1990
· Kansas: Democrat Kathleen Sebelius, 2002 and 2006
· Michigan: Democrat Jennifer Granholm, 2002 and 2006
(Ohio Republican Lieutenant Governor Nancy Hollister also served as governor of the Buckeye State for 12 days after the resignation of George Voinovich to become a U.S. Senator).
Only 23 states have elected a woman into the governor's office.
However, voters in the 2010 cycle from three states elected women to the governor's office for the first time in history: Republicans Susana Martinez of New Mexico, Mary Fallin of Oklahoma, and Nikki Haley of South Carolina.
Follow Smart Politics on Twitter.