Is There a Doctor in the Senate?
Elections in Georgia and Louisiana could bring the number of physicians in the Senate in 2015 to its highest level in 150+ years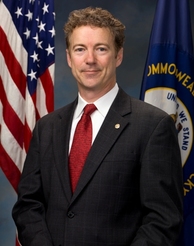 Health care legislation has been front and center during the Obama presidency and, more than three years after its passage, the Affordable Care Act continues to divide Congress and the nation.
Far from supportive of Obamacare, the number of physicians serving in the Senate is now at its highest mark in nearly a century, with this bloc possibly growing its numbers after the 2014 elections.
The 113th Congress currently has three physicians in the U.S. Senate – all Republicans: Tom Coburn of Oklahoma, John Barrasso of Wyoming, and Rand Paul of Kentucky.
Coburn's background is in obstetrics and family medicine, Barrasso's is in orthopedic surgery, and Paul's is in ophthalmology.
And what about the Democrats?
It's been nearly 45 years since the last Democratic medical doctor served in the chamber – Alaska's Ernest Gruening (1959-1969).
With three physicians currently in the legislative body, the number of physicians-turned-U.S. Senators is now at its highest level in 88 years.
The last time three medical doctors served in the Senate was in early 1925 when Republican Lewis Ball of Delaware closed out his term alongside Democrats Royal Copeland of New York and Woodbridge Ferris of Michigan.
After Copeland's death in 1938, no physician served in the chamber over the next 20 years until Gruening took office.
After Gruening lost his reelection bid in 1968, there were no physicians in the Senate for 26 years until Tennessee Republican Bill Frist took his seat in January 1995.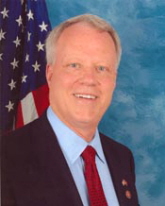 Depending on how the 2014 races unfold in the red states of Georgia and Louisiana there could be as many as four or five physicians in the Senate come January 2015.
In Georgia, four-term Congressman Paul Broun and six-term Congressman Phil Gingrey are vying for the GOP nomination in a crowded field to fill the seat of retiring Senator Saxby Chambliss.
Broun – a former medical officer in the U.S. Navy and general practitioner – prominently features his views on health care (that is, Obamacare) on his campaign website landing page: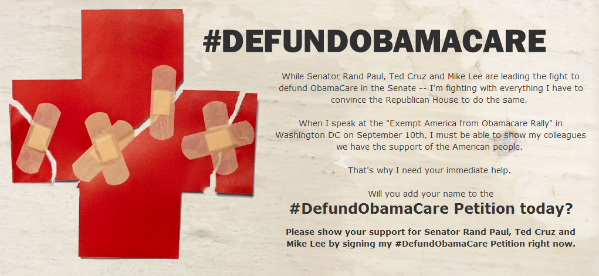 Gingrey, meanwhile, ran a pro-life OB-GYN practice in Marietta, Georgia for a quarter-century and delivered more than 5,200 babies.
In Louisiana, three-term U.S. Representative Bill Cassidy is expected to be the main challenger to three-term Democratic incumbent Senator Mary Landrieu.
Cassidy co-founded the Greater Baton Rouge Community Clinic and remains an associate professor of medicine at Louisiana State University.
If one of these physicians is elected next November, the Senate will be comprised of four medical doctors for the first time since before the Civil War.
Four physicians last served together in the Senate more than 150 years ago in early 1859 when Republican Benjamin Wade of Ohio and Democrats Graham Fitch of Indiana, Martin Bates of Delaware, and William Gwin of California all were in office.
According to U.S. Senate historical records, 52 members of the body have been physicians since 1789, or 2.7 percent of the 1,948 who have served – though there has been a significant decrease in the number of medical doctors elected or appointed to the Senate over the last century.
During the 112-year period from 1789 until 1900, a total of 41 physicians served in the nation's upper legislative chamber.
Over the last 112 years since 1901, only 11 physicians have been elected or appointed to the Senate.
In fact, there have been fewer physicians who entered the Senate over the last 100 years (10) than the first 25 years (13), when the chamber had approximately one-third as many seats.
Put another way, from 1789 until the end of the Civil War in 1865, an average of 5.0 percent of Senate seats were held by physicians compared to just 1.1 percent from 1866 through 2013.
Overall, a yearly average of 1.9 percent of the Senate has been populated by physicians in U.S. history, with peaks of 11.8 percent in 1807 and 1809 and 11.1 percent in 1811, 1812, 1813, and 1814.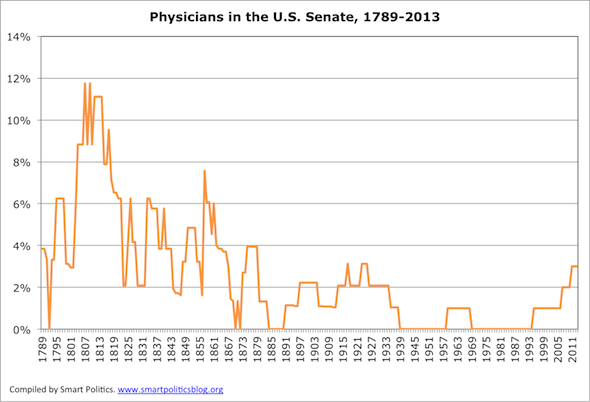 The largest number of physicians in the Senate at any point in time is five – reached in 1857 when there were 66 seats in the chamber: Republicans Benjamin Wade of Ohio and Amos Nourse of Maine and Democrats Graham Fitch of Indiana, Martin Bates of Delaware, and William Gwin of California.
Follow Smart Politics on Twitter.