Claude Pepper, Dwight Rogers Only Florida US Reps to Die in Office
Reports of Bill Young's death on Thursday were premature; 72 of the state's 132 U.S. House members in history are still alive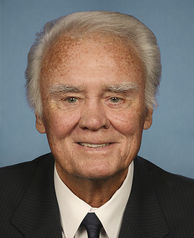 Reports circulated Thursday afternoon, including a tweet by NBC Capitol Hill reporter Luke Russert, that long-serving Republican U.S. Representative Bill Young of Florida had passed away.
Within minutes, that reporting was debunked by Tampa Bay Times political editor Adam Smith, who accurately counted Representative Young among the living, though it was later revealed by the congressman's family that he was in the hospital and 'gravely ill.'
The 22-term (and currently longest-serving GOP) U.S. House member recently announced that he would retire after the end of his term in January 2015.
Young is 82 years old and would celebrate his 83rd birthday on December 16th.
Florida has already had one ex-U.S. House member die this year, when 13-term Republican E. Clay Shaw died last month at the age of 74.
In total, 72 of the 132 U.S. Representatives Florida has elected to serve in the House since statehood in 1845 are still alive.
Only 60 have passed away.
And only two Florida U.S. Representatives have died in office over the last 168 years.
The first to do so was Democrat Dwight Rogers in 1954.
Rogers was in his fifth term from the state's 6th Congressional District and had just been reelected to a sixth term when he passed away on December 1, 1954.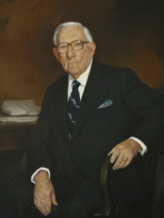 The only other Floridian to die while serving one of its congressional districts was Democrat Claude Pepper in 1989.
Pepper, a former three-term U.S. Senator from 1936 to 1951, was in his 14th term in the House when he died in Washington, D.C. on May 30, 1989.
Two other U.S. Representatives from Florida died within a year of leaving office.
Democrat Chester McMullen served just one term from the state's 1st CD from 1951 to 1953 but did not run for reelection in 1952.
On November 3, 1953, exactly 10 months after his term ended, McMullen died in Clearwater.
Democrat William Chappell had a much longer run in the nation's lower legislative chamber – serving 10 terms and 20 years from Florida's 4th CD from 1969 to 1989 – before losing his bid for an 11th term in the Election of 1988.
On March 30, 1989, less than three months after his last day in office, Chappell passed away at the age of 77.
Despite his 42+ years of service in the chamber, Bill Young is not the oldest living ex- or sitting member of the U.S. House from Florida.
Former five-term Democratic U.S. Representative Carrie Meek is the oldest at 87 years old – born April 29, 1926.
Meek is a few weeks older than former eight-term Democrat Earl Hutto, who was born May 12, 1926.
Follow Smart Politics on Twitter.