Thad Cochran and the Elusive 7th Term
More than half of the six-term U.S. Senators over the last century did not run for a seventh term, were defeated at the ballot box, or died in office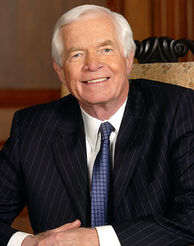 Seemingly out of blue to beltway observers, there has been a surge in momentum for the candidacy of Republican Mississippi State Senator Chris McDaniel in his bid to become the next U.S. Senator from Mississippi.
Potentially standing in his way, of course, is Thad Cochran who has served in Congress for 40 years and is on the tail end of his sixth term in the U.S. Senate where he began serving in December 1978.
Cochran has not officially announced his 2014 plans as of yet, but in the meantime prominent conservative-leaning organizations like the Club for Growth are backing McDaniel.
If this sounds familiar – a six-term and fairly popular institution of the Senate potentially losing his seat from within his own party – it should.
In the 2012 cycle, another seemingly invincible six-term Republican U.S. Senator, Dick Lugar of Indiana, was also primaried by a younger, more conservative challenger – and was subsequently knocked out of the race.
Unlike Indiana, where Democrat Joe Donnelly eked out a win against Lugar's replacement, Richard Mourdock, there is little danger of Democrats capturing Mississippi's long-held Class II seat should Cochran not run or lose in the GOP primary to McDaniel.
In view of his advanced age (Cochran will be 76 on Election Day) and Lugar's recent political demise, Mississippi's elder statesman would hardly be alone among six-termers if he was out of office in 14+ months.
Already this cycle, two other members of the Senate's six-termers club decided to hang it up and retire rather than seek a seventh in 2014.
Democrats Max Baucus of Montana and Carl Levin of Michigan both announced this year that they will retire in January 2015.
In fact, across the last century, it is more common than not that six-term U.S. Senators fail to reach a seventh term.
A Smart Politics analysis finds that just 14 of the 32 six-term U.S. Senators serving entirely in the direct election era were elected to a seventh term, with the remaining 18 either retiring at the end of their term, losing at the ballot box, or dying in office.
Those six-term Senators who can make it to the general election have a nearly unblemished track record – winning 14 contests (including Utah Republican Orrin Hatch last November) and losing only once (Washington Democrat Warren Magnuson in 1980).
The problem is most aren't on the ballot.
There have been 34 U.S. Senators who served into their sixth term entirely in the direct election era including two current members of the chamber whose political fate has not yet been determined: Senator Cochran of Mississippi and Iowa Republican Chuck Grassley who has already announced he plans to run for another term in 2016.
Of the remaining 32 Senators:
4 died in office:
· Louisiana Democrat Allen Ellender in 1972
· Arkansas Democrat John McClellan in 1977
· Washington Democrat Scoop Jackson in 1983
· North Dakota Democrat Quentin Burdick in 1992
11 chose not to run for reelection:
· Georgia Democrat Walter George in 1956
· Alabama Democrat J. Lister Hill in 1968
· Vermont Republican George Aiken in 1974
· Alabama Democrat John Sparkman in 1978
· Mississippi Democrat James Eastland in 1978
· North Dakota Democrat Milton Young in 1980
· Wisconsin Democrat William Proxmire in 1988
· Rhode Island Democrat Claireborne Pell in 1996
· New Mexico Republican Pete Domenici in 2008
· Michigan Democrat Carl Levin in 2014
· Montana Democrat Max Baucus in 2014
2 lost in the primary election:
· Tennessee Democrat Kenneth McKellar in 1952
· Indiana Republican Dick Lugar in 2012
1 lost in the general election:
· Washington Democrat Warren Magnuson in 1980
And 14 went on to win a seventh term:
· Arizona Democrat Carl Hayden in 1962
· Virginia Democrat Harry Byrd in 1964
· Georgia Democrat Richard Russell in 1966
· Louisiana Democrat Russell Long in 1980
· Mississippi Democrat John Stennis in 1982
· South Carolina Republican Strom Thurmond in 1990
· Massachusetts Democrat Ted Kennedy in 1994
· West Virginia Democrat Robert Byrd in 1994
· Hawaii Democrat Dan Inouye in 1998
· South Carolina Democrat Fritz Hollings in 1998
· Alaska Republican Ted Stevens in 2002
· Delaware Democrat Joe Biden in 2008
· Vermont Democrat Patrick Leahy in 2010
· Utah Republican Orrin Hatch in 2012
The average age of the 26 U.S. Senators who reached the end of their 6th term has been 75.8 years – with Cochran only slightly north of that mark.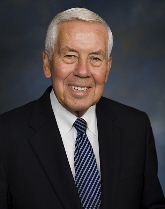 And what happens to the partisan control of Senate seats when six-termers aren't on the general election ballot?
Of the 11 instances through 2012 in which six-term incumbents either chose not to seek reelection or were defeated in the primary, the opposing party picked up the seat four times:
· In 1974, the seat held by Vermont Republican George Aiken was won by Democrat Patrick Leahy with a plurality 49.5 percent of the vote defeating Congressman Richard Mallary. (With Vermont's other current senator Bernie Sanders winning 4.1 percent on the Liberty Union ticket).
· In 1978, the seat held by Mississippi Democrat James Eastland was captured by Republican Thad Cochran with a plurality 45.3 percent of the vote in a four candidate race.
· In 2008, the seat held by New Mexico Republican Pete Domenici was claimed by Democrat Tom Udall with 61.3 percent of the vote over Congressman Steve Pearce.
· In 2012, Lugar's seat in Indiana was lost by the GOP to Democrat Joe Donnelly, who defeated Richard Mourdock by 5.7 points.
By contrast, of the 15 contests through 2012 in which six-term incumbents appeared on the general election ballot, only once did the seat flip – when Republican Slade Gorton defeated Warren Magnuson in Washington in 1980.
Before Lugar, the only six-term U.S. Senator to seek and fail to capture his party's nomination to date is Tennessee Democrat Kenneth McKellar.
McKellar was the Volunteer State's first popularly elected senator to its Class I seat in 1916, winning with 54.4 percent of the vote.
He would go on to win with 68.0 percent of the vote in 1922, 59.3 percent in 1928, 63.4 percent in 1934, 70.8 percent in 1940, and 66.6 percent in 1946.
But in 1952, McKellar faced a primary challenge from seven-term U.S. Representative Al Gore, Sr.
Gore – who at age 44 was 39 years younger than the sitting Senator – defeated McKellar in that summer's Democratic primary by a decisive 57.8 percent to 42.2 percent margin.
As for Senator Cochran's 2014 ambitions and prospects, through the third quarter of 2013his campaign had $803,907 cash on hand after raising just $53,147 during the previous three months.
Follow Smart Politics on Twitter.