Marty Seifert's Political Hiatus: Not a Problem
A new study suggests Seifert's three years out of government should not adversely impact his chances of winning the Republican gubernatorial nomination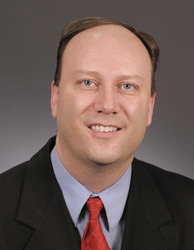 Former State Representative and 2010 gubernatorial candidate Marty Seifert will officially launch his 2014 campaign for governor on Thursday – adding his name to an already crowded field vying for the GOP nomination.
Unlike most of the race's high profile Republican candidates (State Representative Kurt Zellers, State Senator Dave Thompson, Hennepin County Commissioner Jeff Johnson), Seifert is not currently in political office.
But although Seifert has not been at the forefront of Minnesota politics since his exit from state legislative office three years ago, that does not necessarily put him at a disadvantage when it comes to seeking his party's nomination.
In fact, Minnesota Republicans have frequently nominated ex-officeholders (or those who have never held political office) to be their candidate for governor.
A Smart Politics study finds that it has been more common for Minnesota Republicans to nominate a gubernatorial candidate who is not currently in elected office than one who is across the 38 cycles since statehood in which a sitting GOP governor did not claim his party's nomination.
Seifert, who previously worked as a high school teacher in Marshall, Minnesota as well as an admissions counselor at Southwest Minnesota State University, became a real estate agent after his failed 2010 gubernatorial bid and 14 years in the State House.
Most recently, he has served as director of the non-profit Avera Marshall Foundation's executive board.
As Seifert joins the GOP field for Minnesota's 66th gubernatorial election since statehood, the contest to unseat DFL incumbent Mark Dayton will be the 39th time in which a sitting Republican governor did not win the GOP nomination.
During the previous 38 cycles, the Republican Party selected a gubernatorial nominee who was not in political office 18 times.
For another 15 cycles, the GOP nominated a sitting elected official and in five cycles the party nominated an appointed governmental employee.
The general election campaigns of the three most recent Republican gubernatorial nominees who were not in political office did not have a storybook ending.
In 1990, GOP business executive Jon Grunseth withdrew from the race just days before the election in late October of that year – on the heels of a skinny dipping scandal in which two then young teenage girls accused Grunseth of asking them to join him for a nude swim in 1981 and allegedly groping one of them that evening.
(When the scandal hit State Auditor Arne Carlson launched a write-in campaign and, after Grunseth's exit, appeared on the ballot at the 11th hour and defeated DFL incumbent Rudy Perpich).
In 1986, former State Representative Cal Ludeman lost to Perpich by 12.9 points and in 1982 businessman and sports executive Wheelock Whitney was trounced by Perpich by 18.6 points.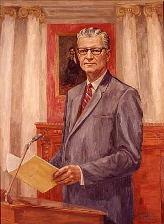 The most recent non-officeholder to win the Republican Party nomination and the general election was Harold LeVander in 1966.
LeVander was serving in his 14th year as president of the South St. Paul United Federal Savings and Loan Association when he launched his victorious gubernatorial campaign over incumbent Karl Rolvaag.
(Update: A note received from Minnesota Supreme Court Justice Barry Anderson points out that Governor LeVander was also an accomplished attorney and principal at the firm LeVander, Gillen and Miller and did a significant amount of work with Minnesota's rural electrical cooperatives).
Seven other Minnesota Republicans in the 20th Century were not in political office when they won their party's gubernatorial nomination:
· Former State Representative and House Speaker Samuel Van Sant (1900)
· Former State Auditor and Representative Robert Dunn (1904)
· Former State Representative Jacob Jacobson (1908)
· Former State Representative and House Speaker William Lee (1914)
· Attorney Martin Nelson (1934, 1936)
· Former State Senator Elmer Andersen (1960)
Only Van Sant and Andersen went on to win their respective general elections.
In the 1800s, six Republican nominees across seven cycles were not in political office during their gubernatorial campaigns:
· Former U.S. Representative, Territorial Governor, and Mayor of St. Paul Alexander Ramsey (1857, 1859)
· Civil War Union Brigadier General Stephen Miller (1863)
· Brevet Brigadier General and former Territorial House member William Marshall (1865)
· Former State Senator Lucius Hubbard (1881)
· Former U.S. Representative and State Senator Knute Nelson (1892)
· Former Minneapolis Mayor William Eustis (1898)
The 15 non-incumbent governors who did hold elected office at the time they won the Republican Party nomination include:
· One Minnesota Supreme Court Justice: Luther Youngdahl (1946)
· One U.S. Representative: Al Quie (1978)
· One State Attorney General: Douglas Head (1970)
· Two State Auditors: J.A.O. Preus (1920) and Ray Chase (1930)
· One State Senator: John Pillsbury (1875)
· Six State Representatives: William Merriam (1888), Albert Cole (1906), Theodore Christianson (1924), John Johnson (1974), Tim Pawlenty (2002), Tom Emmer (2010)
· One mayor: Norm Coleman (1998, St. Paul)
· One district attorney: Harold Stassen (1938, Dakota County)
· One district court judge: Horace Austin (1869, 6th Judicial District)
The five GOP gubernatorial nominees who came directly from an appointed office were:
· U.S. District Attorney Cushman Davis (1873)
· Minnesota Insurance Commissioner A.R. McGill (1886)
· Minnesota Highway Patrol Chief Earle Brown (1932)
· Rural Electrification Administration Program Administrator (and former Lieutenant Governor and State Senator) Ancher Nelsen (1956)
· U.S. District Attorney (and former U.S. Representative and State Representative) George MacKinnon (1958)
Joining Seifert in the race for the GOP nomination in 2014 are two other candidates who are also not holding political office: investment banker and entrepreneur Scott Honour and Hibbing special education teacher Rob Farnsworth.
Minnesota Republican Gubernatorial Nominees Since Statehood
Nominee status*

#

Percent

Sitting governor

27

41.5

Not in government

18

27.7

Other elected office

15

23.1

Appointed office

5

7.7
Note: Denotes employment status at the time of a cycle's gubernatorial campaign. Table compiled by Smart Politics.
Follow Smart Politics on Twitter.