Pollsters Ignoring Rick Perry's 2016 'Campaign'
Only two of 13 GOP 2016 primary polls conducted since April have included the Texas governor's name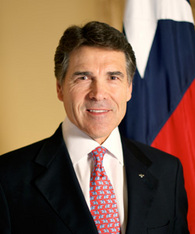 Rick Perry continues to make headlines for what is ostensibly a long-term, packaged roll-out for another run at the White House in 2016.
But if Governor Perry once again fancies himself a presidential candidate, the nation's pollsters are not convinced.
A Smart Politics review of 2013 polling data finds that Rick Perry ranks as just the 11th most listed Republican candidate in horse race polling questions of the GOP presidential primary field for the 2016 cycle.
(Note: Data from 17 polls were compiled across seven survey organizations: CNN, Farleigh Dickinson, Marist, Reuters, PPP, Quinnipiac, and Rasmussen).
The names of only three Republicans have been given as a choice to survey respondents in each of these polls: New Jersey Governor Chris Christie, former Florida Governor Jeb Bush, and Florida U.S. Senator Marco Rubio.
Perry's name, meanwhile, has appeared in only five polls all year and in just two of the last 13 since April.
And while the media may not feel Governor Perry is a viable candidate, given his 2012 campaign debacle, his decision not to run for a fourth term in Texas in early July was largely seen as a marker for launching another presidential bid in 2016.
But the pollsters have not responded in kind.
Only two of nine polls released by five different survey organizations since then have included Perry's name in GOP primary questions (Marist's July poll and CNN's November survey).
Public Policy Polling included Perry's name in its first three surveys of the year, but in none of the last four since.
The most frequently named 2016 Republican candidates offered to respondents in survey questions after Christie, Bush, and Rubio are Wisconsin U.S. Representative Paul Ryan and Kentucky U.S. Senator Rand Paul – each appearing in 15 polls, or 88 percent of horse race surveys.
Louisiana Governor Bobby Jindal is next with 12, followed by Texas U.S. Senator Ted Cruz with 10, 2012 presidential candidate Rick Santorum with nine, Wisconsin Governor Scott Walker and New Mexico Governor Susana Martinez with six, and Perry in 11th with five.
The only Republicans presented as a 2016 option less frequently to respondents were 2008 presidential candidate Mike Huckabee with two, and Virginia Governor Bob McDonnell, former Alaska Governor Sarah Palin, and former Secretary of State Condoleezza Rice with one.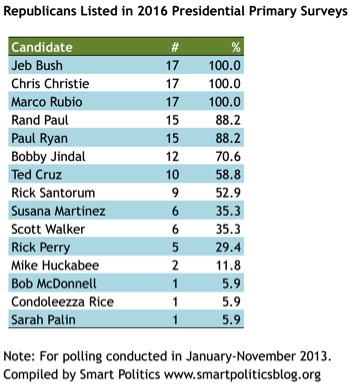 Tea Party friendly U.S. Senators Paul and Cruz have been getting the attention of pollsters over the last seven-plus months.
Cruz's name was not included in any of the first six surveys conducted between January and April, but has been listed in 10 of 11 since (in all but Rasmussen's August poll).
Paul's name, meanwhile, was omitted as a choice for survey respondents in two of the half-dozen surveys conducted during the first four months of the year (by Reuters in March and Farleigh Dickinson in April), but has been included in every survey since.
Governor Christie has led in eight of the last 11 GOP horse race surveys of 2013 with Paul leading in two and Cruz in one.
Senator Rubio led in six of the first seven polls conducted this year, sandwiched around one survey in which Representative Ryan was on top.
Follow Smart Politics on Twitter.