10 Quotes by President Obama about Nelson Mandela
The 44th president quoted or referred to the South African leader an average of once every 88 days in office before his death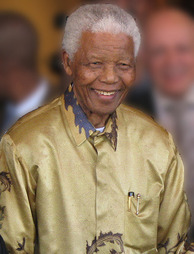 President Barack Obama will be attending the memorial service for Nelson Mandela on Tuesday in Johannesburg along with his predecessors George W. Bush and Bill Clinton and First Lady Michelle Obama.
Obama's affection and praise of the former South African president and political prisoner is well-known and he has quoted and celebrated the leader throughout his presidency over the last four-plus years.
Smart Politics content analyzed President Obama's speeches and statements and found that he had mentioned Mandela 55 times by name during his presidency, as well as an additional 18 times by his clan name Madiba. (No other U.S. president has publicly referred to Mandela by his clan name).
Prior to the South African leader's passing on December 5th, Obama had spoken of Mandela in 20 speeches and statements during his presidency, or an average of once every 88 days.
Below is a sample of some of the president's thoughts of and regard for the legendary South African prior to his death:
"And he's a personal hero, but I don't think I'm unique in that regard. I think he's a hero for the world. And if and when he passes from this place, one thing I think we'll all know is that his legacy is one that will linger on throughout the ages." – June 27, 2013, The President's News Conference With President Macky Sall of Senegal in Dakar, Senegal
"We are grateful to continue to be blessed with his extraordinary vision, leadership, and spirit. And we strive to build upon his example of tolerance, compassion, and reconciliation." – July 18, 2010, Statement on Nelson Mandela International Day
"Compared to some of the giants of history who've received this prize–Schweitzer and King, Marshall and Mandela–my accomplishments are slight." – December 10, 2009, Remarks on Accepting the Nobel Peace Prize in Oslo
"On a personal note, our family has been inspired by Madiba's example and has deeply appreciated the time we have spent with him and his wisdom, grace and generosity of spirit. By any measure, Nelson Mandela has changed the arc of history, transforming his country, continent, and the world." – July 17, 2012, Statement on Nelson Mandela International Day
"When you think of a single individual that embodies the kind of leadership qualities that I think we all aspire to, the first name that comes up is Nelson Mandela." – March 28, 2013, Remarks Following a Meeting With African Leaders and an Exchange With Reporters
"Madiba's words give us a compass in a sea of change, firm ground amidst swirling currents." – June 30, 2013, Remarks at the University of Cape Town in Cape Town, South Africa
"This is one of the greatest legacies of Nelson Mandela–is to show that through a commitment to the constitution and rule of law, and equal treatment for all people, that a country can prosper despite a tragic history." – June 29, 2013, Remarks at a Young African Leaders Initiative Town Hall Meeting and a Question-and-Answer Session in Johannesburg, South Africa
"Michelle and my daughters Sasha and Malia recently met Madiba during an official visit to South Africa that focused on service, youth leadership, education, and healthy living. Their time with Madiba was the most moving part of their trip. Mandela's legacy exemplifies wisdom, strength, and grace, and on the anniversary of his birth, we salute the example of his life." – July 17, 2011, Statement on Nelson Mandela International Day
"And Nelson Mandela set us on a path in understanding the standards of leadership that are needed, and I think those standards can be met…And we are constantly reminded that his legacy of seeing every person as important and not making distinctions based on race or class, but the degree to which they are people of character–that's a good guidepost for how all of us should operate as leaders." – July 13, 2010, Interview With the South African Broadcasting Corporation
"May Nelson Mandela's life of service to others and his unwavering commitment to equality, reconciliation, and human dignity continue to be a beacon for each future generation seeking a more just and prosperous world." July 17, 2013, Statement on Nelson Mandela International Day
Although, on rare occasion, President Obama has not always been so serious when referencing the revered African leader…
"I am told that the last three speakers here have been the Pope, Her Majesty the Queen, and Nelson Mandela, which is either a very high bar or the beginning of a very funny joke." – May 25, 2011, Remarks to the Parliament in London, England
Follow Smart Politics on Twitter.