Pressler's In: Can the Political Rip Van Winkle Win?
A Pressler victory in 2014 would give him the record for the longest gap in U.S. Senate service in the direct election era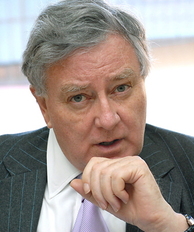 South Dakotans won't have Pat O'Brien on the U.S. Senate ballot next November, but they will see a different colorful figure campaigning around the state for the seat of retiring three-term Democrat Tim Johnson.
Former Republican Senator Larry Pressler ended speculation that had percolated throughout the year by announcing on Thursday that he would indeed run for his old seat that Johnson picked off in 1996.
This time, however, Pressler will run as an independent in the Upper Midwestern Republican stronghold – a rare occurrence in a state that can claim only six non-major party candidates across the last 27 U.S. Senate elections conducted since 1938.
(Note: Libertarian Kurt Evans – one of these aforementioned six candidates and the most recent with his 2002 run for Johnson's seat – was attempting to gain ballot access in the Mount Rushmore State for the 2014 contest, but ended his campaign on December 18th).
The campaign launched by Pressler – a candidate in a deep red state who endorsed Barack Obama twice and who calls himself "moderately conservative" – is unlikely on other fronts as well.
First, as Smart Politics previously reported, a Pressler victory in 2014 would make him the oldest South Dakotan ever elected to the chamber.
If Pressler wins back his old Senate seat, he would be 72 years, 7 months, and 6 days old – nearly five years older than the state's current record and nearly twice the age at which he was elected in 1978.
The oldest South Dakotan ever to be elected to the chamber was Democrat William Bulow in 1936 – winning his second of two terms at the age of 67 years, 9 months, 21 days.
Pressler already holds the record for the youngest U.S. Senator elected from South Dakota at 36 years, 7 months, 9 days old – besting a record that had stood in the state for 88 years.
In 1890, Populist James Kyle was elected to the chamber for the first of his two terms at the age of 36 years, 8 months, 11 days, or one month and two days older than Pressler.
A Pressler victory would also be of note nationally – and not simply because of his independent status.
In short, when men and women retire from the Senate or are defeated at the ballot box, they rarely return when more than a full six-year term has passed.
In fact, the former senator would shatter the modern-day mark for the longest gap in service to the nation's upper legislative chamber.
Pressler exited the U.S. Senate on January 3, 1997 and, if elected, would have a full 18-year hiatus from the institution.
Among senators who served entirely during the direct election era of the last 100 years, the longest break in service is 12 years – recently set by Indiana Republican Dan Coats (1989-1999; 2011-present).
(New Hampshire Republican Bob Smith (1990-2003) is attempting to tie that mark as he vies for the seat held by Democrat Jeanne Shaheen in 2014).
Among senators who served entirely during the 20th and/or 21st Centuries, the longest gap is held by Delaware Republican Heisler Ball (1903-1905; 1919-1925) at 14 years, 1 day.
Overall, 150 of the nearly 1,950 men and women to serve in the U.S. Senate had a break in service during their tenure, or 7.7 percent, ranging from a few weeks to more than 25 years.
Of these 150, only seven left the chamber for more than 18 years only to return:
· Maryland Democrat William Whyte (25 years, 3 months, 5 days)
· Tennessee's Andrew Jackson (24 years 11 months, 3 days)
· Indiana Democrat David Turpie (24 years, 1 day)
· Kentucky's Henry Clay (20 years, 8 months, 7 days)
· Illinois/Minnesota/Missouri Democrat James Shields (19 years 10 months, 24 days)
· Louisiana Whig Henry Johnson (19 years, 8 months, 16 days)
· Virginia's John Taylor (19 years, 11 days)
While South Dakota independents may be attracted to Pressler's break-the-partisan-gridlock campaign, opinion is split as to whether his candidacy will appeal more to Democrats (and thus hurt the electoral chances of likely Democratic nominee Rick Weiland) or his old party the GOP (peeling away the natural support of Republican frontrunner and former governor Mike Rounds).
Follow Smart Politics on Twitter.