Landslides Ahead: Major Parties Still Lack 2014 US Senate Candidates in 8 States
It has been 96 years since the last time a major party did not field a candidate in eight or more U.S. Senate races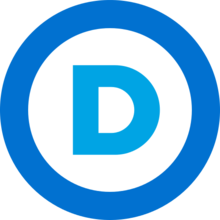 With just a shade over 300 days remaining until Election Day, and months less until filing deadlines expire, major parties still have some leg work to do if they want to avoid a major embarrassment.
There are 35 general and special election races on the ballot this November.
However, according to FEC filings through Monday, in nearly one-quarter of these races candidates from one major party have filed a statement of candidacy for the race: Alabama, Idaho, Mississippi, and Wyoming have no Democratic filers and Delaware, Hawaii, New Jersey, and Rhode Island have yet to see a Republican file.
(Note: This list of eight states does not include states where candidates have filed to run, but are only in the "exploratory" phase (e.g. Democrat Chad Taylor in Kansas) or where candidates have filed but are otherwise not yet seemingly campaigning for the seat (e.g. Massachusetts Republican Gabriel Gomez filed to run for the 2014 contest on June 26th of last year – one day after his special election loss to Ed Markey)).
If that number seems large, it is, should it hold through the close of filing periods in coming months.
The only time a larger number of states had just one major party candidate on the ballot took place nearly a century ago – in 1918 with 10.
The next high water mark is seven states – in the 1930, 1936, 1942, and 1954 cycles.
By comparison, out of the 105 seats on the ballot during the 2008, 2010, and 2012 cycles, only three races featured just one major party candidate – in Arkansas (2008, no Republican), South Dakota (2010, no Democrat), and Vermont (2012, no Democrat).
In 2014, the prospect of one of the major parties not running a candidate in a U.S. Senate race would be a first in many of these states.
Democrats and Republicans have fielded candidates in all 187 general and special election contests for the upper legislative chamber that have been conducted in Delaware, Idaho, New Jersey, Rhode Island, and Wyoming during the direct election era.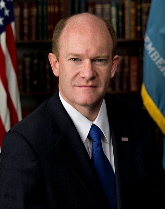 In Delaware, Republicans are still looking for a candidate to challenge one-term Democrat Chris Coons, who won a special election in 2010 to fill Joe Biden's old seat.
Both parties have placed candidates on the ballot in all 36 races conducted since the state's first popular vote contest in 1916.
The increased difficulty in recruiting a Republican candidate in the First State is understandable: Republicans have lost seven consecutive U.S. Senate contests in Delaware since William Roth won his fifth term in 1994 – adding up to the eighth biggest losing streak for the GOP across the nation.
The filing period in Delaware closes on July 8th.
Also out east, Rhode Island Republicans have yet to file a candidate to try to unseat three-term incumbent Jack Reed.
The GOP has lost the last four Senate contests in the state since Lincoln Chafee's victory in 2000 – tied for the party's 11th longest drought in the country.
All 35 U.S. Senate elections in state history have seen candidates from both major parties square off in the general election.
Rhode Island's filing period ends June 25th.
Republicans have also not filed in Hawaii's special election, where the Democratic battle between appointed Senator Brian Schatz and U.S. Representative Colleen Hanabusa has taken center stage.
The GOP has lost the last 15 U.S. Senate races – the party's second worst streak in the nation, behind only West Virginia (21).
Republicans did not place a candidate on the ballot in one of the state's 21 contests – in 1974, when Daniel Inouye won his third term.
The party has until June 3rd to file a candidate in the race.
New Jersey just had a special election last October – to fill the seat held by the deceased Frank Lautenberg.
Cory Booker will have a year under his belt when Garden State voters go to the polls once again – although no GOPer has yet stepped up to challenge the former Newark mayor.
Republicans have lost the last 14 U.S. Senate races in New Jersey – their third longest drought in the country – with the party's last victory coming in 1972 with Clifford Case.
Both parties have appeared on each of the 39 general and special election ballots to date.
The state's filing deadline is April 11th.
But Republicans aren't alone in having difficulties finding candidates to run in each state.
Democrats have not had much success in Idaho U.S. Senate races over the last four decades but now, for the first time ever, they are at risk of not having a candidate on the ballot.
One-term Senator Jim Risch is the only candidate to have filed for the race thus far with just a shade over two months before the filing period ends on March 14th.
Republican and Democratic candidates have appeared on the ballot in each of the state's 39 popular vote U.S. Senate contests – though that streak appears to be in jeopardy this cycle.
Have Democrats simply conceded Risch's seat to the GOP?
Idaho currently has the fourth longest Democratic losing streak in the nation for senate races. Republicans have won each of the last 12 contests since Democrat Frank Church's victory in 1974.
Democrats may have even greater difficulty in another western state.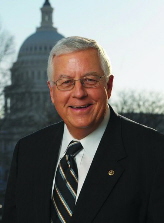 While all of the attention in Wyoming in recent months has been on Liz Chaney's (now aborted) challenge of fellow Republican Mike Enzi's seat, the fact that no Democrat has filed for the race has largely gone unnoticed in this deep red state.
Democrats have run a candidate alongside Republicans in each of the Cowboy State's 38 U.S. Senate races since the passage of the 17th Amendment.
That has been no small achievement in recent decades considering Wyoming is home to the Democratic Party's second longest Senate losing streak in the nation at 15 consecutive races (behind only Kansas at 29).
The last Democrat to win a senate seat in Wyoming was Gale McGee back in 1970.
In fact, Wyoming Democrats have not held a seat in either chamber on Capitol Hill since at-large U.S. Representative Teno Roncalio resigned his seat on December 30, 1978 a few days before the end of his fifth and final term in the House – some 12,792 days ago and counting.
The Equality State's filing deadline is May 30th.
The 2014 cycle might see another first: no Democrat on the ballot in Alabama.
Three-term Republican incumbent Jeff Sessions is currently the only candidate to have filed a statement of candidacy for the race.
Democrats have lost each of the last six races in the Yellowhammer State with their last victory back in 1992 when Richard Shelby won as a Democrat.
The party has fielded a candidate in all previous 38 contests held in the state during the direct election era.
Alabama's filing deadline is April 4th.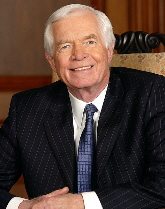 Finally, like in Wyoming, Mississippi has received more attention for its intra-party GOP battle than its lack of a Democratic candidate.
Six-term incumbent Thad Cochran is facing a primary challenge from State Senator Chris McDaniel.
With less than two months left until the March 1st filing deadline, Mississippi Democrats are at risk for failing to field a candidate for the third time in the direct election era.
The party was also without a candidate in two previous contests featuring Cochran – in 1990, when he won his third term, and in 2002 when he won his fifth.
Magnolia State voters have had the choice of both Democratic and Republican candidates in just 17 of 36 U.S. Senate races (47.2 percent) – the second lowest rate in the nation behind only Louisiana (44.4 percent).
Mississippi is home to the fifth longest Democratic drought in the country at 11 consecutive races.
The last Democrat to win a senate race in the state was John Stennis in 1982.
Overall, both parties have fielded candidates in 1,685 of 1,827 popular vote U.S. Senate contests, or 92.2 percent of the time.
Democrats have not run a candidate in 25 of these races with Republicans failing to do so in 117 – with 112 of these coming in nine southern states: Louisiana (20), Georgia (19), Mississippi (17), South Carolina (13), Arkansas (12), Virginia (11), Alabama (10), Florida (seven), and North Carolina (three).
Follow Smart Politics on Twitter.