Who Remembered MLK? (US House Edition)
Democratic U.S. Representatives honored Dr. King via press releases at more than three times the rate of Republicans over the holiday weekend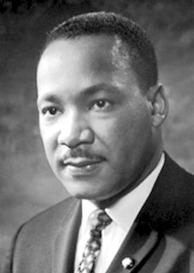 While many news outlets featured front-page stories about the life and legacy of Dr. Martin Luther King in recent days, only a small fraction of the 433 U.S. Representatives issued formal press releases honoring the civil rights leader over the nearly one-week stretch from his birthday (January 15th) through the federal holiday that bears his name (January 20th).
That said, even though a majority of members of the lower legislative chamber did not make such public statements, there was a definite partisan tilt among those who did – and not simply along racial lines.
A Smart Politics review of press releases by U.S. Representatives on their official government websites finds that Democrats issued statements about Martin Luther King at more than three times the rate (21.2 percent) of Republicans (5.9 percent) with non-black Democrats doing so at nearly three times the rate (17.2 percent).
Overall, 48 of the 433 U.S. Representatives currently serving in the legislative body issued an official press release acknowledging, honoring, or otherwise mentioning Dr. King over the last week, or 11.1 percent.
(Note: Tweets or other more informal mentions about MLK on various social media were not compiled for this report).
A total of 35 of 200 Democrats issued press releases about Dr. King, or 21.2 percent, compared to just 13 of 233 Republicans, or 5.9 percent.
U.S. Representative MLK Press Releases by Party
Party

Yes

No

% Yes

Democrat

35

165

21.2

Republican

13

220

5.9

Total

48

433

11.1
Table compiled by Smart Politics.
While each of the 43 African-Americans currently serving as U.S. Representatives – those one would expect to be most likely to pause and commemorate the day – are all members of the Democratic Party, that fact does not explain the entire partisan variation regarding the frequency of public statements made about Dr. King between the GOP and the Democrats.
Black members of the chamber issued press releases honoring Dr. King at only a slightly higher rate than the Democratic Party overall with 12 of these 43 representatives issuing press releases over the past week (27.9 percent).
Even after removing black U.S. Representatives from the analysis, non-black Democrats still issued statements about Martin Luther King at nearly three times the rate of Republicans, with 23 of 134 doing so over the weekend, or 17.2 percent.
Notable Republicans who did issue statements include House Majority Leader Eric Cantor (VA-07), freshman firebrand and U.S. Senate candidate Tom Cotton (AR-04), and the caucus' latest member, Bradley Byrne (AL-01) who won a special election last month.
Others GOPers publishing press releases are Mike Rogers (AL-03), Tim Griffin (AR-02), Mike Coffman (CO-06), Tom Price (GA-06), Marlin Stutzman (IN-03), Candice Miller (MI-10), Jeff Fortenberry (NE-01), Steve Pearce (NM-02), Glenn Thompson (PA-05), and Scott Rigell (VA-02).
Miller was the only Republican woman of the 19 in the chamber who issued a statement about MLK over this past week.
African-American U.S. Representatives publishing a statement about Dr. King include Terri Sewell (AL-07), Barbara Lee (CA-13), Alcee Hastings (FL-20), civil rights leader John Lewis (GA-05), André Carson (IN-07), Donna Edwards (MD-04), Keith Ellison (MN-05), Steven Horsford (NV-04), Charlie Rangel (NY-13), Joyce Beatty (OH-03), Chaka Fattah (PA-02), and Marc Veasey (TX-33).
Democrats not only honored Dr. King at a much higher rate than Republicans, but their statements also tended to be much longer than those issued by the GOP.
The average Democratic press release on MLK was nearly twice as long, averaging 201 words, as those written by Republicans, averaging just 104 words.

The longest statements were written by Democrats Joyce Beatty (OH-03) at 427 words, Barbara Lee (CA-13) at 414 words, Janice Hahn (CA-44) at 362 words, and John Dingell (MI-12) at 358 words, who was in office when Dr. King came to national prominence for his civil rights leadership.
Mike Coffman (CO-06) issued the longest statement on the GOP side at 196 words.
Follow Smart Politics on Twitter.