A State-by-State Historical Snapshot of Michelle Obama's SOTU Guest Lists
Arizona is just the 15th most populous state, but 13 of its residents have been guests of the First Lady during President Obama's first five addresses – highest in the nation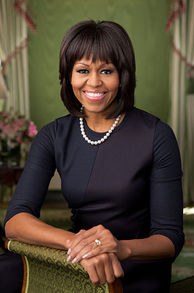 In attendance tonight at President Barack Obama's fifth State of the Union Address will be 24 non-administration guests in the balcony boxes beside the First Lady.
Residents from 13 states plus the District of Columbia and Puerto Rico are represented with Arizona leading the way with five, California, D.C., Massachusetts, Michigan, and Minnesota with two, and Georgia, Illinois, Kentucky, New York, Oklahoma, North Carolina, South Carolina, and Utah with one.
Overall, 115 non-administration guests of the First Lady have been in attendance during President Obama's five such addresses since 2010.
So which states have seen its residents most frequently invited to join the First Lady over the last half-decade?
Since President Obama's first such address in 2010, the nation's most heavily populated state, California, takes a close second place behind neighboring Arizona .
Arizona, which is only the 15th most populous state according to 2013 estimates, has had the most guests over the past five years with 13.
Appearing in the balcony tonight from Arizona are physician assistant Amanda Shelley (Gilbert), teenager Joey Hudy (Anthem), 'undocumented' Americans advocate Cristian Avila (Phoenix), and US Army Ranger Sergeant First Class Cory Remsburg and his father Craig (Phoenix).
Professional basketball player Jason Collins (the first male player in major American team sports to come out openly as gay) and San Francisco Mayor Ed Lee will be representing the Golden State – home to 12 FLOTUS guests since 2010.
North Carolina has had the third most guests with seven followed by the District of Columbia, Michigan, Pennsylvania, Texas, and Virginia with six each and Colorado, Illinois, Oklahoma, and Wisconsin with four.
New York, the third most populous state in the nation, has been only represented by two guests across these five years (Corning CEO Wendell Weeks of Corning, New York in 2011 and student Estiven Rodriguez of New York City this year).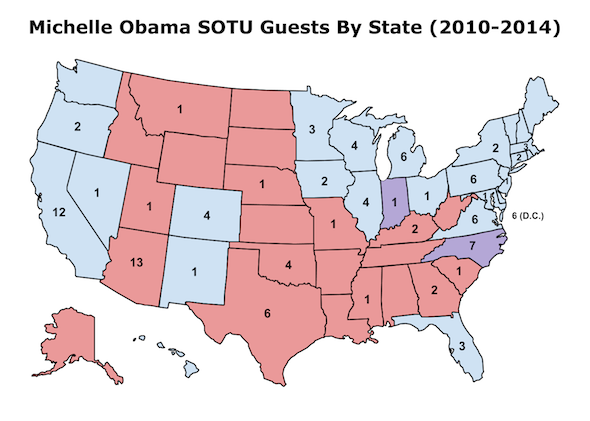 Through the first five State of the Union Addresses delivered by Obama, the First Lady has not yet invited guests from 18 states.
From the Democratic column: Delaware, Hawaii, Maine, New Hampshire, Rhode Island, Vermont, and Washington.
From the Republican column: Alabama, Alaska, Arkansas, Idaho, Kansas, Louisiana, North Dakota, South Dakota, Tennessee, West Virginia, and Wyoming.
South Carolina and Utah are represented for the first time this year for an Obama SOTU with former Air Force servicewoman and single mother Sabrina Simone Jenkins from Charleston and Nicholas & Company President and CEO Peter Mouskondis from Salt Lake City in the balcony.
Overall, 69 percent of the Michelle Obama's guests have hailed from states carried by her husband during the previous election (76 of 110, excluding administration and governmental officials and residents of U.S. territories). (Note: Obama carried states in both cycles that cumulatively exceeded 60 percent of the nation's population).
One variable that has been nearly equal however, is the selection of guests based on gender.
Since 2010, a total of 59 males and 56 females have been guests of Ms. Obama (excluding administration staff and Jill Biden).
Note: This report has been updated to reflect the late additions to the First Lady's guest list that were announced this afternoon.
Follow Smart Politics on Twitter.