Obama's America: State References in SOTU Addresses
When searching for episodic examples to bolster his policies in SOTU addresses, the president turns to the battleground states of North Carolina, Pennsylvania, and Ohio more than any other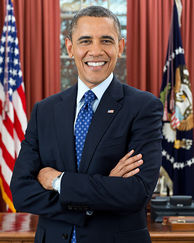 Just as the White House has its favorites states when it comes to inviting guests to sit in the First Lady's box at the State of the Union, a select number of these guests are used by the president each year to humanize some of his policy proposals and provide anecdotal color to the sometimes laundry-list delivery of the speech.
On Tuesday, evening, President Obama made eight references to specific states or cities in his fifth official address since taking office.
(Note: The data in this report excludes Washington, D.C. which is usually referenced not as a geographic 'shout-out' to the District but as an often critical shorthand for the institutions of the federal government generally).
Overall, North Carolina and its cities have received the most mentions from the president during his five State of the Union Addresses over the last half-decade with six.
Tuesday's speech was actually the first time Obama has not referenced the Tar Heel State or one of its cities, though North Carolina was represented by one guest in the balcony with the First Lady (Environmental Defense Fund Fellow Tyrone Davis of Winston-Salem).
North Carolina was mentioned by name in both Obama's 2010 and 2013 speeches, with Forsyth Tech (Winston-Salem) discussed in 2011 and Raleigh and Charlotte (twice) referenced in 2012.
Two other perennial battle ground states, Ohio and Pennsylvania, are next with five mentions each, although neither was referenced Tuesday's speech.
The Ohio cities of Elyria (2010), Cincinnati (2011), Cleveland (2012), Toledo (2012), and Youngstown (2012) have been mentioned by the president along with the Pennsylvania cities of Philadelphia (2010), Allentown (2010), Scranton (2011), Berlin (2011), and Pittsburgh (2012).
Overall, 41 of the 54 references to particular states were to those won by President Obama during the previous election cycle, or 76 percent.
Next on the list are Arizona and Michigan with four; both were on the president's radar in this year's address.
Arizona was represented by five guests in the balcony alongside the First Lady including the following physician's assistant from Gilbert who Obama singled out to espouse the Affordable Care Act:
A pre-existing condition used to mean that someone like Amanda Shelley, a physician assistant and single mom from Arizona, couldn't get health insurance. On January 3rd, she felt a sharp pain. On January 6th, she had emergency surgery. Just one week earlier, Amanda said, that surgery would've meant bankruptcy.
Arizona leads the country with 13 guests seated in the First Lady's box over the last five years.
Michigan's call-out came in the form of Detroit (which was also mentioned twice in Obama's 2012 address):
Two years ago, as the auto industry came roaring back, Andra Rush opened up a manufacturing firm in Detroit. She knew that Ford needed parts for the best-selling truck in America, and she knew how to make them. She just needed the workforce. So she dialed up what we call an American Job Center – places where folks can walk in to get the help or training they need to find a new job, or better job. She was flooded with new workers.
Connecticut, Florida, Illinois, Kentucky, New York, and Wisconsin have been mentioned three times with Colorado twice.
The president also made references on Tuesday to Minnesota (Minneapolis), New York (New York City), Tennessee, Kentucky (twice), and Connecticut (Sandy Hook (Newtown)).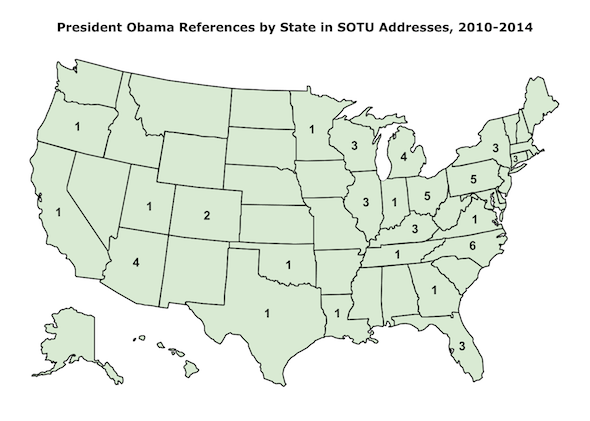 Twenty-eight states have not yet been mentioned by the president during his first five State of the Union Addresses: Alabama, Alaska, Arkansas, Delaware, Hawaii, Idaho, Iowa, Kansas, Maine, Maryland, Massachusetts, Mississippi, Missouri, Montana, Nebraska, Nevada, New Hampshire, New Jersey, New Mexico, North Dakota, Rhode Island, South Carolina, South Dakota, Utah, Vermont, Washington, West Virginia, and Wyoming.
Follow Smart Politics on Twitter.