10 Members of Congress Who Are Also TV Shows
Michael Grimm. Mark Sanford. Duncan Hunter. Paul Ryan. The 113th Congress is full of U.S. Representatives with television program namesakes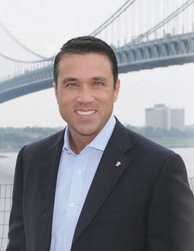 Two-term Republican New York U.S. Representative Michael Grimm had previously made headlines during his three-plus years in the nation's lower legislative chamber, but his post-State of the Union Address exchange with NY1 Washington bureau reporter Michael Scotto last week showcased Grimm at his most viral.
Interest in Grimm's victorious 2010 campaign has had renewed media legs in recent weeks with the arrest last month of Grimm's former girlfriend for donor swapping to make illegal contributions.
The media has also picked up on other controversies and allegations involving Grimm prior to and during his congressional service, such as a bar fight in 1999 and an alleged hook-up with a woman in a Brooklyn bar bathroom last year.
The drama in Grimm's life may be playing out like a television program – and NBC's Grimm probably cannot complain about all the "Grimm" buzz that took place over the last week.
But Representative Grimm has company – as he is one of many members of the U.S. House with TV shows that share their name…
TV Show: Grimm (NBC, 2011-present)
Congressman: New York Republican Michael Grimm (NY-11)

Representative Grimm entered Congress the year the NBC cult television show began – 2011.
Grimm stars a Portland homicide detective who also happens to be a Grimm – a descendant of a family who has battled mythical creatures for centuries with extraordinary combat skills.
Representative Grimm, meanwhile, only threatened to use extraordinary force against the NY1 D.C. reporter, stating, "I'll break you in half."
TV Show: The Brady Bunch (ABC, 1969-1974)
Congressmen: Texas Republican Kevin Brady (TX-08) and Pennsylvania Democrat Bob Brady (PA-01)

They make quite a pair. Kevin and Bob Brady both began their tenure in the 105th Congress, though the similarities end there.
Kevin entered with the Class of 1996 while Bob won a special election in May 1998.
Kevin represents a district outside Houston with the fourth biggest GOP tilt in the nation (+29 Republican) while Bob represents South Philly in a district with a +28 Democratic tilt (Top 25 in the nation).
Bob was born near his district in Philadelphia, while Kevin was born 1,000 miles away from his district in Vermillion, South Dakota.
And yet, through it all, the two Bradys have served side-by-side in the same chamber for coming up on 16 years.
TV Show: Sanford and Son (NBC, 1972-1977)
Congressman: South Carolina Republican Mark Sanford (SC-01)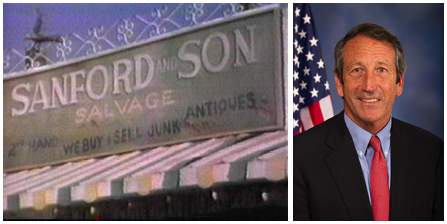 Mark Sanford represents South Carolina while Sanford and Son was set in South Central (Los Angeles).
Representative Sanford was 12 years old when Redd Foxx and Demond Wilson hit the airwaves.
Foxx left the show after six seasons while Sanford left the U.S. House after six years during his first stint from 1995 to 2001.
Representative Sanford, who reentered Congress with a 2013 special election victory, has four sons.
TV Show: Our Miss Brooks (CBS, 1952-1956)
Congresswoman: Indiana Republican Susan Brooks (IN-05)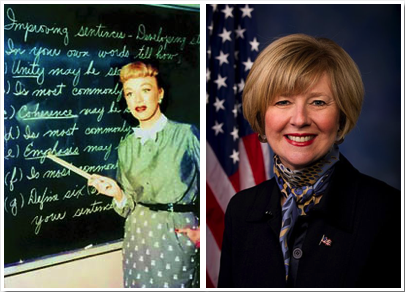 First-term Indiana Republican Susan Brooks previously worked as a lawyer and U.S. attorney.
And while the character of Connie Brooks of the popular radio-turned television show Our Miss Brooks was an unmarried English teacher, Representative Brooks (married with two children) is heavily involved in education policy as she serves on the Education and the Workforce Committee in the nation's lower legislative chamber.
TV Show: My Name Is Earl (FOX, 2005-2009)
Congressman: Oregon Democrat Earl Blumenauer (OR-03)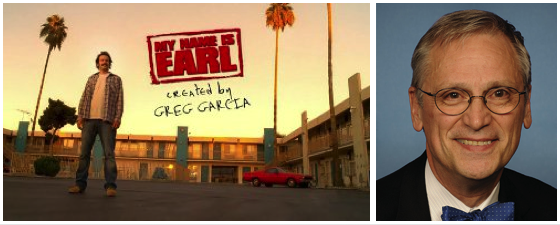 There have been more than a dozen "Earls" in Congress since the 1900s, but probably none as identifiable as the bowtie-wearing U.S. Representative from the Beaver State.
After the defeat of North Dakota at-large U.S. Representative Earl Pomeroy in 2010 and the retirement of U.S Senator Earl (Ben) Nelson of Nebraska in 2012 there is only one Earl on Capitol Hill today.
"Blumenauer" does not exactly roll off the tongue, so the 10-term U.S. Representative no doubt introduces himself, "My name is Earl."
TV Show: The Simpsons (FOX, 1989-present)
Congressman: Idaho Republican Mike Simpson (ID-02)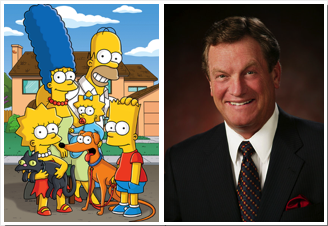 Only 25 men and women in the U.S. House today were serving in the chamber when The Simpsons debuted as a stand-alone program on FOX in December 1987.
Mike Simpson was in the Idaho House at that time and did not enter the U.S. House until January 1999 where, now in his eighth term, he has been serving ever since.
The Simpsons, now in its 25th season, continues to be renewed year after year, but Mike Simpson's tenure is at risk of cancellation by Idaho voters this cycle as he faces a Club for Growth GOP primary challenger in Bryan Smith.
TV Show: Ryan's Hope (ABC, 1975-1989)
Congressman: Wisconsin Republican Paul Ryan (WI-01)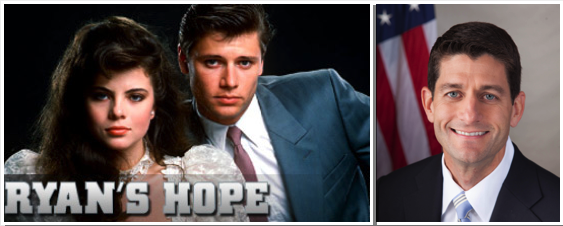 Ryan's Hope was a daytime soap opera that followed a Catholic Irish-American family in New York, including an aspiring politician.
Paul Ryan, also of Irish descent on his father's side, grew up Catholic in southern Wisconsin and has become one of the Badger State's most well known politicians with his 2012 Vice-Presidential nomination (and possible 2016 presidential candidacy).
TV Show: Hunter (NBC, 1984-1991)
Congressman: California Republican Duncan Hunter (CA-50)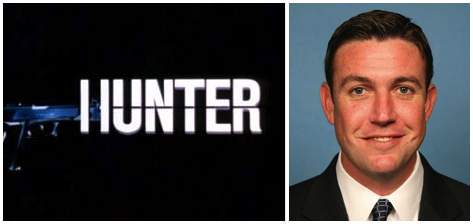 Hunter starred ex-NFL football player Fred Dryer as a Los Angeles Police Department homicide investigator.
Duncan Hunter represents a district a bit further south in the Golden State, in San Diego County.
Hunter's father, Duncan Hunter, was in his second term in the House when the television show debuted on NBC.
TV Show: The Pitts (FOX, 2003)
Congressman: Pennsylvania Republican Joe Pitts (PA-16)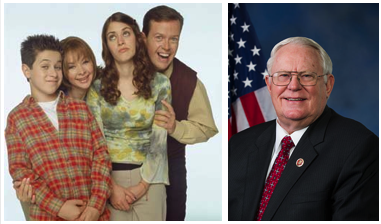 Pennsylvania Congressman Joe Pitts may not have the highest profile in the nation's lower legislative chamber, but he will probably be remembered more than the FOX TV show of the same name that ran for just a few weeks in 2003.
Pitts is currently serving in his ninth term and chairs the House Energy & Commerce Committee's Subcommittee on Health.
Looking back in Washington history, former members who served on Capitol Hill with television program namesakes include:
· Dallas: Pennsylvania Jacksonian U.S. Senator George Dallas (1831-1833)
· Maverick: Texas Democratic U.S. Representative Fontaine Maverick (1935-1939)
· Luther: Minnesota Democratic U.S. Representative Bill Luther (1995-2003)
· The Jeffersons: Louisiana Democratic U.S. Representative William Jefferson (1991-2009)
· McHale's Navy: Pennsylvania Democratic U.S. Representative Paul McHale (1993-1999)
· Judge Joe Brown: Georgia Democratic U.S. Senator Joseph Brown (1880-1881, Brown served as chief justice of the supreme court of Georgia from 1865 to 1870)
Follow Smart Politics on Twitter.